Mexican Corn Dip with Cream Cheese recipe has a secret weapon, is easy, and is delicious hot or at room temp. Be a Game Day food hero!
Easy Corn Dip with Cream Cheese
Easy to make all year round using canned corn, but my secret weapon... start with corn on the cob. This Corn Dip with Cream Cheese is especially impressive when you take the extra step and use fresh corn. Your people will taste the extra love!
I was inspired by my cold Mexican Street Corn Dip Recipe to create this cooked version. I loved so much about that cold recipe, but I wanted one I could throw in the oven for Sunday Game Day or put in the crockpot to take to a party.
Your people will love the fresh corn, but let me tell you...that little hit of pepper sauce on top... OooohhhWEE! You will get invited back next Sunday!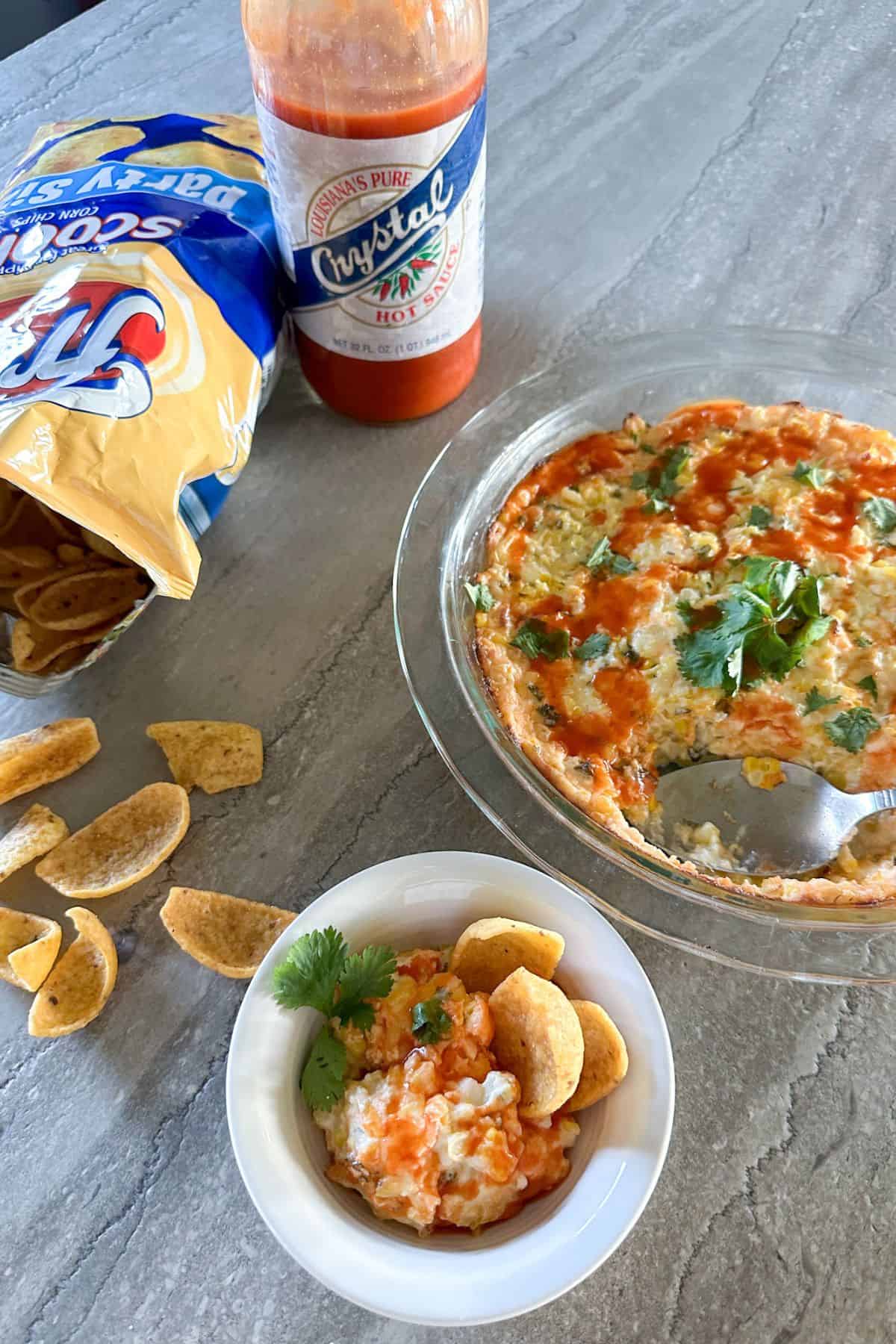 Hot Corn Dip with Cream Cheese With Fritos
This dip checks all the "best dip" boxes: creamy, cheesy, crunchy, fresh, with a touch of spice.
Corn Dip with Cream Cheese loves Fritos Dippers... and ohhhhhh... Lawd! I'll be bellied up to the appetizer table until someone drags me away or I've eaten it all.
Also delicious with corn tortilla chips! Use what you have.
Hint: I actually like the dip best at room temp so don't let keeping it hot deter you. I'm betting your dip will be gone before you have to worry about food safety, anyway!
Ingredients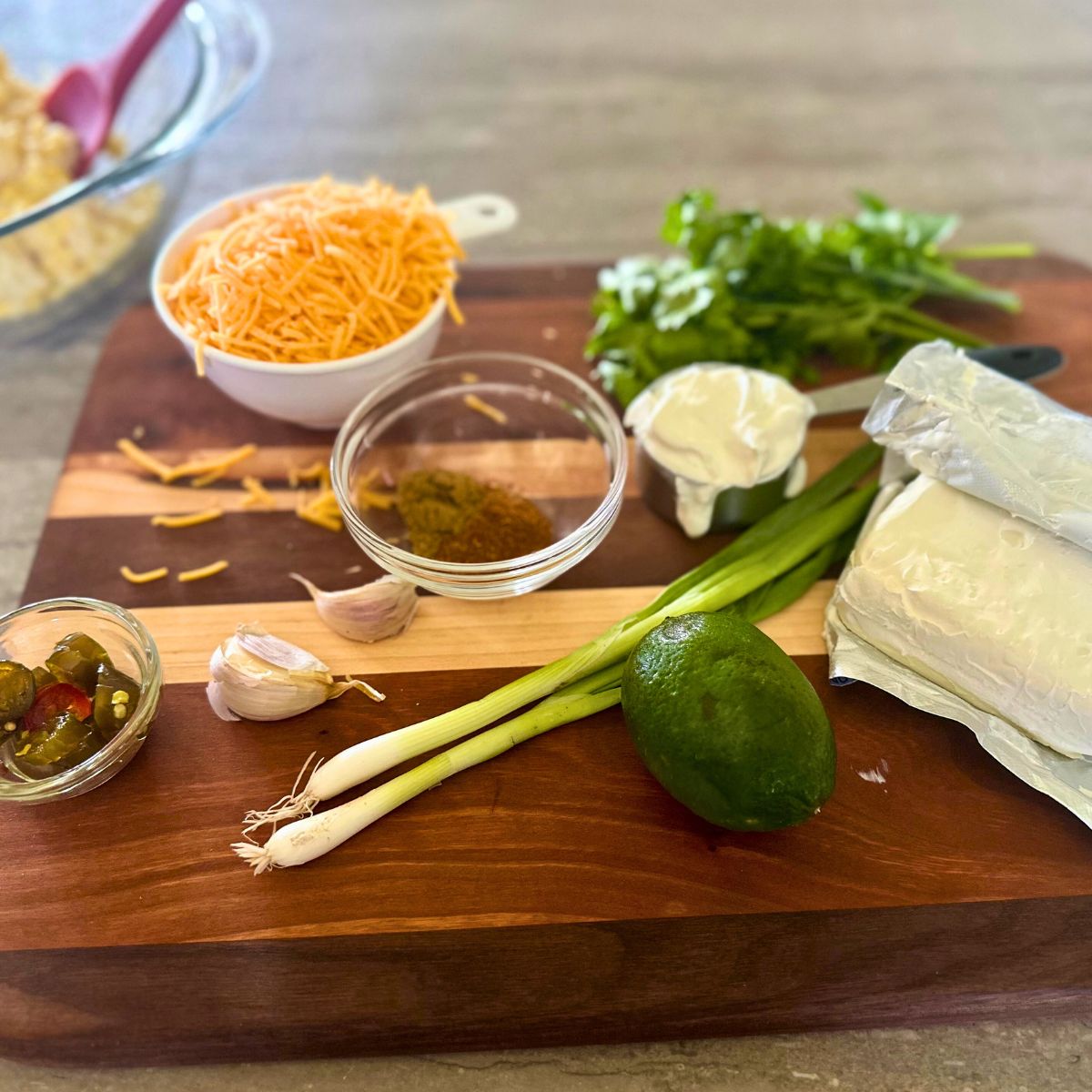 Corn, cut off the cob, as I've said, is my favorite to use, but not much is lost by using frozen or canned. This flexibility makes the recipe handy all year long.
However, if you have leftover corn on the cob or a nice gardening neighbor... Take the corn. Make this dip. Share with said neighbor.
All the creamy goodness comes from the variety of cheeses and sour cream. Try light and dairy-free versions to your liking.
Onions and garlic are essentials to almost all things. Green onions give a fresh bite that I like, but red onions would be great here too.
I use fresh garlic because I grow it in my garden, but if you need to use garlic powder instead, I won't be mad.
Fresh lime juice and cilantro make this dip sing a song in Spanish. I don't know the words, but the song sounds happy.
I like the light heat that jalapeno brings to this dish. It's set off nicely with all those creamy ingredients.
HINT: Adjust the heat level by leaving or removing the seeds and white membrane on the inside of the jalapeno pepper. More seeds and more white membrane = more heat.
Topping this dip with pepper sauce took it from a B+ to A+++++! I like Crystal Brand Hot Sauce, but use what you like. If you're scared of the hot sauce, leave it on the side and let people add it if they wish.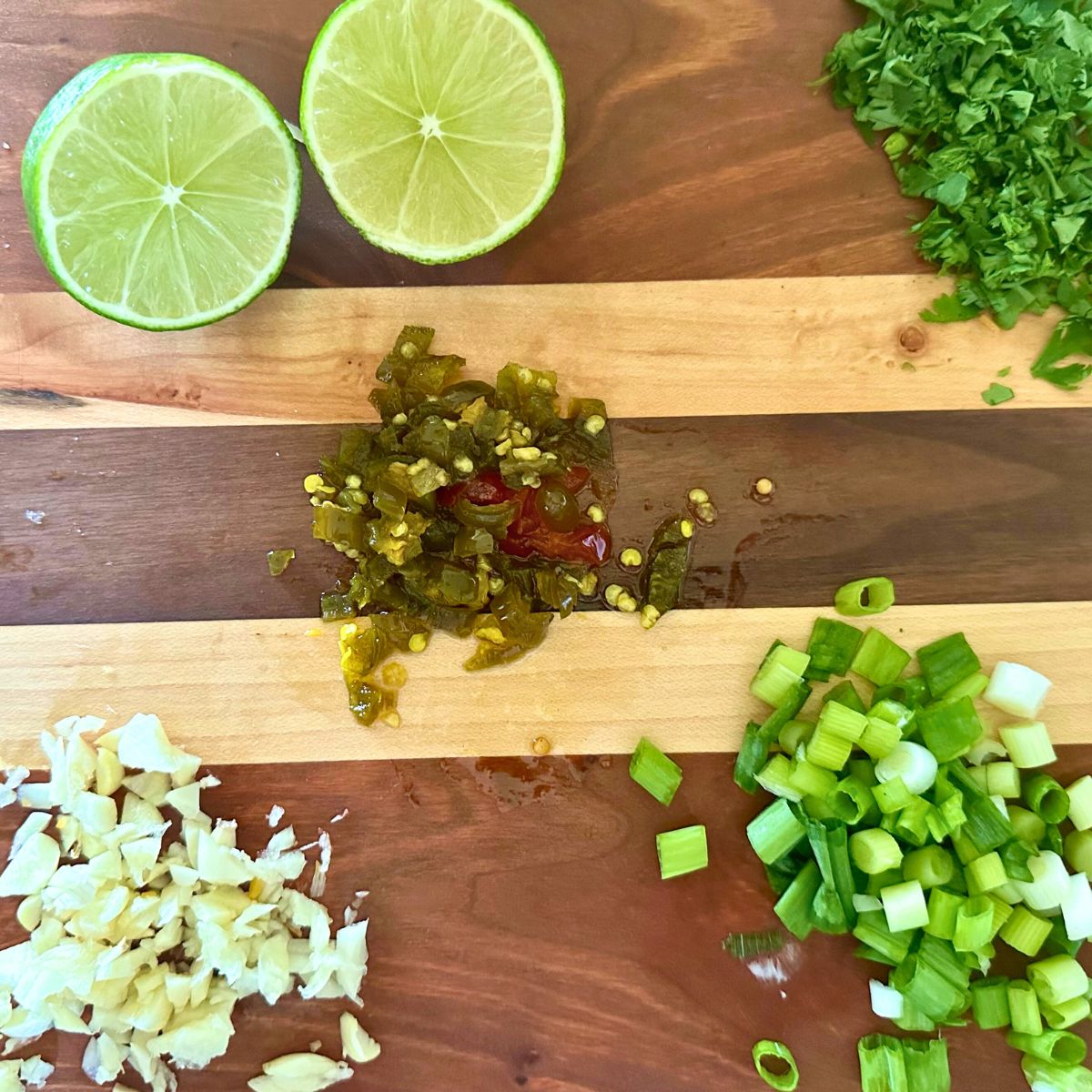 Corn--Fresh, Frozen or Canned
Shredded Cheddar Cheese
Sour Cream
Green Onions
Garlic
Chili Powder
Cumin
Lime Juice
Jalapeno
Cilantro
Pepper Sauce
Frito Scoops
Top Tips
Using fresh corn cut off the cob makes this recipe over the top fresh and delicious! Cook a couple of extra ears of corn for supper one night, then use the leftover corn to create this delish Mexican-flavored Cream Cheese Corn Dip!
Serve the dip either hot or at room temperature--both ways are delish!
Frito Scoops are perfect to serve with this dip. They allow you to really scoop a good bite.
Instructions
Cut the corn off the cob. I like using a bundt pan to catch the corn. Run your knife down the cob cutting the corn off the cob. Then use the back of the knife to scrape all the corn milk out. That's where the goodness really is!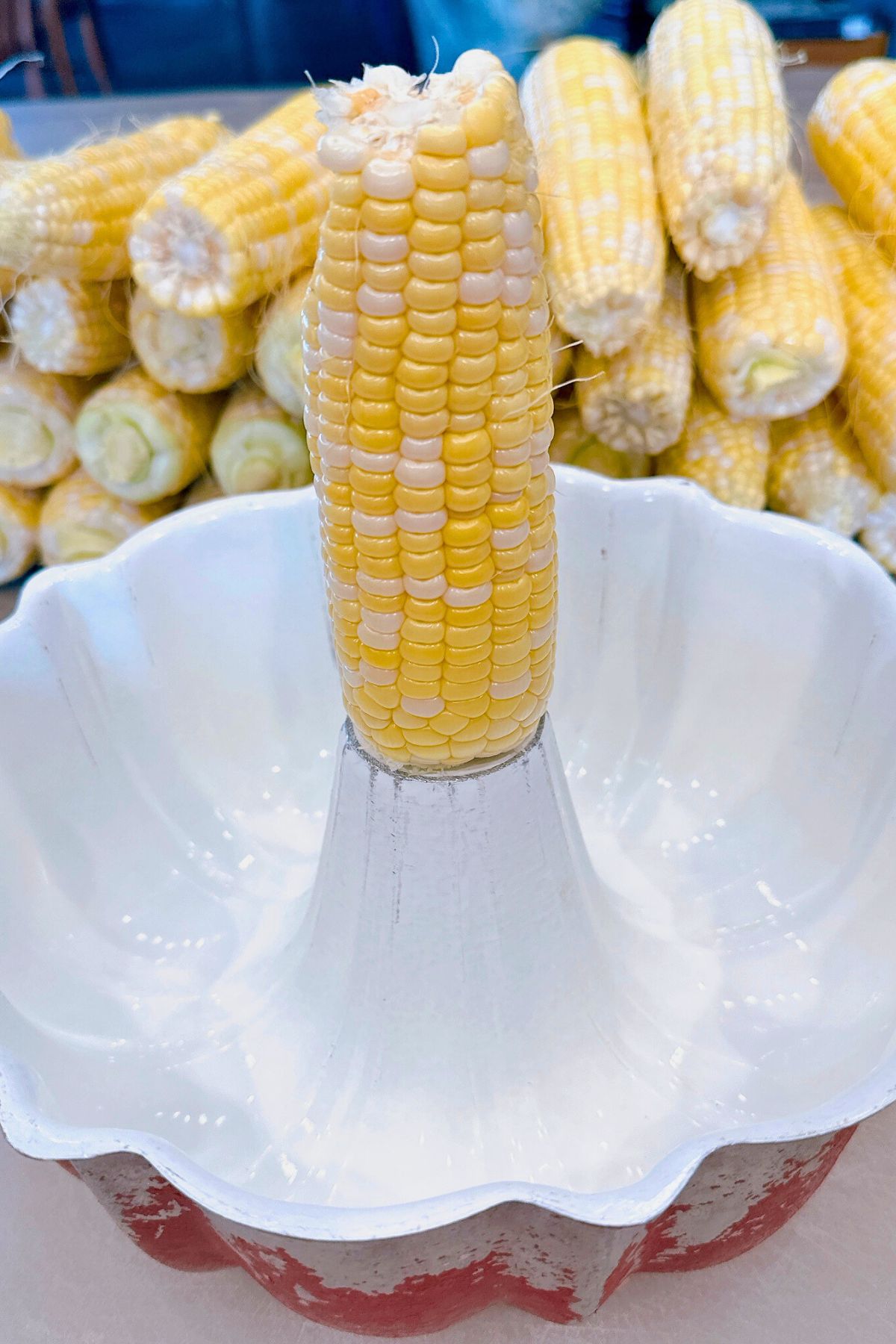 Cook the corn in a saucepan on medium heat with enough water to keep it from burning. Bring the corn to a boil then turn off the heat.
If you are using canned corn, drain the liquid off completely.
Place your corn kernels in a large mixing bowl. Add shredded cheddar cheese, sour cream, cream cheese, green onions, chili powder, cumin, lime juice, jalapeno, and cilantro.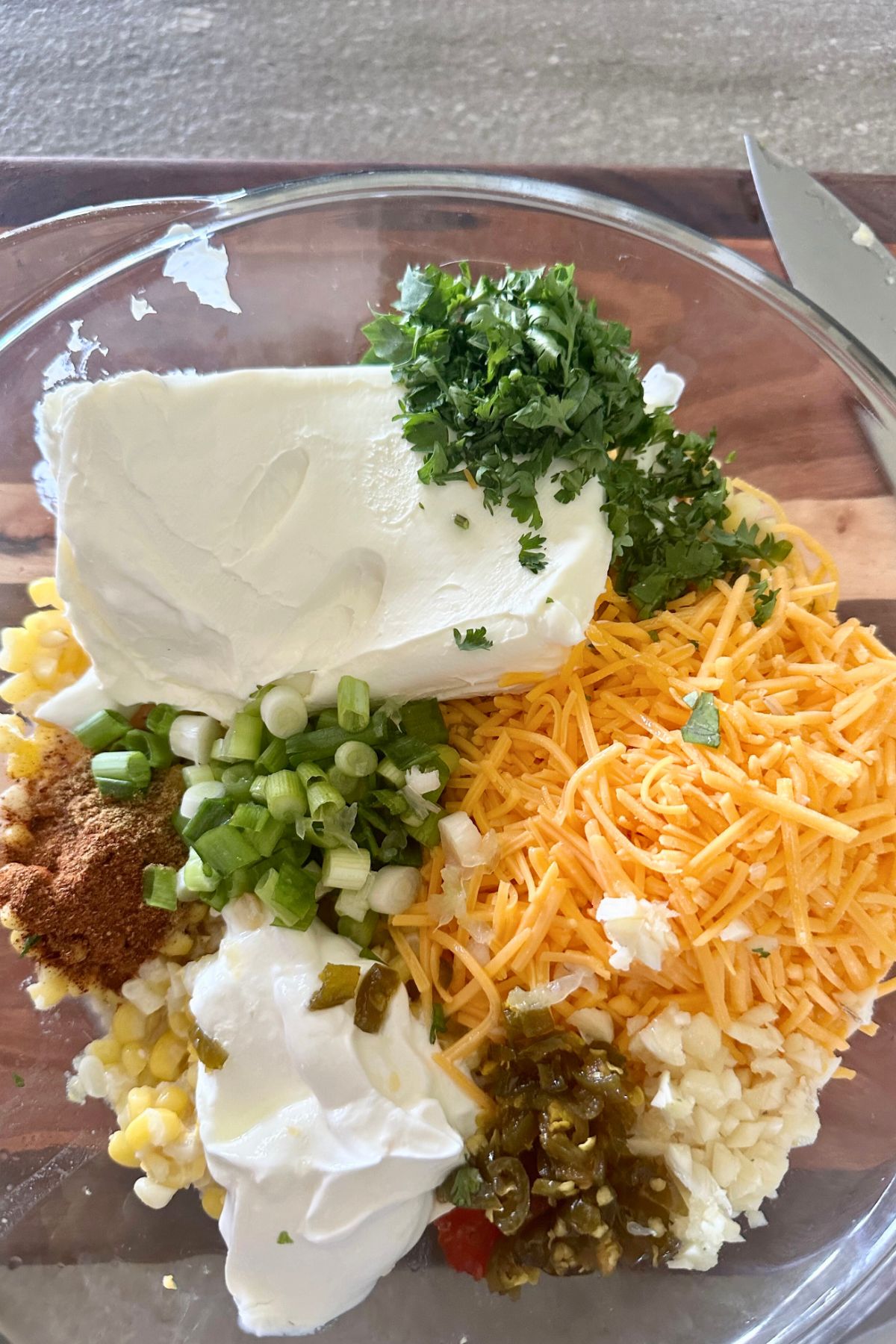 Pour corn dip mixture into a baking dish. I used a glass 9-inch pie pan, but any pan about this size will work.
Bake at 375 degrees for 20-30 minutes or until golden browned on top and bubbly.
Carefully remove from oven and allow to cool slightly.
Garnish with cilantro and/or green onions.
Drizzle with hot sauce if desired. Trust me, you desire hot sauce on this beauty.
Substitutions
This recipe is pretty flexible and forgiving. Use what you have and make it your own!
Plain Greek yogurt substitutes for sour cream with no notable differences.
Miracle Whip is NOT to be substituted for Mayonnaise in this dip. In my opinion, it is just too sweet for this one.
Use fresh or pickled jalapenos. I always keep pickled ones in the fridge for times I don't have a fresh jalapeno or just need a little bit. The pickled ones are pretty mild and most people (even my princess) can handle the "heat" they bring.
I used fresh garlic in this dip, but feel free to use garlic powder if that's what you have. Probably, a half teaspoon would be sufficient.
Green onions were used in the recipe, but there is a local restaurant that has a signature dip where they use diced red onions and it is yummy. I would use red onions if I was short on green onions.
I used extra sharp cheddar cheese, but about any shredded cheese would be great! Consider, pepper jack, Monterey Jack, mild cheddar, etc. Personally, I wouldn't use mozzarella or any of the milder cheeses, but you do you!
Equipment
Glass baking pans allow you to cook and serve all in one dish. I love the simplicity of that!
I used a 9-inch pie pan to bake mine, but any pan around this size will work.
Metal pans will work just as well.
Keep an eye on the cooking time. If you use shiny pans sometimes items bake a bit faster. It's always best to set your timer for the lowest baking time suggested. Check for desired doneness and add more time, if needed.
FAQ
How long can I store Cream Cheese Corn Dip?
Mexican Corn Dip can be refrigerated in a covered container for 3-5 days.
Can I make Mexican style Cream Cheese Corn Dip in a Crockpot?
Absolutely! Being able to serve hot dips in a crockpot is a requirement in life!

Because this creamy Mexican Corn Dip has a good amount of dairy in it, you will need to be sure to cook on low and keep an eye on it.

I like to cook the dip on low until hot and bubbly then just turn it off so it stays warm but doesn't burn.

This is one of those times those handy slow cooker plastic liners would be a good idea to help with clean up.

If you don't want to mess with a Crockpot and you need a party dip, check out my creamy, cold Corn Dip Recipe! (LINK!!!)
Can I use canned or frozen corn in Cream Cheese Corn Dip?
Fresh corn off the cob makes this dip "top shelf", but feel free to use canned corn (drained of juices) or frozen corn. They will provide delish results as well.
If I use canned corn for Cream Cheese Corn Dip, do I drain it?
Yes, drain all the canning liquid off the corn. You can use the can lid or a mesh strainer to drain.
Did You Try this Recipe?
Lastly, if you made this Cream Cheese Corn Dip following this recipe, please let me know how you liked it by leaving a comment and/or giving a rating!
I love hearing from you! I'll do my best to respond to each comment.
And of course, if you do make this recipe, tag me on Instagram! Seeing your photos is my favorite thing!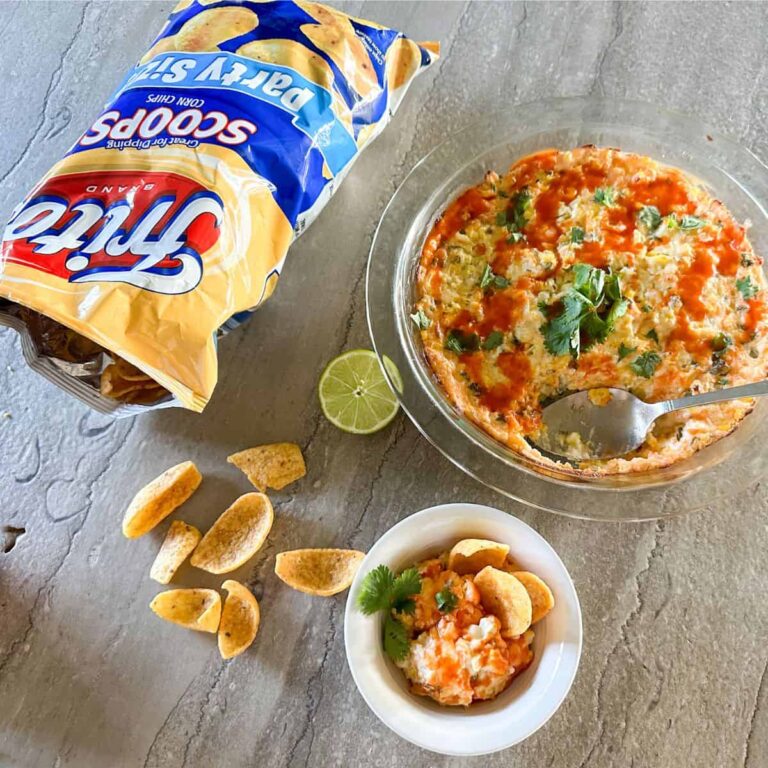 Cream Cheese Corn Dip
Mexican Cream Cheese Corn Dip recipe with crunchy corn, cream cheese, spices, and fresh cilantro. Delicious hot out of the oven!
Ingredients
3

cups

corn

1

cup

shredded cheddar cheese

¼

cup

sour cream

8

ounces

cream cheese

softened

2

cloves

garlic

½

lime

juiced

1

Tablespoon

jalapenos

chopped

¼

cup

cilantro

Pepper Sauce

such as Crystal Hot Sauce

Frito Scoops
Instructions
Cut corn off the cob, if using fresh. Scraping out and saving corn "milk". Standing the corn on the cob in the hole of a bundt pan makes this easy.

Put corn in a large mixing bowl. If using canned corn, drain all of the liquids off first.

Add the remaining ingredients, except the pepper sauce and Fritos.

Pour corn mixture into a 9-inch pie pan or baking pan.

Bake at 375℉ for 20-30 minutes, or until the top of the corn dip is lightly golden brown.

Garnish the top of the dip with cilantro and/or green onions.

Drizzle the dip with hot pepper sauce, if desired. Or serve hot pepper sauce alongside for those who want it.

Serve hot or at room temperature with Frito Scoops or tortilla chips.
Nutrition
Calories:
306
kcal
Carbohydrates:
20
g
Protein:
10
g
Fat:
22
g
Saturated Fat:
12
g
Polyunsaturated Fat:
1
g
Monounsaturated Fat:
6
g
Cholesterol:
63
mg
Sodium:
246
mg
Potassium:
264
mg
Fiber:
2
g
Sugar:
6
g
Vitamin A:
1033
IU
Vitamin C:
9
mg
Calcium:
186
mg
Iron:
0.5
mg
Food safety
Cook to a minimum temperature of 165 °F (74 °C)
Do not use the same utensils on cooked food, that previously touched raw meat
Wash hands after touching raw meat
Don't leave food sitting out at room temperature for extended periods
Never leave cooking food unattended