Crack Corn Dip Recipe with street corn dip flair--Fresh corn on the cob makes this cold corn dip extra! A Tajin sprinkle takes it next level.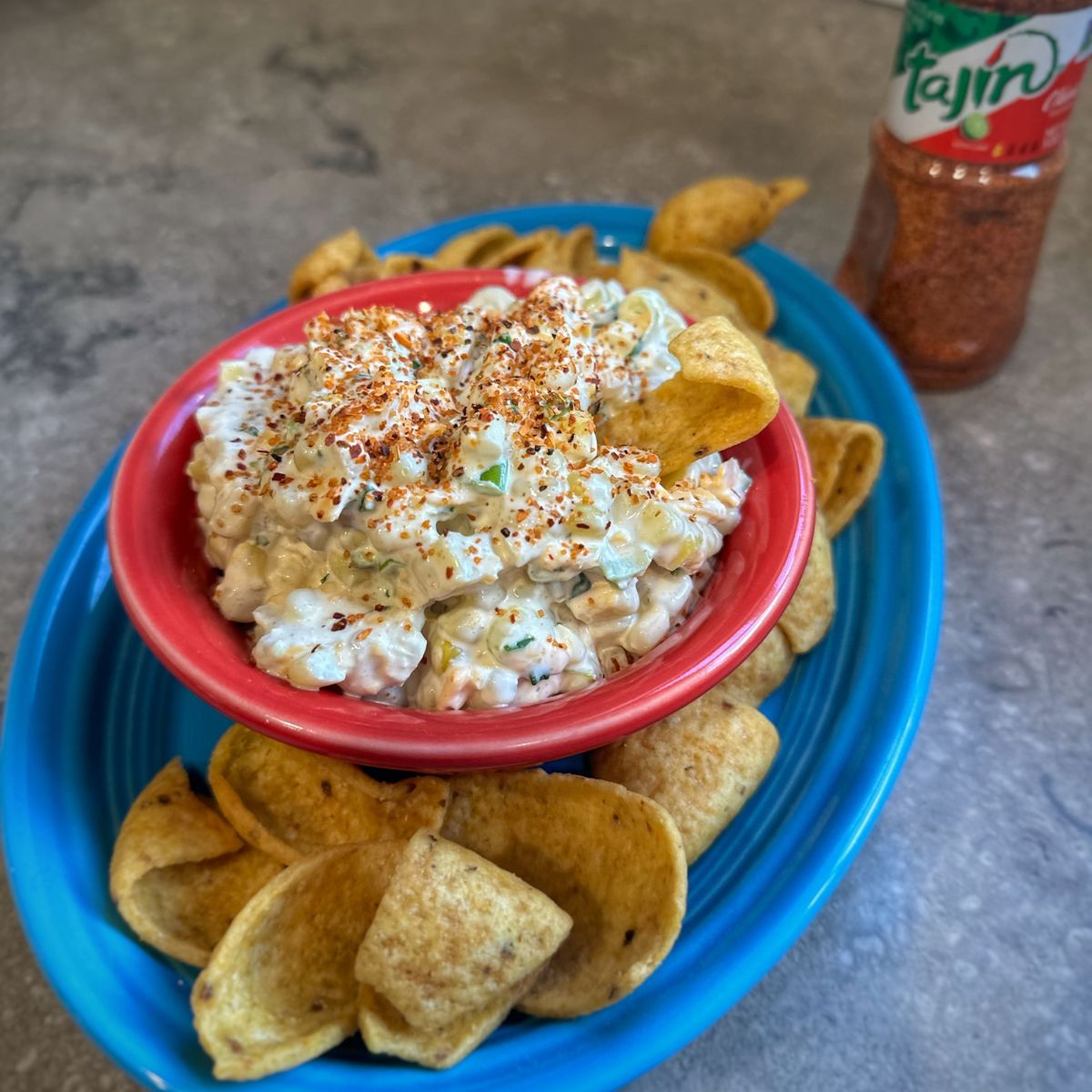 Crack Corn Dip Recipe
Cheesy, creamy, fresh, and plain ol' addictive. If you have it, sprinkle a little Tajin or hot sauce on top—people will be begging you for your Crack Street Corn Dip Recipe!
Bring this easy beauty with a bag of corn chips to your next Game Day celebration and watch it fly off the bowl!
These Extras Level Up Your Plain Ol' Corn Dip
Tajin in the secret ingredient to making your dip the talk of the party.
Tajin is slightly sour with a chili powder flavor. Don't skip it if you can find it. Order it online if you don't have it at your local store. This is your new secret weapon for elevating Corn Dip.
Fritos Scoops corn chips are our favorite dipper for this dip. Their shape helps to get a good load and is rich enough to enhance the overall flavor. Use tortilla chips if you prefer.
Ingredients for Street Corn Style Crack Corn Dip
Each summer, farmers near me share their bounty of sweet corn. I cut it off the cob and freeze it. That way I have next-level corn in my freezer for this recipe and more.
However, if you don't have exceptional farming neighbors like me, frozen or canned corn along with a few other simple ingredients work for this recipe.
Green onions bring a fresh little bite that works nicely in this cold dip. If you prefer, use finely chopped red onions.
Cilantro helps carry out the Mexican Street Corn idea.
Jalapeno brings that little touch of heat that says, "Wake up and taste the deliciousness of this dip!". Add the seeds and membrane if your crowd wants more heat.
Mayonnaise adds a creamy note to the dip. If you are anti-mayo, feel free to increase the sour cream to replace it or use plain Greek yogurt.
Sour cream adds that little tang that his the back of your tongue.
Shredded cheese brings little pockets of richness. I prefer to use extra sharp cheddar but use what you like. Shredded Monterey Jack or jalapeno cheddar would be terrific!
Lime Juice brings the acidity level we need to add sharpness to the dip and brighten up the flavors. Lemon juice could be substituted but would not provide the Street Corn notes that lime juice brings.
Cumin brings an earthy Mexican flavor and deepens the interest of flavor.
Salt is a must to lift all flavors up.
Top Tip
Adjust the heat in your finished Corn Dip by leaving the seeds and white membrane in your jalapeno. If you want it milder, remove all seeds and membranes.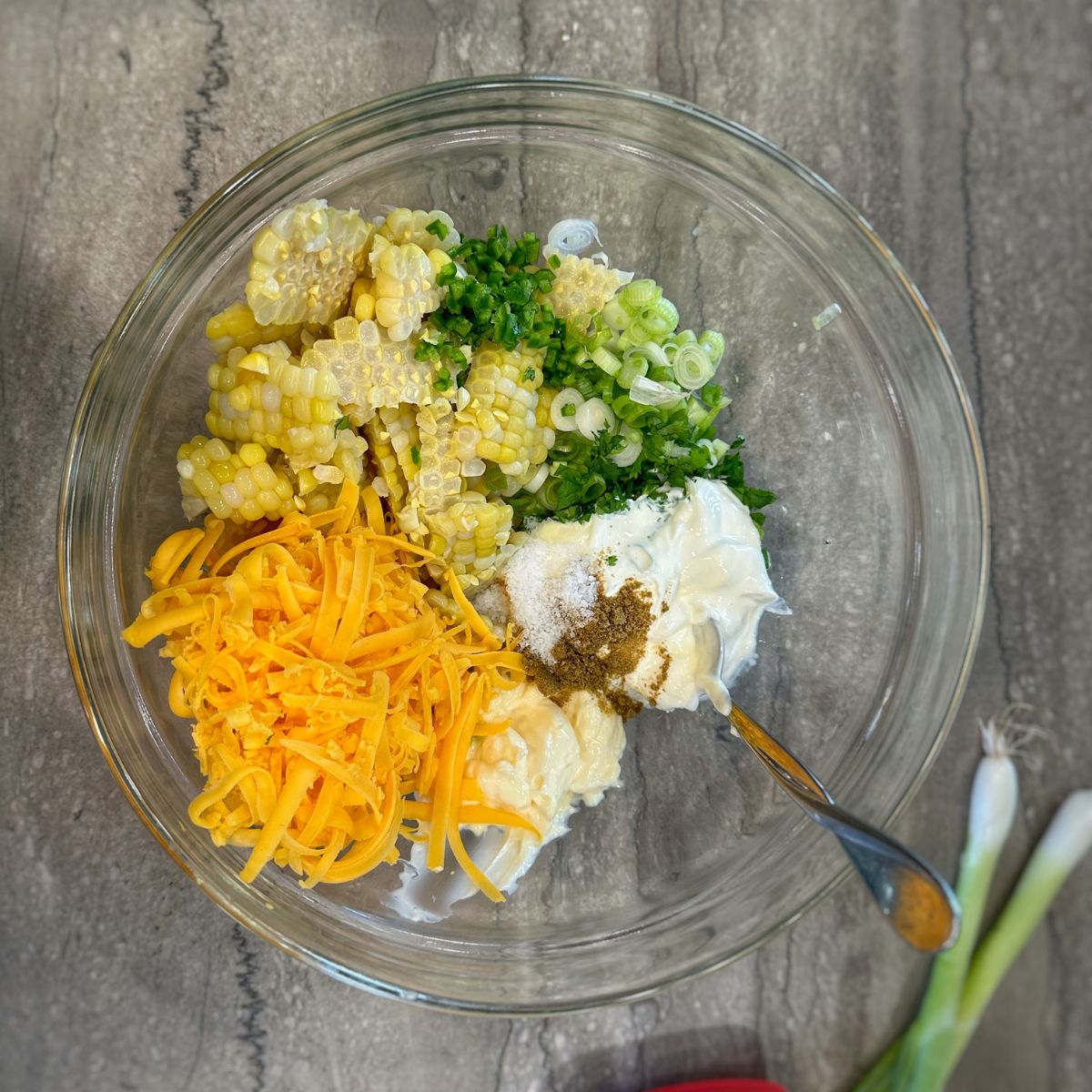 What do I dip with?
Our family likes to serve this cold Corn Dip with Frito Scoops, but tortilla chips are fantastic, too!
Healthy Tip:
For a healthier dipper, slice colored bell peppers, celery sticks, and/or cucumber for a perfect vegetable dipper.
How to Make Cold Corn Dip
Cut the kernels off the corn on the cob and place into medium mixing bowl.
I like to use my bundt pan for this step.
Just put the raw corn cob in the hole of the bundt pan. Use a small knife to cut the corn kernels off. They fall right into the pan! Use the back of your knife to scrape the corn "milk" out of the cob for extra goodness to put in your Corn Dip.
Cook fresh corn in a saucepan until it boils. You may need to add a little water to keep it from sticking. This will help set the sugars in the corn.
Allow corn to cool before adding the remaining ingredients. Drain off any excess water before adding the additional ingredients.
If using frozen corn—allow corn to thaw before proceeding with the recipe. If you want to hurry the thawing process, use your microwave on defrost setting.
Chop the cilantro, green onion, and jalapeno.
If hot is your thing, leave the seeds and membranes.
Then add all ingredients to the corn and mix well. Taste and adjust flavors.
Place in fridge for 3 hours or overnight to combine flavors.
Put in your favorite dip bowl, sprinkle with Tajin and/or hot sauce, if desired.
Then it's ready to serve with Frito Scoops corn chips or tortilla chips.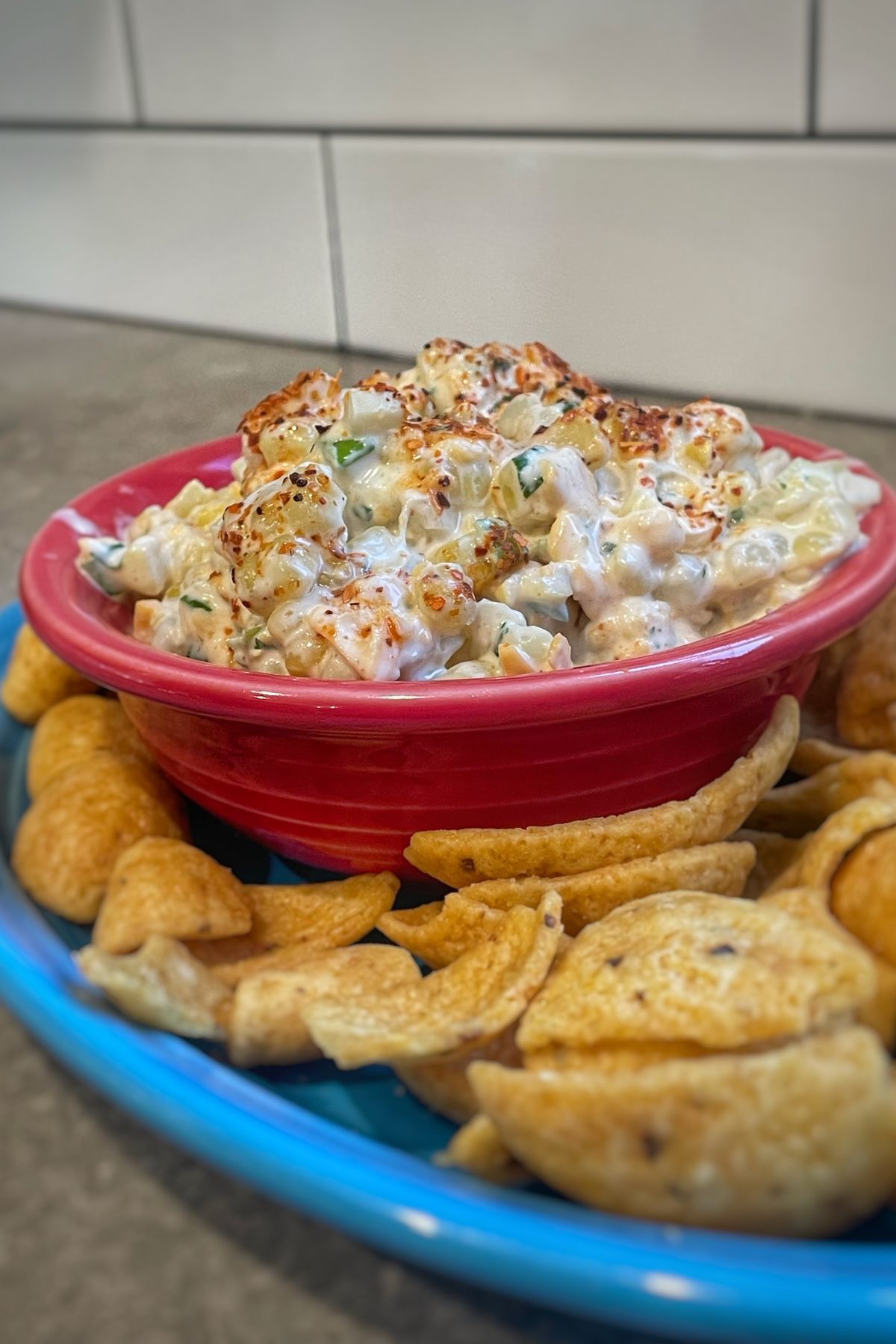 What is Tajin? And, do I have to use it?
Tajin is made in Mexico with mild chili peppers, lime, and sea salt. I buy it at my local Mexican mercado, but it's available at many chain grocery stores, too.
It is not spicy! So if your crowd isn't into heat, don't shy away from this addition. This ingredient takes your dip from a really good Corn Dip to an addictive Street Corn Dip!
Tajin enhances this dip nicely, but if you don't have it, don't worry. Just leave it out! Really, it will still be delish!
Pro Tips
I like to cook a few extra cobs of corn when I make it for supper, with the intention of making this dip. Leftover corn on the cob is perfect for this.
Frozen Extra Sweet Corn is a good substitute for corn on the cob. Just defrost it before stirring the other ingredients in.
Use canned corn if this works better for you. Or mix the flavors up by using Mexican Style canned corn. Just be sure to fully drain the canned corn before adding additional ingredients.
Can I make this dip in advance?
Yes! This great dip gets even better if the flavors are allowed to meld together. It is great on the second day, but honestly... at our house, leftovers rarely occur.
How do I store Corn Dip?
If you can stop eating this Crack Corn Dip before it's gone, store in the fridge for 3-5 days in a covered container.
Safely Handling Jalapenos and other hot peppers
This dip benefits from the touch of heat jalapenos bring. However, handle jalapenos safely to prevent discomfort.
Wear disposable gloves when cutting hot peppers; the oils can burn skin.
Avoid touching your face, eyes, mouth, etc.
If you like less heat in your dip cut out the jalapeno's seeds and membranes (whitish part of the inside pepper that is connected to the seeds).
Is Mayonnaise the same as Miracle Whip?
Mayonnaise and Miracle Whip are not the same ingredient and are not interchangeable in all instances.
Miracle Whip has a sweeter flavor and additional seasonings and does not work well in all Mayonnaise situations.
Mayonnaise is preferred in the Corn Dip with Fritos recipe as it has a milder flavor and will let the other dip ingredients shine.
Fun Facts About Peppers
Capsaicin is the compound in peppers that determines the perceived heat of a hot pepper.
The degree of heat found within peppers, also called pungency or piquancy, is determined by how it measures on the Scoville scale.
Jalapenos rank a medium on the Scoville Scale—coming in at 2500-5000 units. Compare this to a ghost pepper that is ranked extremely hot and comes in at over 1,000,000 units! If you want a mild pepper flavor, consider using a little bell pepper instead.
Interestingly, capsaicin affects every animal species besides birds. Scientist have found other uses for capsaicin including pepper mace spray and pain relievers.
Serving Ideas
Keep the Tajin close by so as the dip is eaten down, you can add a little sprinkle on top.
For a larger crowd, this dip easily doubles and triples.
Garnish with chopped cilantro or green onions on top of the Tajin.
Add-ins and Other Variations:
pickled jalapenos
additional chopped fresh jalapenos
diced green chilis
red peppers, diced
Use Southwest Corn or Mexicorn
Related Recipes
Did You Try this Recipe?
Lastly, if you made the Corn Dip Recipe, please let me know how you liked it by leaving a comment and/or giving a rating!
I love hearing from you! I'll do my best to respond to each comment.
And of course, if you do make this recipe, tag me on Instagram! Seeing your photos is my favorite thing!
Food safety
Do not use the same utensils on cooked food, that previously touched raw meat
Wash hands before cooking
Don't leave food sitting out at room temperature for extended periods
Never leave cooking food unattended
See more guidelines at USDA.gov.
Crack Corn Dip Recipe
Crack Corn Dip Recipe with street corn dip flair--Fresh corn on the cob makes this cold corn dip extra! A Tajin sprinkle takes it next level.
Ingredients
2-3

ears

corn on the cob

or 2 cups frozen corn, thawed

2

green onions sliced

green and white part

3

Tablespoons

cilantro leaves

chopped

1

lime

juiced

1

small

jalapeno

seeded and minced fine

¼

cup

mayonnaise

½

cup

sour cream

1

teaspoon

cumin

½

teaspoon

salt

½

teaspoon

garlic powder

1

cup

shredded cheddar cheese

Tajin

to taste

Hot sauce if desired

Frito Scoops or tortilla chips
Instructions
Cut the kernels off the corn on the cob and place into medium mixing bowl. If using frozen corn—allow corn to thaw before proceeding with the recipe.

Add all ingredients to the corn and mix well. Taste and adjust flavors.

Place in fridge for 3 hours or overnight to combine flavors.

Put in your favorite dip bowl, sprinkle with Tajin and/or hot sauce, if desired.

Serve with Frito Scoops or tortilla chips
Nutrition
Calories:
315
kcal
Carbohydrates:
13
g
Protein:
9
g
Fat:
26
g
Saturated Fat:
10
g
Polyunsaturated Fat:
7
g
Monounsaturated Fat:
6
g
Trans Fat:
0.03
g
Cholesterol:
51
mg
Sodium:
582
mg
Potassium:
223
mg
Fiber:
2
g
Sugar:
4
g
Vitamin A:
628
IU
Vitamin C:
12
mg
Calcium:
242
mg
Iron:
1
mg