This easy Sweet Potato Dump Cake Recipe uses a cake mix and canned sweet potatoes to create a sweet treat with all the warm flavors of fall.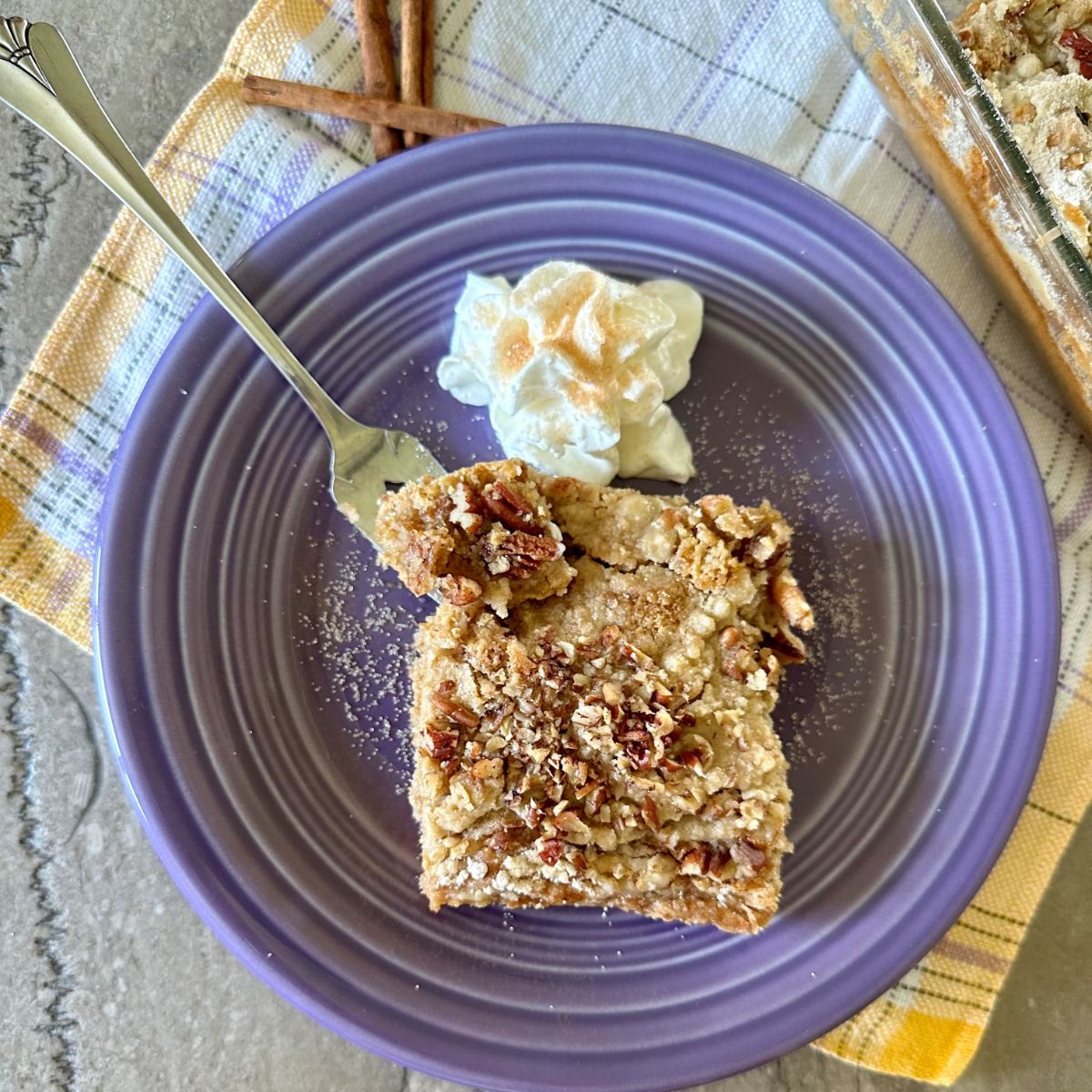 Why Sweet Potato Dump Cake?
Imagine the tantalizing aroma of cinnamon and nutmeg mingling with the velvety texture of sweet potatoes, all nestled under a soft, buttery cake crust. It's a match made in dessert heaven!
The magic of this dessert recipe lies in its simplicity; the ingredients are dumped into a single dish, and the oven does the rest of the work.
It's a foolproof recipe that guarantees blissful results every time, making it one of my favorite sweet potato recipes.
Trust me; you'll be wondering why you haven't tried this delightful dessert earlier!
Sweet Potato Dump Cake Tik Tok Recipe
Several versions of this Easy Sweet Potato Dump Cake have been on Tik Tok recently and it reminded me to share this version with you.
I like using canned sweet potatoes to save time in peeling and boiling fresh sweet potatoes, but you can use fresh if that's what you have.
If you use fresh, you will need to increase the amount of sugar added since canned sweet potatoes are packed in syrup, my version needs less added sugar.
This Easy Thanksgiving Dump Cake Uses a Cake Mix
Sweet Potato Dump Cake is the perfect Fall dessert recipe. I think it's even worthy of your next Thanksgiving (or Friendsgiving) gathering.
I like that you can make this dessert the day before and it's just as tasty. Just bake it, let it cool slightly, then put in the refrigerator until the dessert table is loaded up.
I always serve this with homemade whipped cream. If you're an ice-cream-kinda person, go for it! Vanilla ice cream would be delightful with this cake.
Can you Make this Dessert Recipe the Night Before?
Yes, you can! And it's a great way to plan a dessert for a gathering.
The baked dump cake will keep for 2-3 days in the refrigerator, well-covered in plastic wrap.
Before serving, let it come to room temperature, or warm it a little in a 350-degree oven. About 10 minutes will take the chill off it.
What is a dump cake?
Dump cakes, like this one, are intended to be super easy! Just dump, dump, dump, bake, and done! I know we all love to stir but now is not the time.
Ingredients
Canned sweet potatoes, packed in syrup. Drain the syrup off before using.
Brown sugar--I used light, but dark brown sugar is fine in this recipe.
Ground Cinnamon-I like the Vietnamese Ground Cinnamon best.
Vanilla-I prefer pure vanilla extract instead of vanilla flavoring. I know vanilla extract can be more expensive but in this case quality matters.
Nutmeg-This is an optional ingredient for me. I find nutmeg can be overpowering so often leave it out or reduce when I make recipes.
Butter Pecan Cake Mix-I like the interest this cake mix brings, but you sure can use a Spiced Cake mix if you can't find Butter Pecan Cake Mix. Sometimes I have trouble finding it.
Unsalted Butter-Unsalted is my fav for baking.
Chopped Pecans-Substitute English walnuts if you desire. However, where we live pecans, grow on trees in our pastures and yards.
FAQ
Should I Melt the Butter for my Dump Cake?
Some recipes call for the butter to be sliced into pats and placed over the cake mix.

I prefer melting my butter and drizzling over the top for a consistent topping.
Drizzling melted butter means your Sweet Potato Dump Cake is prettier!
How to Make a Dump Cake
Beat the eggs in a large mixing bowl using a whisk.
Add the sugar, spices, salt, and vanilla. I like to whisk the ground cinnamon into the eggs really well here as cinnamon can be difficult to get mixed in.
Whisk in the evaporated milk,
Add the drained and smashed sweet potatoes.
Put the wet mixture into your greased 9x13 baking dish.
Top with the cake mix powder. No stirring. Try to get the cake mix evenly coated over the top of the wet mixture. You should have plenty to cover.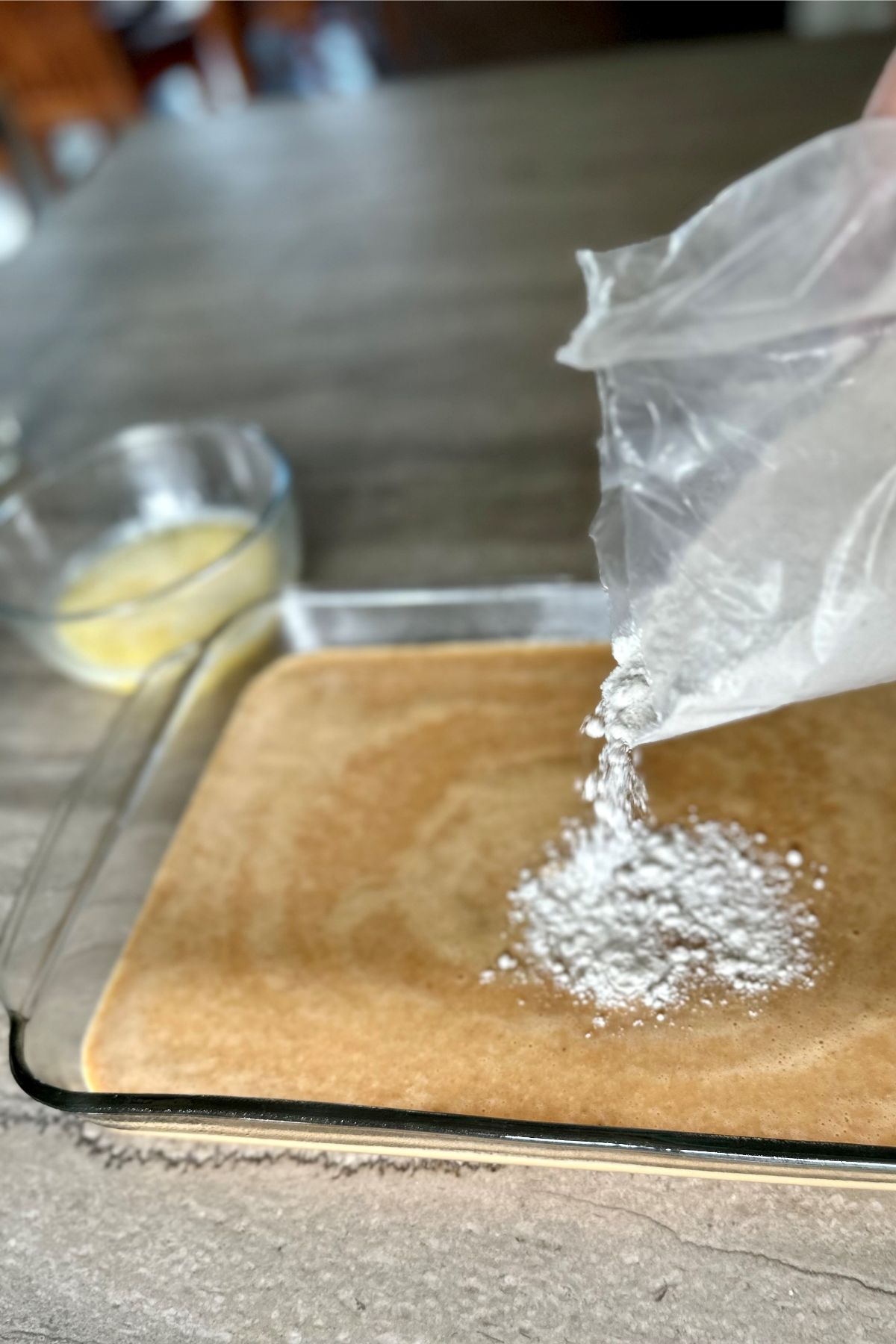 Drizzle the melted butter as evenly possible. No stirring.
Sprinkle on the chopped pecans, if desired. No stirring.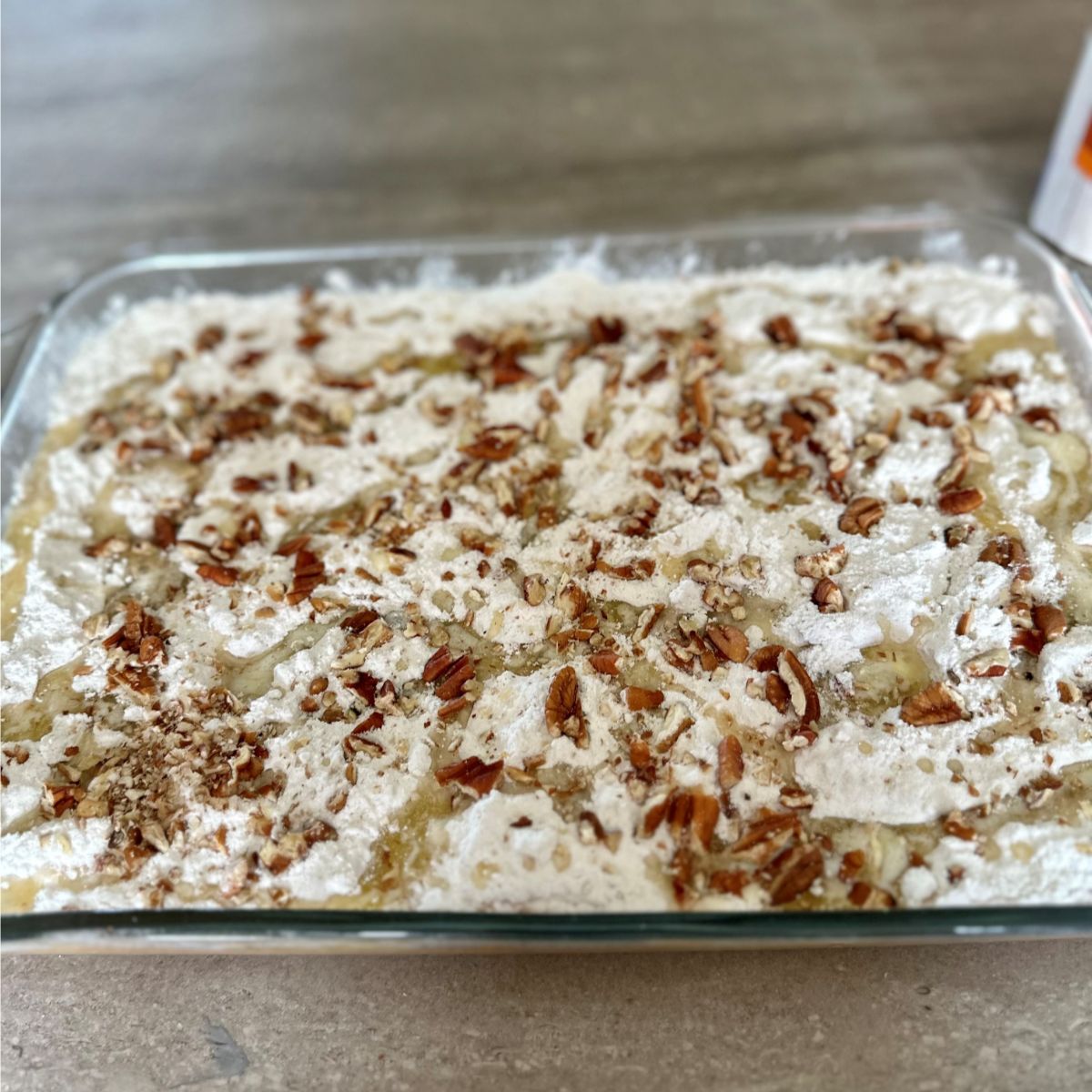 You get the idea...
Bake at 350 degrees for 35-40 minutes or until the top is golden brown and the sweet potato layer is firm.
Allow to cool on the countertop.
What is the biggest mistake to avoid when making a dump cake?
The rule is simple and resolute: Don't mix it.
When making a simple and classic dump cake, the last two steps are always to sprinkle the boxed cake mix on top and add the butter. Do not stir it in.
Which pan do I use for dump cake?
A 9x13 baking dish works well.
I like a glass pan because it can go directly to the dessert table and still look nice. I often find baking temperatures need reduced by 25 degrees when cooking in glass pans, but not in this case. Bake at 350 degrees, even in a glass pan.
Pro Tips
Sometimes Butter Pecan Cake Mixes can be hard to find. If you can't find it, use a yellow, white, or Spiced Cake mix.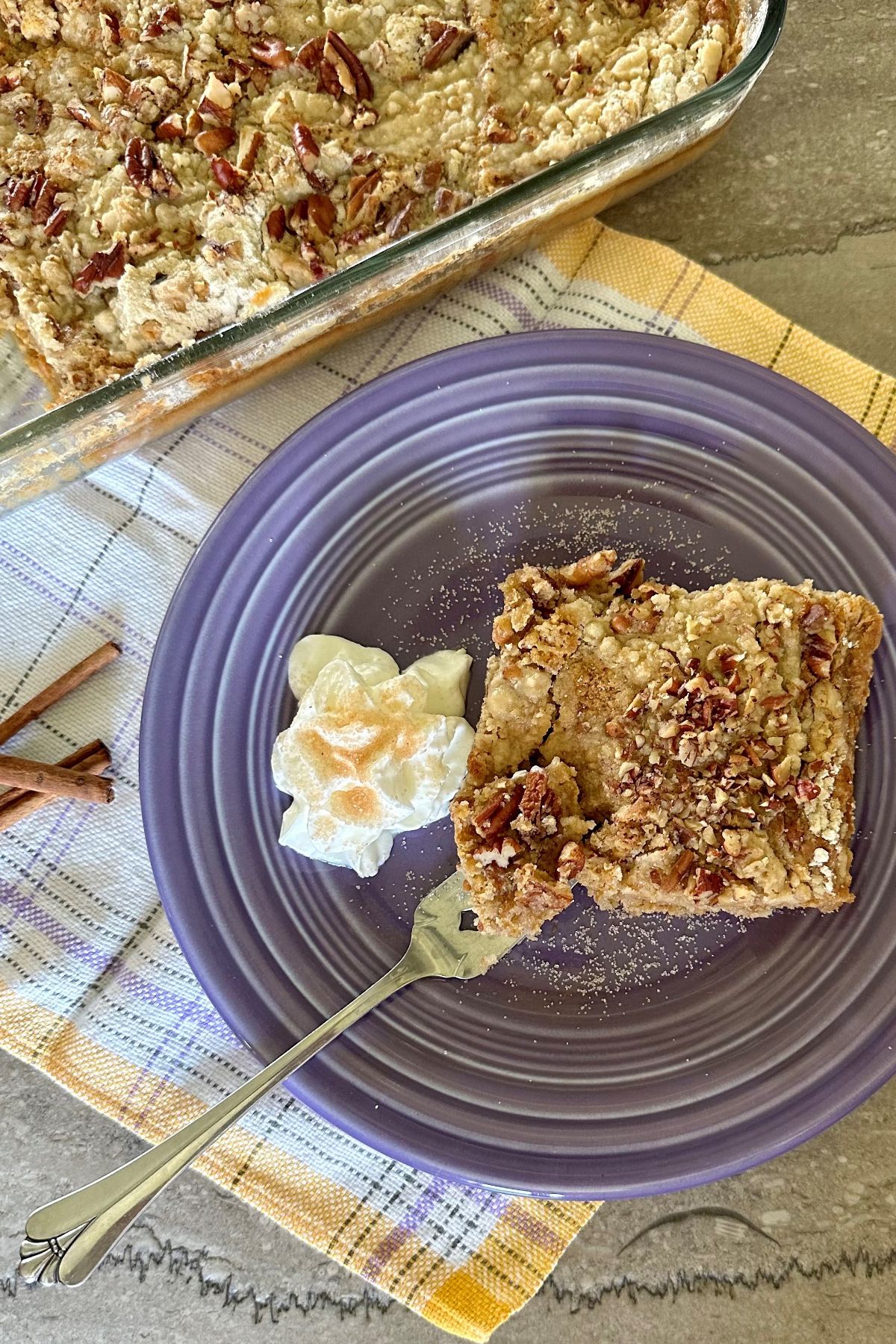 Are Dump Cakes Really a Cake?
This dessert recipe is called a "cake", but it has always seemed to me to be more of a bar. If you're expecting a fluffy cake texture, this isn't the recipe for you, but you will be missing out!
Call it a cake. Call it a bar. Just eat it.
Serving Tips
Some like it warm, some prefer it cold. I just like to eat Sweet Potato Dump Cake!
I like this dessert recipe best with a homemade whipped cream dollop on top.
Do Dump Cakes Go in the Fridge?
Due to the high moisture content of this cake, it is best stored in the fridge.
Cover with foil or plastic wrap and store in the fridge for 3-5 days.
The cake is best served fresh, but if you're making it for a holiday meal, baking the day before works just fine.
Related Recipes
Crock Pot Peach Cobbler with Cake Mix--for a peach dump cake variation.
There you have it!
A sensational Sweet Potato Dump Cake that will delight your taste buds and impress your family and friends.
This delightful dessert recipe is perfect for Thanksgiving, gatherings, potlucks, or even a cozy night in.
So, go ahead and indulge in the enchanting flavors of this easy-to-make treat.
Happy baking!
Did You Try this Recipe?
Lastly, if you made a Sweet Potato Dump Cake following this recipe, please let me know how you liked it by leaving a comment and/or giving a rating!
I love hearing from you! I'll do my best to respond to each comment.
And of course, if you do make this recipe, tag me on Instagram! Seeing your photos is my favorite thing!
Food safety
Do not use the same utensils on cooked food, that previously touched raw meat
Don't leave food sitting out at room temperature for extended periods
Never leave cooking food unattended
See more guidelines at USDA.gov.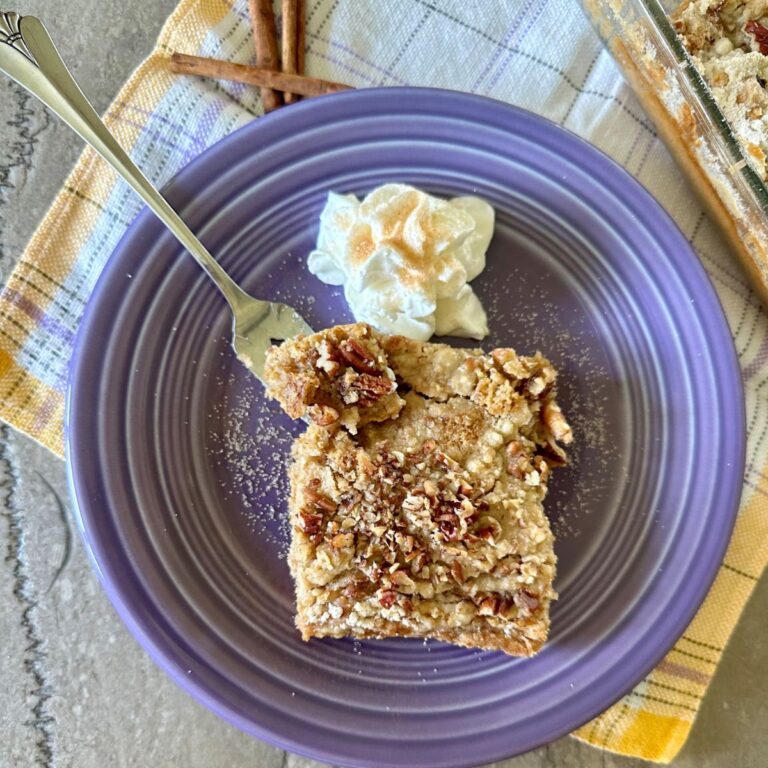 Sweet Potato Dump Cake
This easy Sweet Potato Dump Cake uses a cake mix and canned sweet potatoes to create a sweet treat with all the warm flavors of fall.
Ingredients
¼

cup

Sugar

3

Eggs

1

teaspoon

Ground Cinnamon

1

teaspoon

Vanilla Extract

¼

teaspoon

Nutmeg

½

teaspoon

salt

1

can

Evaporated Milk

12 ounces

1

29 oz can

Sweet Potatoes

drained, mashed

1

Cake Mix

Butter Pecan or Spiced

1 ½

sticks

Unsalted Butter

melted

¾

cup

Pecans

chopped
Instructions
Preheat oven to 350℉. Spray 9x13 pan with baking spray.

Whisk sugar, eggs, cinnamon, vanilla, nutmeg, and salt. Whisk until spices are well incorporated.

Add the can of evaporated milk. Whisk.

Stir in the drained, mashed sweet potatoes.

Pour into prepared 9x13 pan.

Sprinkle dry cake mix over the sweet potato mixture. Be sure mixture is completely covered with cake mix. DO NOT STIR.

Drizzle melted butter over the top of dry cake mix as evenly as possible. DO NOT STIR.

Sprinkle pecans over top.

Bake at 350℉ for 35-40 minutes or until top is golden brown and sweet potato mixture is set.

Let cool. Serve with whipped cream.
Nutrition
Calories:
361
kcal
Carbohydrates:
44
g
Protein:
4
g
Fat:
19
g
Saturated Fat:
10
g
Polyunsaturated Fat:
2
g
Monounsaturated Fat:
6
g
Trans Fat:
1
g
Cholesterol:
39
mg
Sodium:
533
mg
Potassium:
140
mg
Fiber:
1
g
Sugar:
26
g
Vitamin A:
440
IU
Vitamin C:
1
mg
Calcium:
178
mg
Iron:
1
mg