Simple Chocolate Chip Mug Cake recipe soothes a sweet tooth in minutes using only a few kitchen staples. No egg needed!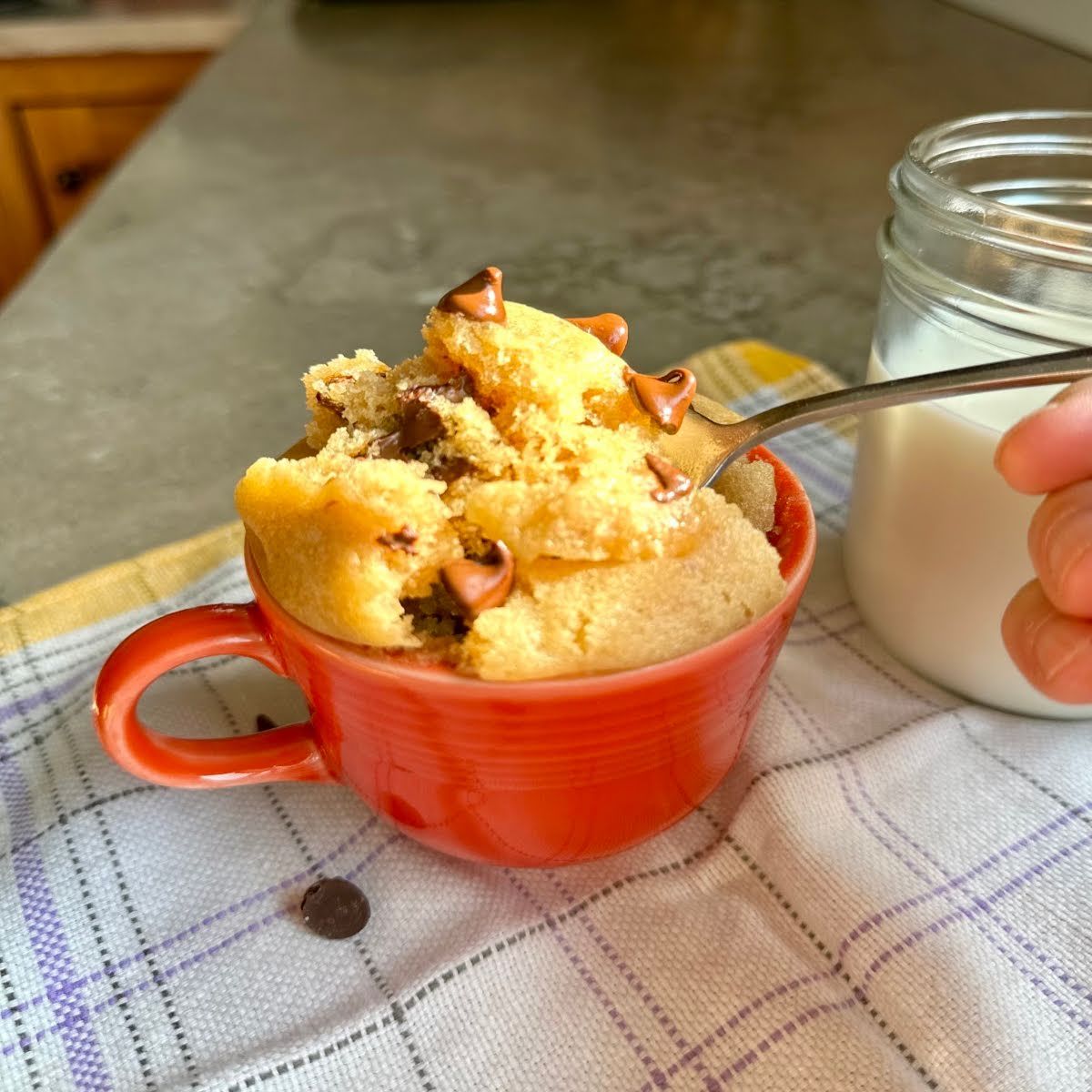 Simple Chocolate Chip Cookie Mug Cake 🍪
Chocolate Chip Cookie Mug Cakes should be called magic cakes. Because with just a few simple kitchen staple ingredients, you can have an easy dessert to indulge in while binge-watching your favorite new series.
Note: this is not a cookie. It has the flavor of a chocolate chip cookie, but the texture of a cake. I don't think you will be disappointed with using 5 minutes of your life making this recipe.
Truth--I'm usually kinda snobby about this kind of easy-peasy dessert. Like... can it really tame my sweet tooth if it's cooked in the microwave? The answer here is... YES!
Note my tough life...this Mug Cake requires me to double-fist it. Mug Cake in one hand, cold glass of milk in the other.
The hardest decision of all? Which flavor of Mug Cake to make?
Ingredients 🍵
The ingredients needed for Chocolate Chip Mug Cake are very simple and are typically in kitchens. Notice there is no egg in this recipe.
All-purpose flour--I have not tested this recipe with self-rising.
Brown Sugar--dark or light brown sugar work in this recipe. I used light.
Baking Powder--NOT baking soda. Baking Powder is double acting. Meaning it works when it gets wet and when it gets hot.
Salt--just a pinch enhances the sweetness in the Mug Cake.
Milk--I used 2%, but any kind will work. You can even use milk alternatives if needed.
Butter--I prefer real butter any time I cook. No margarine for me. Salted or unsalted butter is fine.
Vanilla Extract--Use the good stuff for a more natural flavor. Pure Vanilla Extract. NOT vanilla flavoring.
Chocolate Chips--Semi-sweet is my favorite! The mini chips would be handy here since the recipe makes a small serving, but I only had regular sized.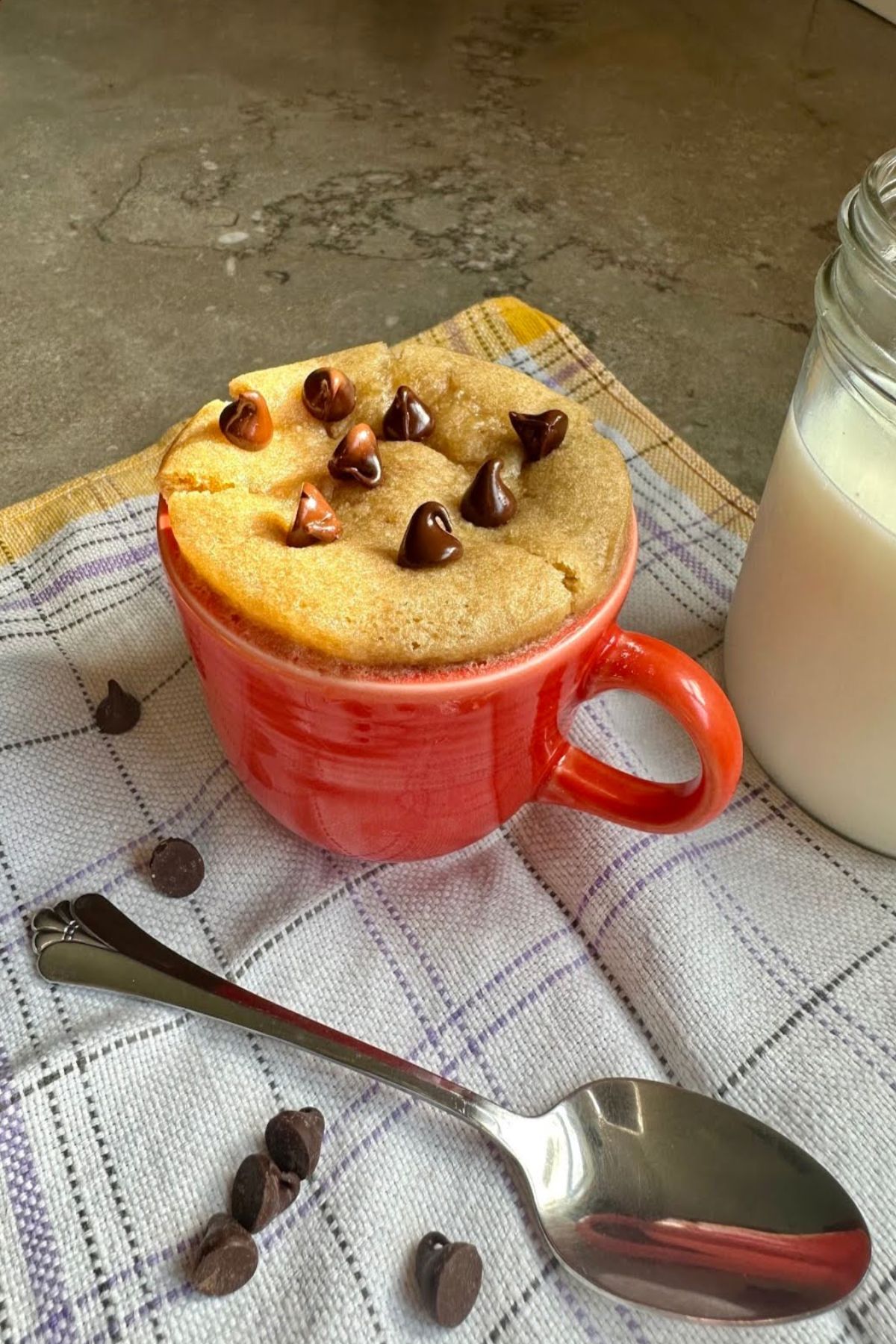 Top Tip 💭
Mug size is important when making Mug Cakes. Follow the mug size recommendation for each recipe. For this Chocolate Chip Mug Cake recipe use a 6 to 8 ounce mug.
If the cup is smaller than 6-ounce capacity = overflow and messy microwave.
If the cup is larger than 8 ounces = thinner Mug Cake, so watch it carefully while cooking and adjust your cooking time, as needed.
Lay the butter wrapper over the top of your mug when melting the butter to prevent the butter from splattering all over the inside of the microwave. Trust me... this is a lifesaver.
How to make a Chocolate Chip Mug Cake 🥄
Melt the butter in a 6 to 8-ounce microwave safe mug.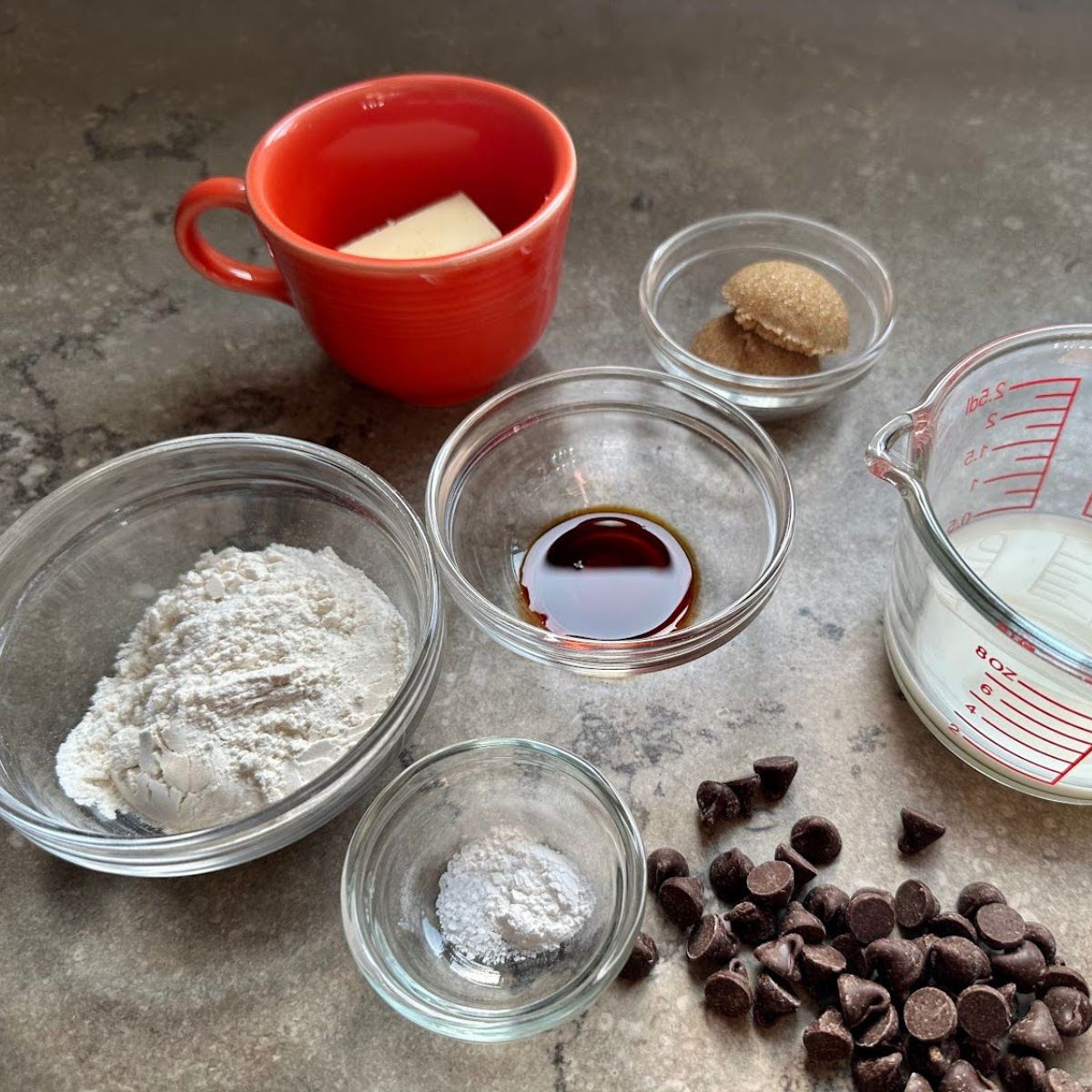 Add vanilla and milk to the melted butter. Stir well.
Add the flour, packed brown sugar, baking powder and salt. Stir very well. Get into all of the nooks and crannies in the bottom of your mug. When you think you have stirred enough, stir a little longer.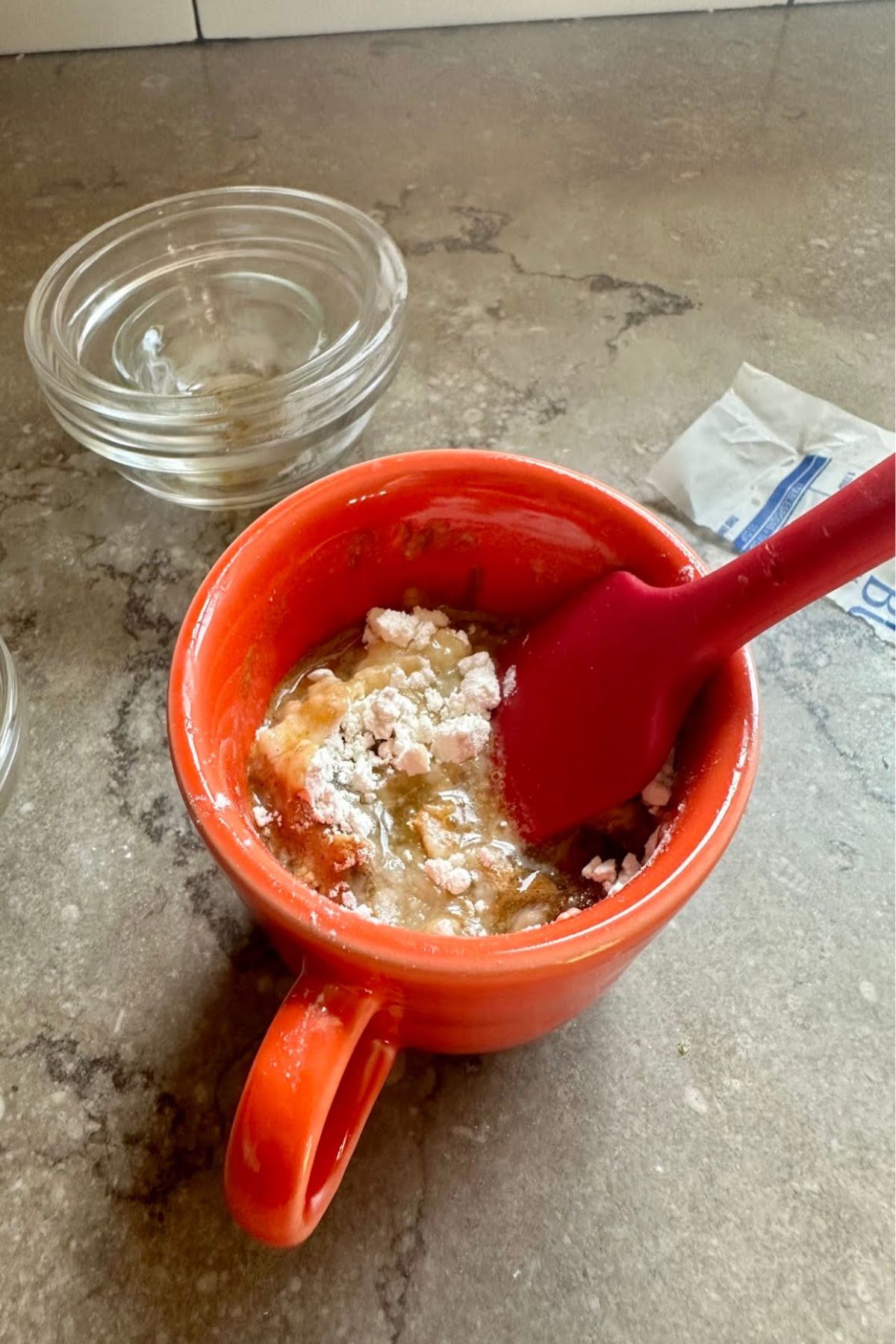 Add the chocolate chips.
Stir one more time making sure there is no dry ingredients hanging around still.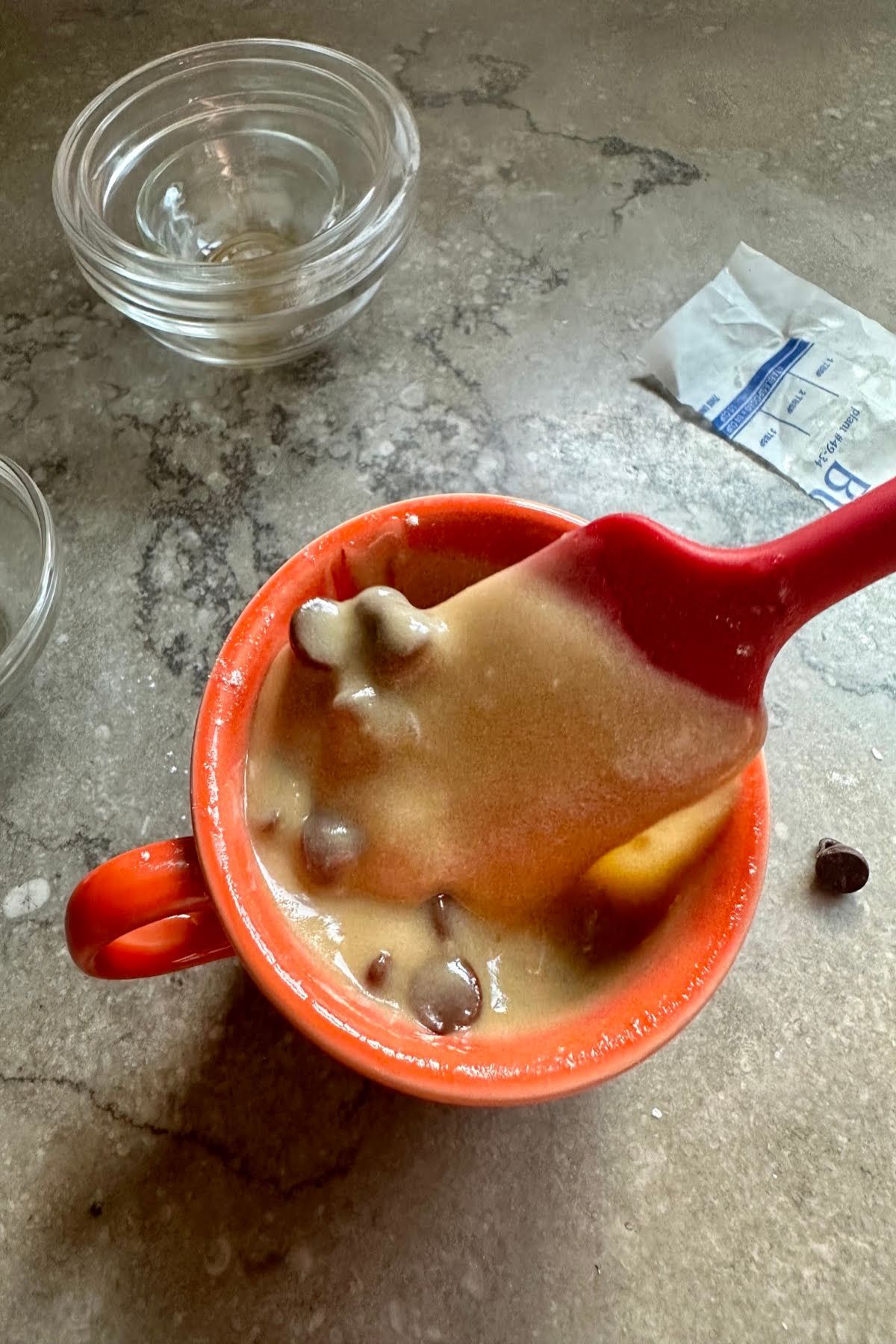 Microwave for 1 minute. Really--1 minute. This doesn't seem possible, but it is. Carefully remove the hot Chocolate Chip Mug Cake from the microwave.
How to know if my Mug Cake is done?
Test for doneness by lightly touching the top of the Mug Cake with your finger. If the cake is puffy and springs back, it's finished cooking.
If there is still a little moisture or it doesn't spring back with your light touch, put it back in the microwave and cook for another 15 seconds.
Once it has tested done, allow your delicious Chocolate Chip Mug Cake to cool a few minutes. If you're like me, this is the hardest part of the whole day. Patience will save your tongue from the molten hot cake.
What Can I Top My Mug Cake With to Make it Even More Amazing?
Level up your Chocolate Chip Mug Cake with--
a dollop of whipped cream
chocolate sauce drizzle
caramel sauce drizzle
sprinkle of additional chocolate chips
scoop of vanilla ice cream
sprinkling of flake sea salt
Substitutions 📖
I know... sometimes I am scraping the bottom of the pantry supplies when trying to soothe my sweet tooth. So you may be needing some emergency substitution answers.
White sugar can be substituted for brown sugar with the same measurements. The flavor will be slightly different, but not notably.
Use milk alternatives as you would like. Oat, almond, etc should work just fine in this recipe.
Butter provides a nice richness, but if you're in a pinch, you can use canola or vegetable oil. Use the same measurements.
Chocolate chips are just a suggestion here. Use whatever kind of chip makes you happy--butterscotch, peanut butter, milk or dark chocolate. Heck, you can chop up a candy bar and use that if you want.
Best Way to Reheat My Mug Cake? ⏲️
Yup! Just microwave it for 15 seconds at a time until it's warm. Be careful not to overheat it though, or it will be hard as a rock!
How do I measure packed brown sugar? 📦
Measuring brown sugar is a little "special". Make sure to pack it to ensure you have the correct amount in recipes.
How do I measure flour? 🫙
Ok... so measuring flour is a little "special", too. But in a different way. NO packing or tapping when measuring flour. To properly measure flour stir it to lighten, and lightly spoon it into a dry measuring cup (overflowing the cup), then use the back of the knife to level the flour.
Why be so careful when measuring flour? Because it can make the difference between a moist Mug Cake and one that is dry as a bone. Accuracy matters here.
Storing Chocolate Chip Mug Cakes
If for some crazy reason, you don't finish your mug cake, cover it tightly with plastic wrap or foil and eat it within 2-3 days. Reheat it for 15 seconds before eating, if desired.
Related Recipes
Did You Try this Recipe? ❤️
Lastly, if you made a Chocolate Chip Mug Cake following this recipe, please let me know how you liked it by leaving a comment and/or giving a rating!
I love hearing from you! I'll do my best to respond to each comment.
And of course, if you do make this recipe, tag me on Instagram! Seeing your photos is my favorite thing!
Food safety
Don't leave food sitting out at room temperature for extended periods
Never leave cooking food unattended
Chocolate Chip Mug Cake
Simple Chocolate Chip Mug Cake recipe soothes a sweet tooth in minutes using only a few kitchen staples. No egg needed!
Ingredients
¼

cup

all-purpose flour

2

Tablespoons

brown sugar

packed

¼

teaspoon

baking powder

1

pinch

salt

3

Tablespoons

milk

3

Tablespoons

butter

melted

½

teaspoon

vanilla extract

¼

cup

chocolate chips

semi-sweet
Instructions
Melt the butter in a 6 to 8-ounce mug using the microwave.

Add vanilla extract and milk. Stir.

Add all dry ingredients except chocolate chips. Stir well. Make sure no dry ingredients remain in the bottom of the cup.

Add chocolate chips and stir well again.

Check for doneness. The cake should spring back when lightly touched and no wet spots should remain. If the cake is not done, microwave for 15 more seconds.
Nutrition
Calories:
764
kcal
Carbohydrates:
79
g
Protein:
5
g
Fat:
49
g
Saturated Fat:
31
g
Polyunsaturated Fat:
1
g
Monounsaturated Fat:
9
g
Trans Fat:
1
g
Cholesterol:
96
mg
Sodium:
439
mg
Potassium:
275
mg
Fiber:
1
g
Sugar:
52
g
Vitamin A:
1122
IU
Calcium:
181
mg
Iron:
2
mg