An Easy Tiktok inspired Oreo Mug Cake recipe that will satisfy those late-night chocolate Oreo cookie cravings, in less than 5 minutes!
Oreo Mug Cake Recipe 🍰
In all honesty, I usually turn my nose up at this kind of recipe. Oreo Mug Cake Recipe?! I'm certain it can't be good... Right?!
I often assume these uber-easy, microwave-type recipes won't be as fulfilling as a real baked treat or compete with a good oreo and milk snack.
However, my baby child saw this idea on a viral Tiktok video and was excited to try it. And, guess what...
I am a big enough person to admit--I was wrong and the baby child was right.
Oreo Mug Cakes are delicious!
In fact, everyone that tried it said they would totally make it. Take that, doubters (I say to myself)!
Does Oreo Mug Cake Work? 💪
Uh. Yes. This recipe for Oreo Mug Cake works perfectly.
Tik Tok cooks claim that you can combine crushed cookies with milk and heat in the microwave for a cake that is ready in under around a minute.
Sounds too good to be true? It's not. This recipe works like sweet, chocolate flavor treat magic.
Is Making Oreo Mug Cake Easy? 😌
Making this sweet treat is amazingly easy. Most kids could make this on their own. This is a great recipe to start the kids with and help build their cooking confidence.
It was fast. Like less than 5 minutes in total.
Clean-up was a cinch. No bowls, pans, etc.
What is a Mug Cake? ☕️
The creativity of Tik Tok cooks reminded me of this simple, brilliant concoction.
Mug Cakes are simply a cake made with simple ingredients, cooked in the microwave. They are typically 1 or 2 servings.
I'm not judging... call it one serving if you dang well want to.
Maybe you can relate. Sometimes I just neeeeed a solid chocolate fix. Especially at night just before bed.
It's like my body says, "Wait! You must eat something before closing your eyes for 8-hours or you could shrivel up!".
Let's be clear, I am not at risk of starvation overnight, but my brain sometimes wins.
This is where Mug Cakes come in.
I love the mug cake collection recipes because they are delicious, but what I really love about them is that they are single-serve. I'm not tempted to eat an entire pan of cookies/brownies/cake to keep it from going to waste over the next 3 days.
I'm altruistic like that, you see. No brownie shall go wasted!
Enter the Oreo Mug Cake... I'm satisfied without the temptation to eat a 9x13 cake for breakfast the next morning.
So, I guess this Oreo Mug Cake is healthy for me in that way. 😉
Top Tip 💭
For this Oreo Mug Cake recipe, use a mug that holds at least 6 ounces, but not larger than 8 ounces.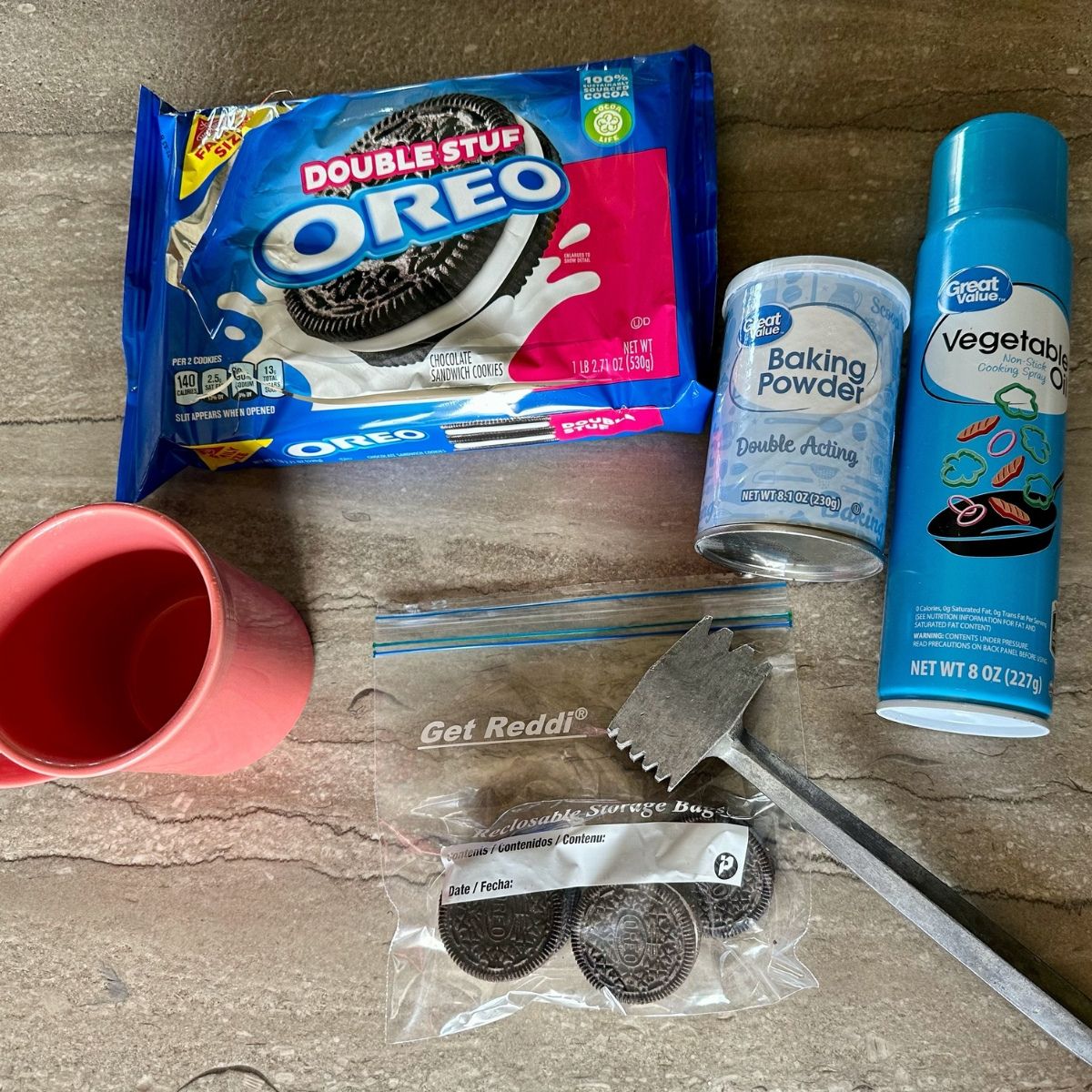 Ingredients 🥘
I know--the simplicity for this brilliant creation is shocking, but just go with it.
Oreos-Double Stuffed is what my kiddo bought, so that's what we used and they worked beautifully. Regular Oreos would work, too.
Baking Powder--helps create the cake texture here. If you don't have baking powder, leave it out. The texture will be more dense, but still delish.
Milk-I use 2% because that's what I typically have on hand.
Vanilla Ice Cream or Whipped Topping--optional, but I like the Oreo-dipped-in-milk texture it brings.
How To Make this Easy Oreo Mug Cake 🥄
In a 6 to 8-ounce microwave-safe mug or in a resealable baggie, crush your Oreo cookies. I like the idea of no extra dishes, equipment, or wasted plastic so I just crushed mine in my mug.
Add baking powder and stir well. No one likes a bite of baking powder. So stir pretty good here.
Add milk and stir well. The dough should be a consistent color after stirring for about a minute.
Microwave until your cake is firm. Cook times vary depending on your microwave.
Cool the Mug Cake for a minute or so before topping with whipped cream or ice cream, if desired. It will be hot. So proceed with caution.
If you're cooking with a kiddo, take caution to handle the hot cup and cake for them to prevent burns.
Pro Tips 💭
I would skip the colored filling Oreos because weird colored food doesn't appeal to me, but if you can get over that, I'm sure they would taste the same.
Use baking POWDER, NOT baking SODA for Oreo Mug Cakes.
Baking Powder is double acting--this means it works when it comes in contact with liquid (milk) and again when it's heated.
Microwaving Mug Cakes 👨🏻‍🍳
Microwaves vary. For my microwave, this cake is ready after 1 minute.
However, if your cake is still wet and not set up after cooking for one minute, cook for another 15 seconds.
I know it doesn't seem possible, but 1 minute is legit, and all it took for this cake to be cooked!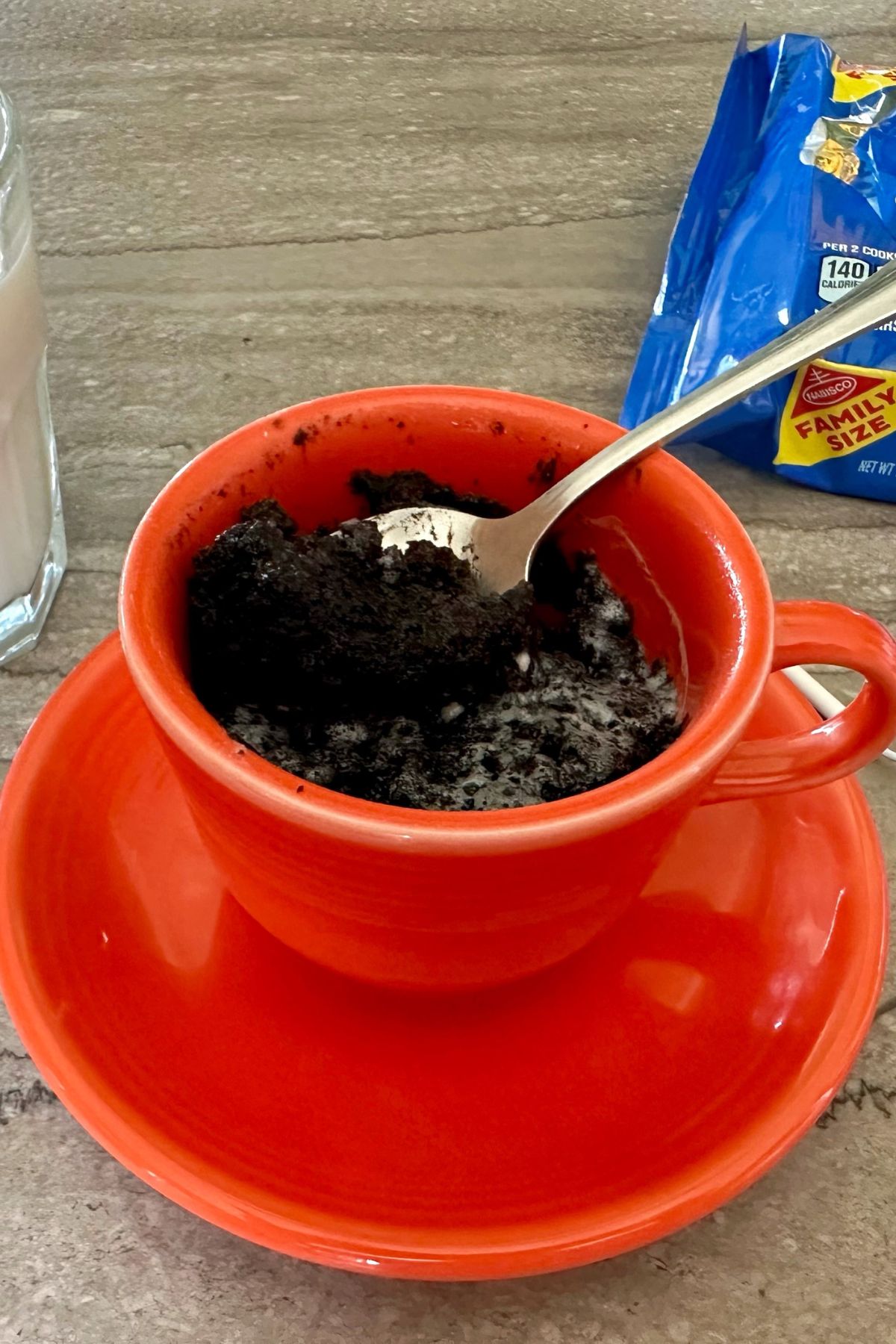 Which Mug Should I use to Microwave my Mug Cake? ☕️
For this recipe, I use a small-sized mug that holds 6 ounces and there was plenty of room.
I suggest, not using a mug that is larger than 8 ounces as your cake mix will be in a thinner layer and could overcook.
If a large mug is all you have, then reduce your cooking time.
Can I Make Mug Cakes in a Bowl? 🥣
It should work as long as the bowl is microwave-safe and approximately the same width as a mug.
If the bowl or mug is too wide, the cake batter is thinner and then cooks faster.
You will have to use your judgment if using a bowl and experiment with cooking times.
Do I Need to Spray my Mug to Prevent Sticking? 🧈
I don't find it necessary to spray the mug with baking spray or coat with butter.
The Oreo Mug Cake dough sticks a little to the sides, but nothing my spoon couldn't take care of.
Can I use Dairy Milk Alternatives in Oreo Cookie Mug Cake? 🥛
I haven't tested milk alternatives in this recipe. Most milk alternatives require no adjustments when used in recipes.
But I defer to your expertise and experience if you are an alternative milk user.
Can I double the recipe? 2️⃣
Sure! But I would recommend separate cups and cooking one Mug Cake at a time. This ensures the cakes are cooked evenly and equally.
After all, the wait time is only a minute. Even I can wait that long.
Can I reheat my Oreo Mug Cake? ♨️
If you can't eat all your cake in one setting (you quitter), you can reheat your Oreo Mug Cake in the microwave for 10 seconds at a time.
Careful not to overcook it or it will get hard.
Related Recipes
Did You Try this Recipe? ❤️
Lastly, if you made an Oreo Mug Cake following this recipe, please let me know how you liked it by leaving a comment and/or giving a rating!
I love hearing from you! I'll do my best to respond to each comment.
And of course, if you do make this recipe, tag me on Instagram! Seeing your photos is my favorite thing!
Food safety
Do not use the same utensils on cooked food, that previously touched raw meat
Don't leave food sitting out at room temperature for extended periods
Never leave cooking food unattended
See more guidelines at USDA.gov.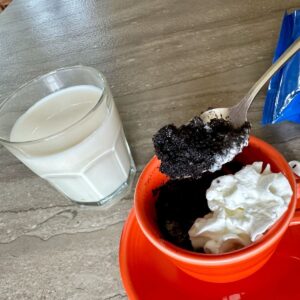 Oreo Mug Cake
An Easy Tik Tok inspired Oreo Mug Cake recipe that will satisfy those late-night chocolate Oreo cookie cravings, in less than 5 minutes!
Ingredients
4

Oreo Cookies

crushed

3

Tablespoons

Milk

¼

teaspoon

Baking Powder

Whipped Cream or Ice Cream

optional
Instructions
Crush Oreo cookies in a 6 to 8 ounce mug.

Add ¼ teaspoon baking powder to crushed Oreos.

Stir until baking powder is well incorporated.

Add 3 Tablespoons milk to the Oreo cookie mixture in your mug.

Stir for 1 minute or until fully combined.

Check for doneness. Oreo Mug Cake should be set up with no liquid remaining. Cook for 15 more seconds if needed.

Cool for 1 minute. Top with whipped cream or ice cream if desired. Enjoy!
Nutrition
Calories:
250
kcal
Carbohydrates:
36
g
Protein:
4
g
Fat:
11
g
Saturated Fat:
4
g
Polyunsaturated Fat:
2
g
Monounsaturated Fat:
5
g
Trans Fat:
0.03
g
Cholesterol:
5
mg
Sodium:
309
mg
Potassium:
180
mg
Fiber:
1
g
Sugar:
22
g
Vitamin A:
74
IU
Calcium:
124
mg
Iron:
6
mg