Create a fresh-tasting and moist Lemon Jello Cake for dessert with a lemon-infused glaze with the ease of a cake mix and box of Jello.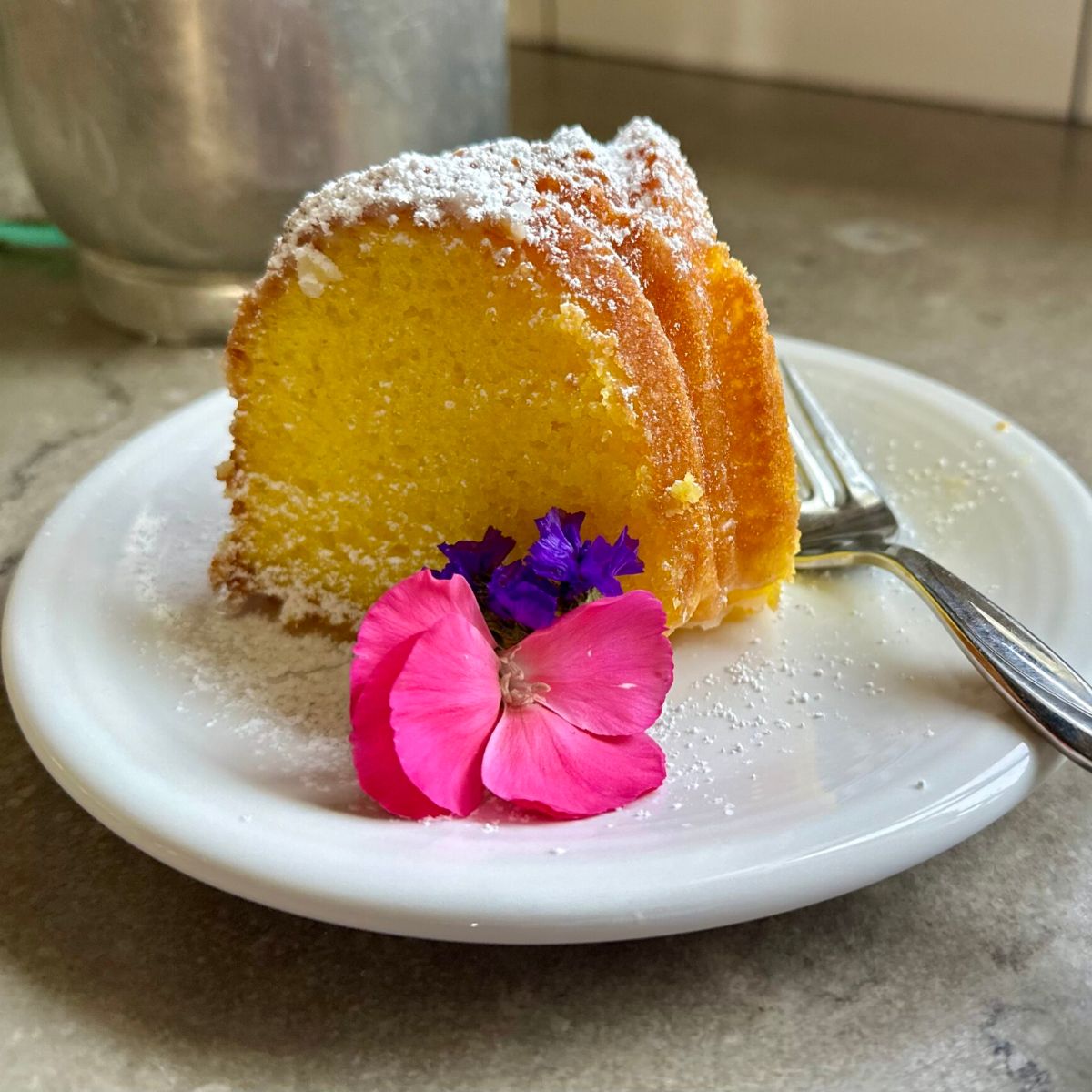 Extra Lemon, Lemon Jello Cake
Love jello poke cakes? Double the lemon flavor in this refreshing Lemon Jello Cake recipe that is perfect for brunch.
Or maybe you can be the cool friend and bring this dessert to the next Book Club. Then you have a distraction from the fact that you did not finish the book of the month--again.
Use a fancy or simple bundt pan to create a cake that looks much more complicated than it is. No one will believe that it all started with a cake mix and a small box of lemon jello.
No Bundt pan? No worries! Use whatever you have--9x13 would work just fine! You got this!
Ingredients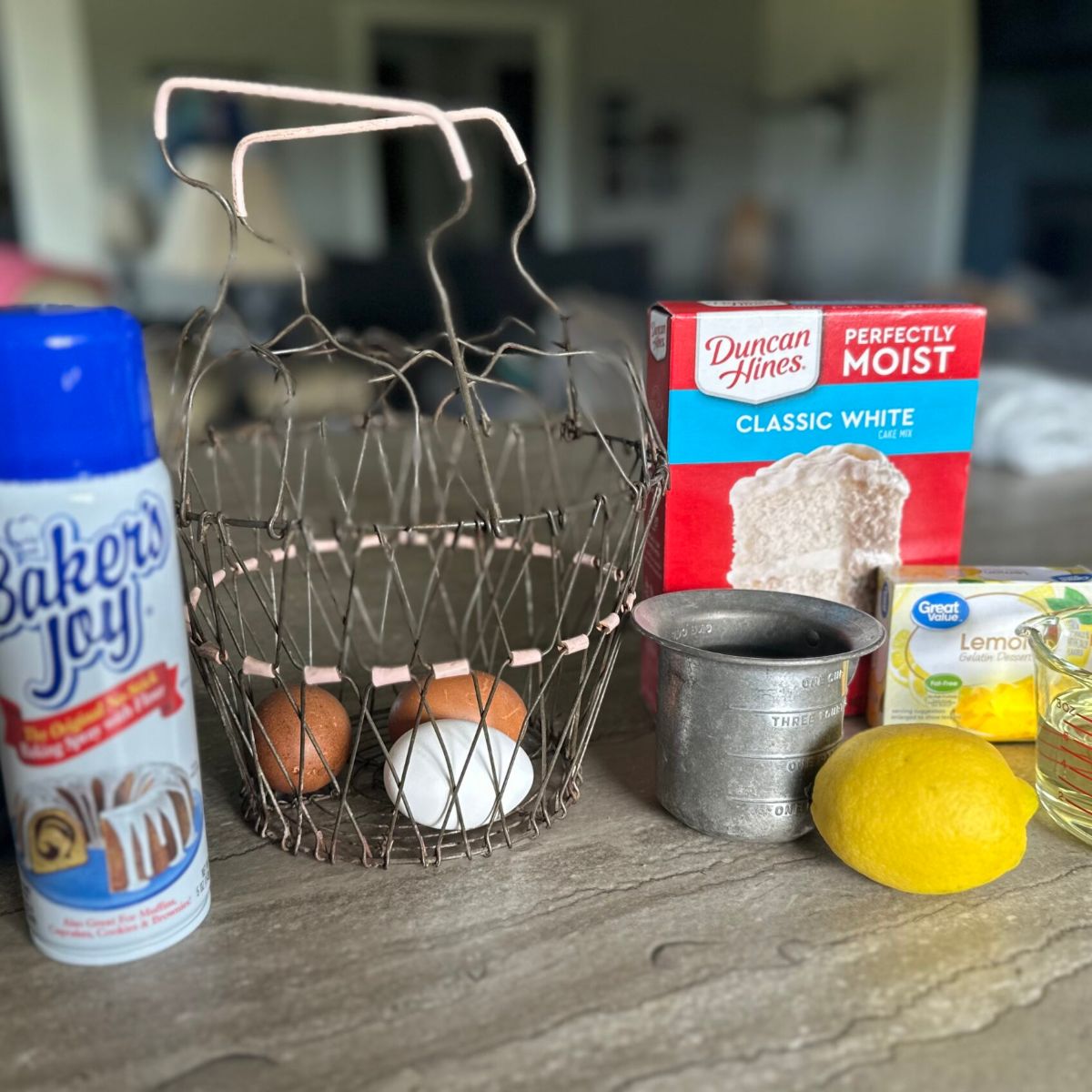 Yellow Cake Mix--any brand you like will do.
Lemon Gelatin--choose the small 3 ounce box.
Eggs--Large eggs are what recipes are tested with.
Oil--I use canola oil when baking cakes. It's mild flavor works perfectly.
Water
Fresh Lemon Juice--some lemons are juicier than others. I always buy 2, just in case. This time 1 lemon was sufficient.
Lemon Zest--the outer, yellow part of the lemon rind that is full of lemon oils and lots of lemon flavor. Don't get into the white pith as it can be bitter.
Powdered Sugar--sift before measuring to make sure your drizzle is lump free.
Top Tip
The drizzle soaks into the cake and creates a great moist cake. If you want the it to have more of a visible glaze appearance that dries on the cake, reduce the amount of lemon juice you add.
Instructions
Prepare your cake pans by lightly spraying them with baking spray.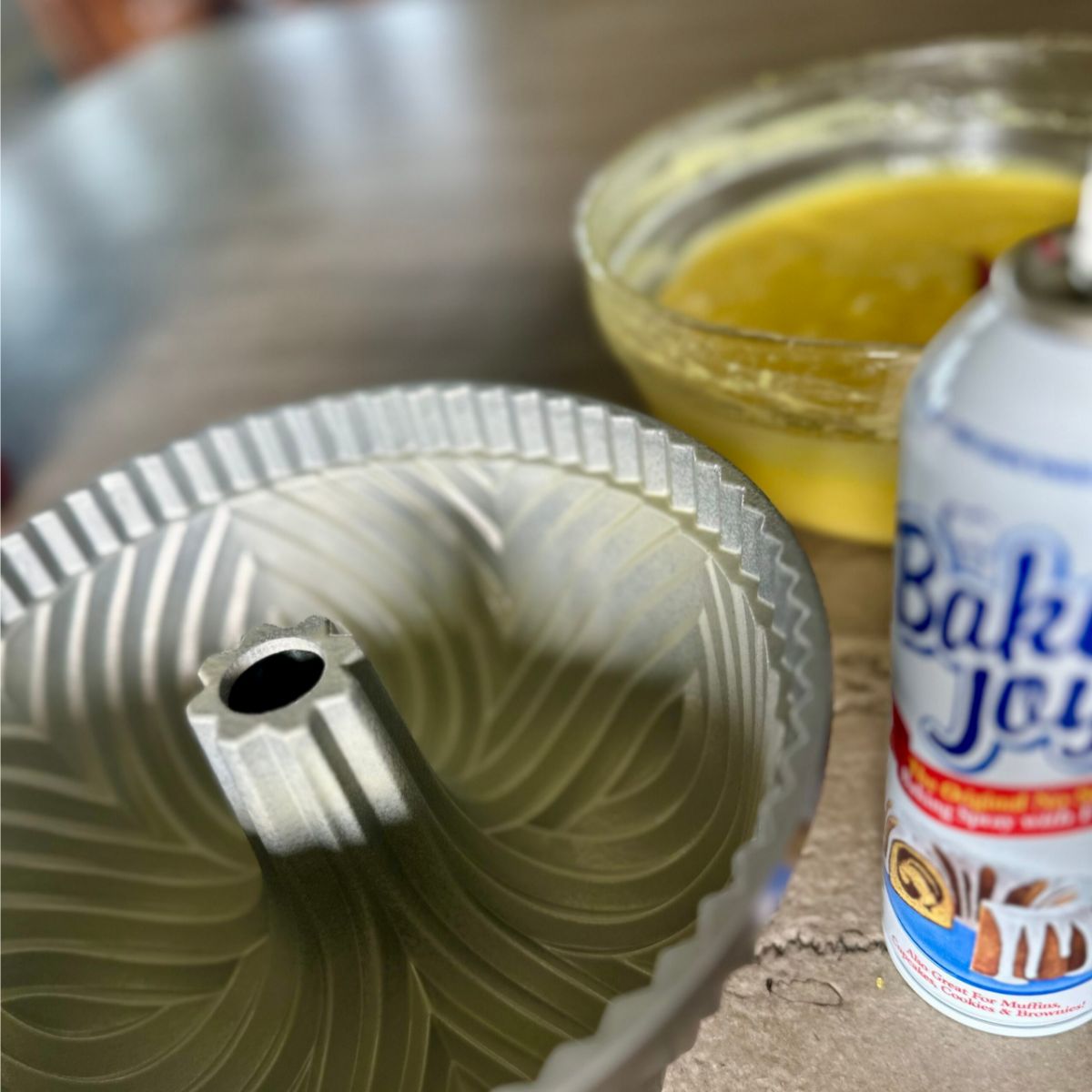 Zest the lemon. After the lemon is zested, cut the lemon in half and squeeze out the juice in a small bowl. Remove any seeds. The lemon juice will be used in both the cake and the drizzle.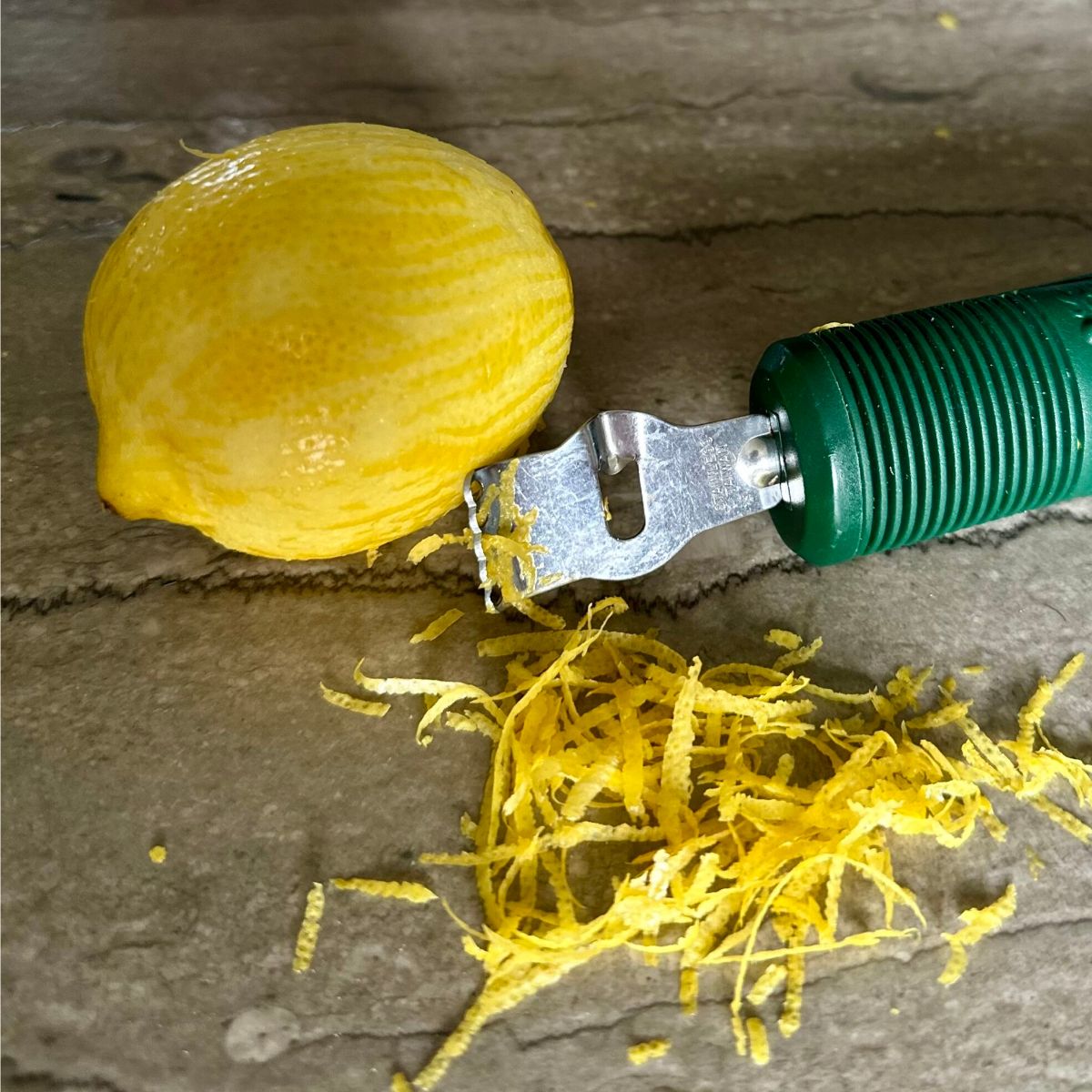 In a large bowl, combine lemon jello mix and other cake ingredients. Beat with an electric mixer on medium for 3 minutes.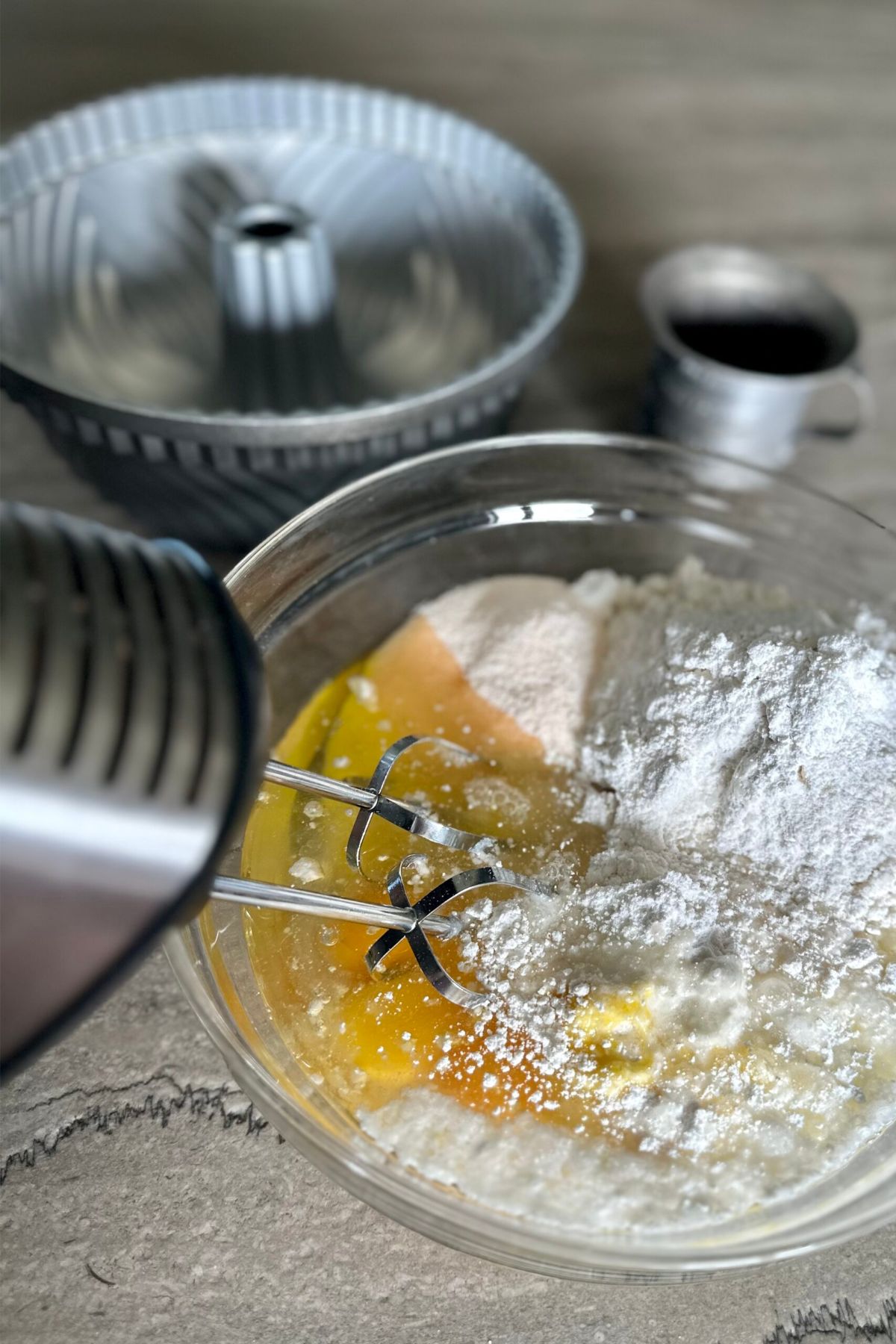 Pour the batter into your prepared pan. Shaking the pan gently to even out the batter.
If you splashed the batter onto the sides of the pan, wipe the pan clean with a damp cloth being careful not to wipe away your baking spray.
Bake for the time that is indicated on the cake mix--matched to your pan size. My bundt pan baked for 30 minutes at 350 degrees.
Remove the cake from the oven when the cake tests done. See tips below.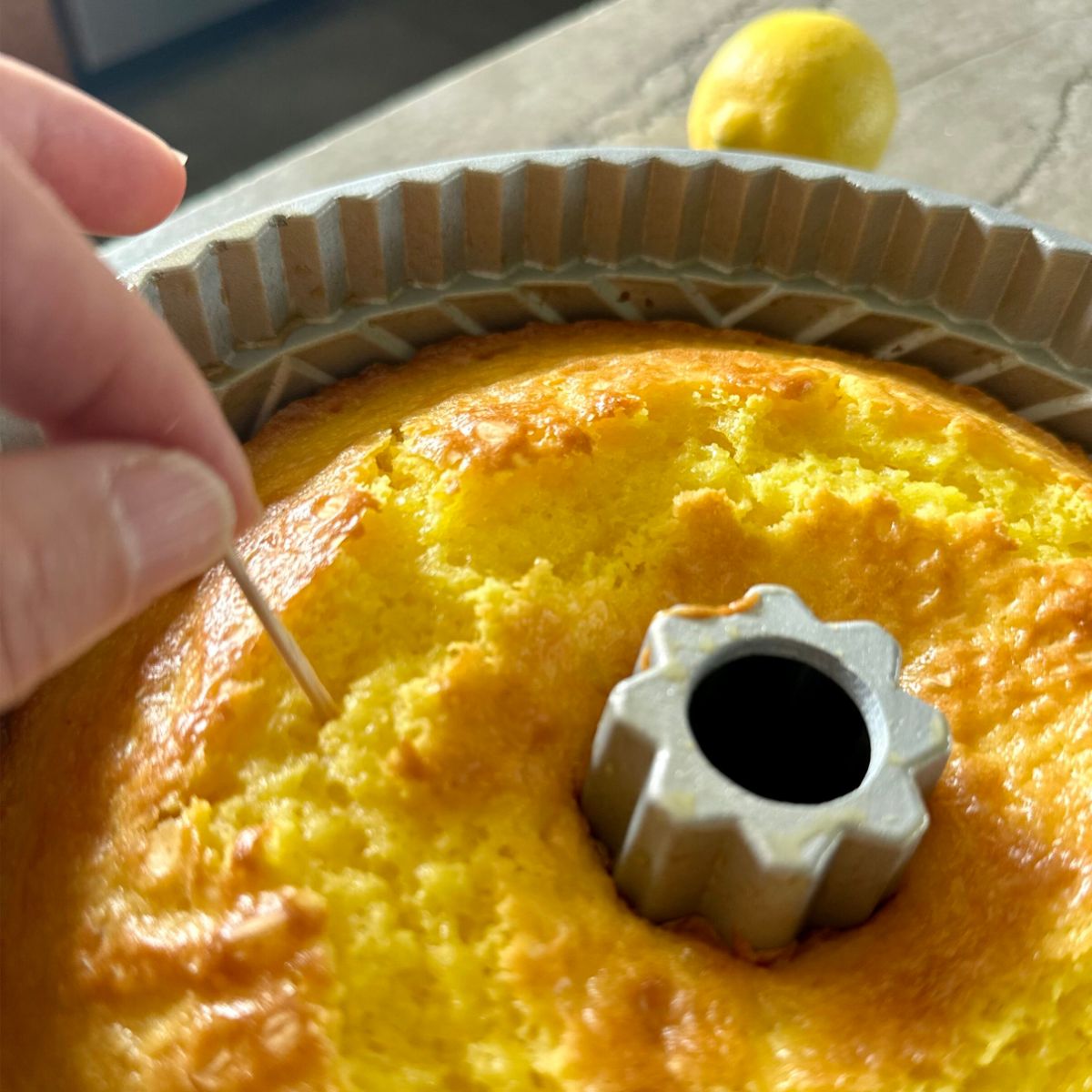 Cool the cake in the pan for 10 minutes. This helps the cake to release from the pan more successfully. Don't rush this step or the cake could fall apart.
Flip the cake over onto a cooling rack then allow the Lemon Jello Cake to cool completely.
Meanwhile, make the lemon glaze by mixing sifted powdered sugar with fresh lemon juice until no lumps remain.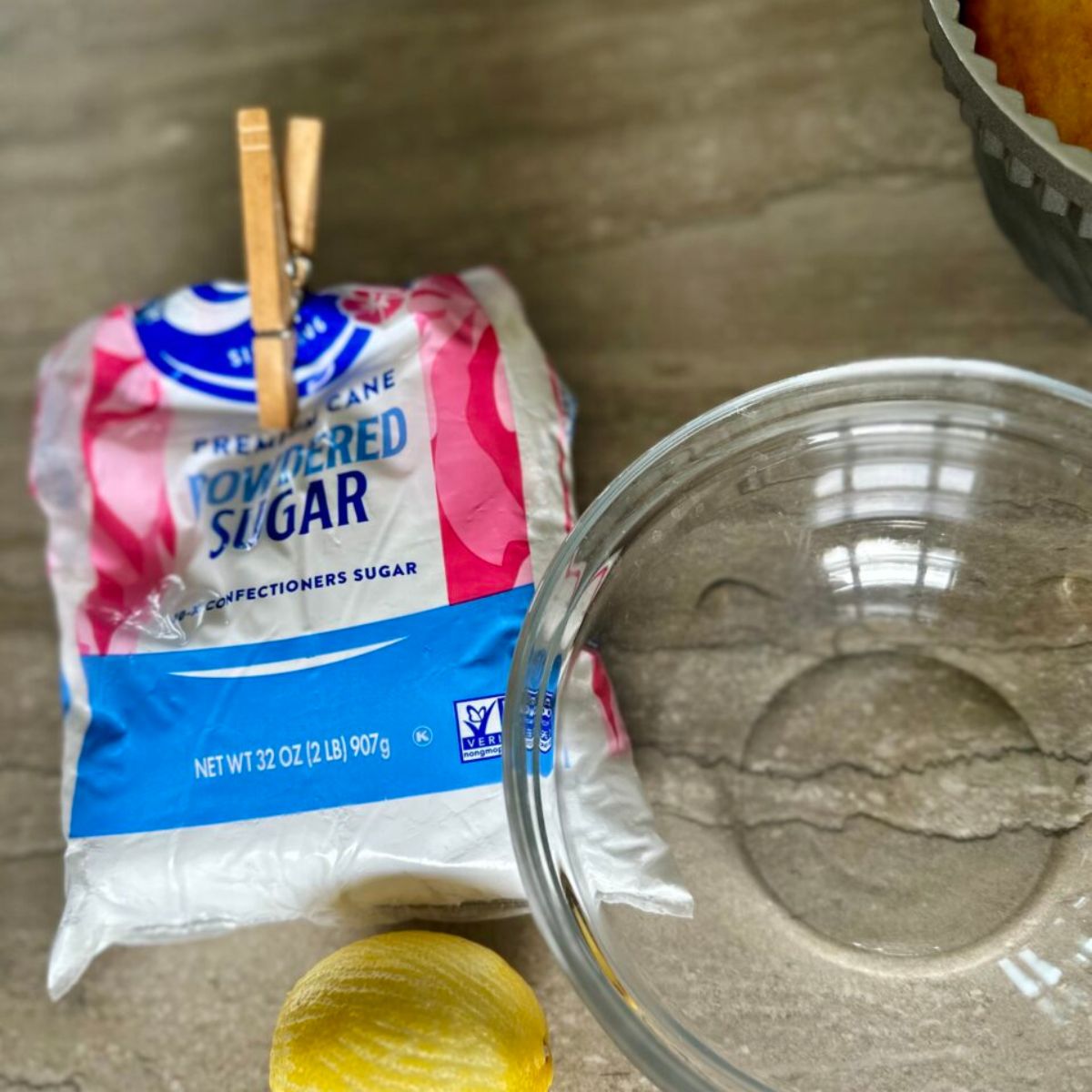 Drizzle lemon glaze onto the top of the cake and this beauty is ready to serve.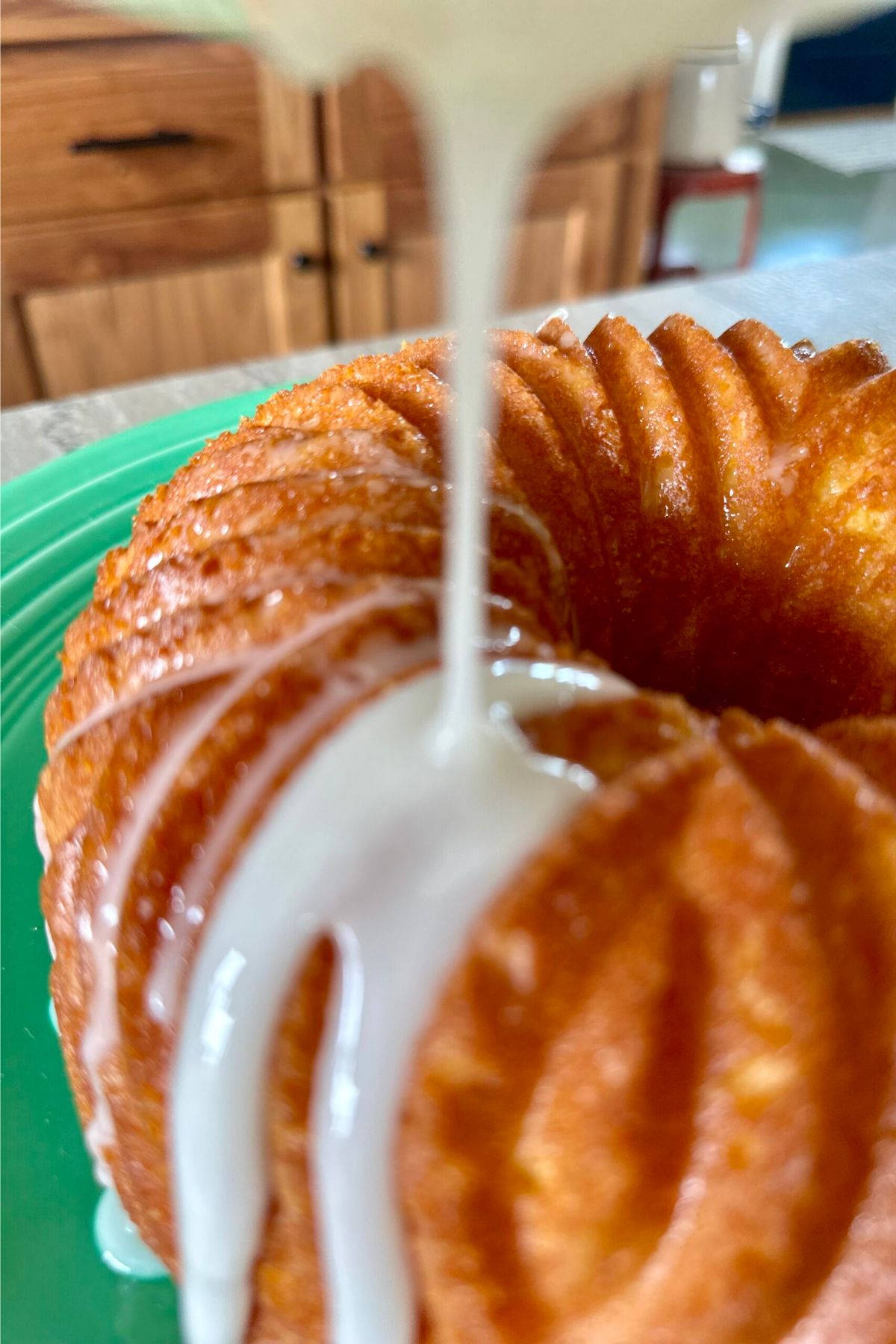 Hint: Adding lemon zest to the cake batter amps up the lemon flavor in your final product without the fake lemon taste that comes along with lemon extract.
Testing a Lemon Jello Cake for Doneness
Read the box for time ranges and set your timer for less time than the least amount of time. For example, if the bake time is 30-35 minutes, set your timer for 27 minutes. This will prevent overcooked cakes!
I like to leave cakes in the oven while testing them. I simply slide the oven rack out, trying not to jiggle the cake around too much.
The cake is fully baked when it is no longer jiggly and springs back when you lightly touch the top center with your finger.
To be sure the cake is done, test your cake for doneness using a toothpick.
Insert a toothpick into the cake top and pull it straight out.
If the toothpick comes out clean your cake is done baking. If it has wet dough or crumbs, return to the oven and bake for 5 more minutes or until the toothpick comes out clean.
How do I turn out Lemon Jello Cake baked in a bundt pan?
Place your cooking rack over top of the pan. Hold onto the cooling rack and pan. Then flip quickly. Be careful not to let the pan shift while flipping.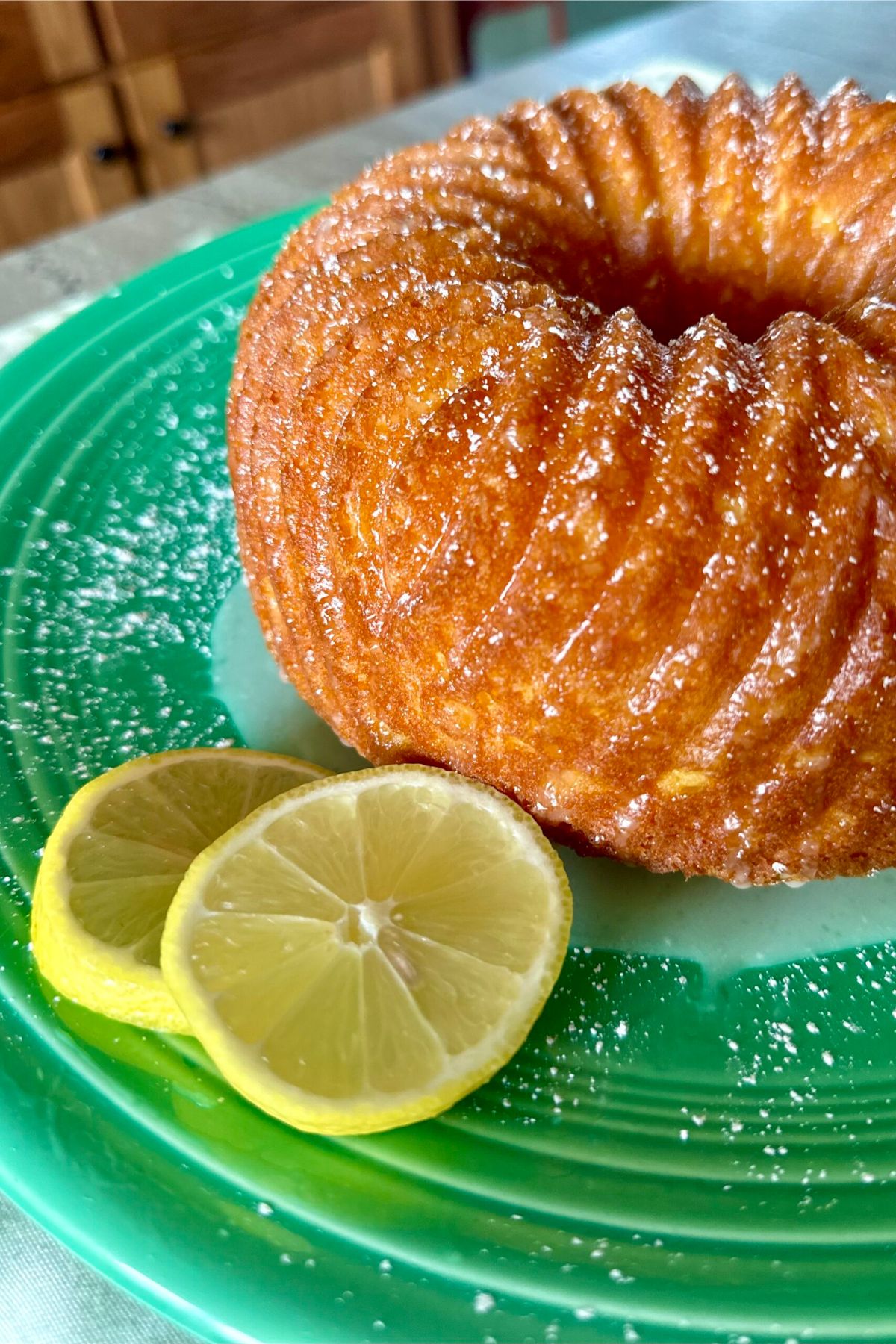 Substitutions and Variations for Lemon Jello Cake
Use a white or lemon cake mix instead of a yellow one. The result will be less vibrant yellow and still deliciously lemony!
If you only have bottled lemon juice, use it, and omit the lemon zest. The cake will have a less pronounced lemon flavor.
If you don't have baking spray, thinly coat the pan with shortening and dusting with flour. Dump out all the extra flour and tap to be sure the extra is out.
Bake the Lemon Jello Cake in a 9x13 pan for a more casual cake.
How many servings are in a Lemon Jello Cake?
Boxed cake mixes, when prepared, serve 10-12 people depending how you cut the cake.
This is easy to determine if you read the nutrition facts label on the back of the mix. The label indicates a serving is 1/10 of the package. Hence the package is expected to make 10 servings.
Doubling a cake mix can mean tricky pan selection. I recommend baking 2 cakes instead of trying to double the recipe.
How to zest a lemon?
First, wash lemons under cool running water and scrub the surface with a soft bristle vegetable brush.
Then using a rasp grater or lemon zester, grate just the skin of the lemon.
Don't over zest your lemons!
The white pith of the lemon will result in your zest being bitter or too tangy!
If you plan on using the whole lemon in a recipe, always grate your lemon before you cut the lemon.
Equipment
Use a bundt pan to make it look extra fancy! Just be sure you spray the pan with baking spray to ensure a clean release.
Baking spray makes cake baking in fancy pans much more successful. No need to worry about getting shortening in every nook and cranny and getting a perfect dusting of flour.
Make sure you use baking spray NOT cooking spray.
Storage of Lemon Jello Cake
Lemon Jello cake will stay moist and good for eating 3-5 days, well wrapped or covered. To prevent a dried-out cake, wrap it in foil or plastic wrap. Cake domes are also effective.
Did You Try this Recipe?
Lastly, if you made a Lemon Jello Cake following this recipe, please let me know how you liked it by leaving a comment and/or giving a rating!
I love hearing from you! I'll do my best to respond to each comment.
And of course, if you do make this recipe, tag me on Instagram! Seeing your photos is my favorite thing!
FOOD SAFETY
Wash hands before cooking
Do not use the same utensils on cooked food, that previously touched raw meat
Wash hands after touching raw meat
Don't leave food sitting out at room temperature for extended periods
Never leave cooking food unattended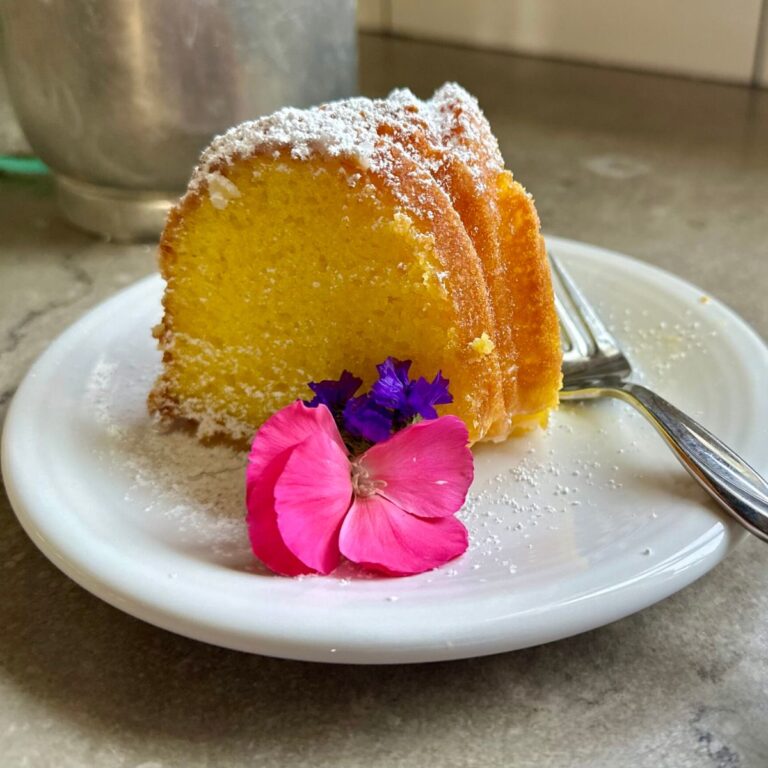 Lemon Jello Cake
Create a fresh-tasting and moist Lemon Jello Cake for dessert with a lemon-infused glaze with the ease of a cake mix and box of Jello.
Ingredients
Lemon Jello Cake
1

box

Yellow Cake Mix

1

box

Lemon Jello

3 oz box

3

Eggs

¾

cup

Canola Oil

¾

cup

Water

2

Tablespoons

Lemon Juice

Zest of 1 Lemon
Lemon Drizzle
1

cup

powdered sugar

sifted

4

tablespoons

Lemon Juice
Instructions
Lemon Jello Cake
Preheat the oven to 350℉ and prepare a bundt pan or 9x13 pan by spraying with baking spray.

Zest 1 lemon and mince the zest. Set aside.

Juice the lemon being sure not to get seeds into your juice. You will need 2 Tablespoons of lemon juice for the cake and 4 Tablespoons for the drizzle.

In a large mixing bowl, combine all of the cake ingredients.

Mix on medium for 3 minutes.

Pour the batter into the prepared pan. Place in the middle of the oven and bake at 350℉ until the cake tests done.

Use the cake box directions as a guide for time to match your pan choice.

Bake until a toothpick comes out clean.

Allow cake to cool in the pan for 10 minutes.

Remove the cake from the pan to a cooling rack. Allow to cool completely.
Lemon Drizzle
Mix the sifted powdered sugar and lemon juice together in a small bowl until no lumps remain.

Spread lemon drizzle over lemon cake.
Nutrition
Calories:
231
kcal
Carbohydrates:
20
g
Protein:
1
g
Fat:
17
g
Saturated Fat:
1
g
Polyunsaturated Fat:
5
g
Monounsaturated Fat:
11
g
Trans Fat:
0.1
g
Cholesterol:
0.04
mg
Sodium:
41
mg
Potassium:
10
mg
Fiber:
0.03
g
Sugar:
19
g
Vitamin A:
1
IU
Vitamin C:
3
mg
Calcium:
2
mg
Iron:
0.03
mg