Ultimate comfort food. Cheesy Kielbasa Hash Brown Casserole combines smoky Kielbasa sausage with crispy, golden hash browns and gooey cheese.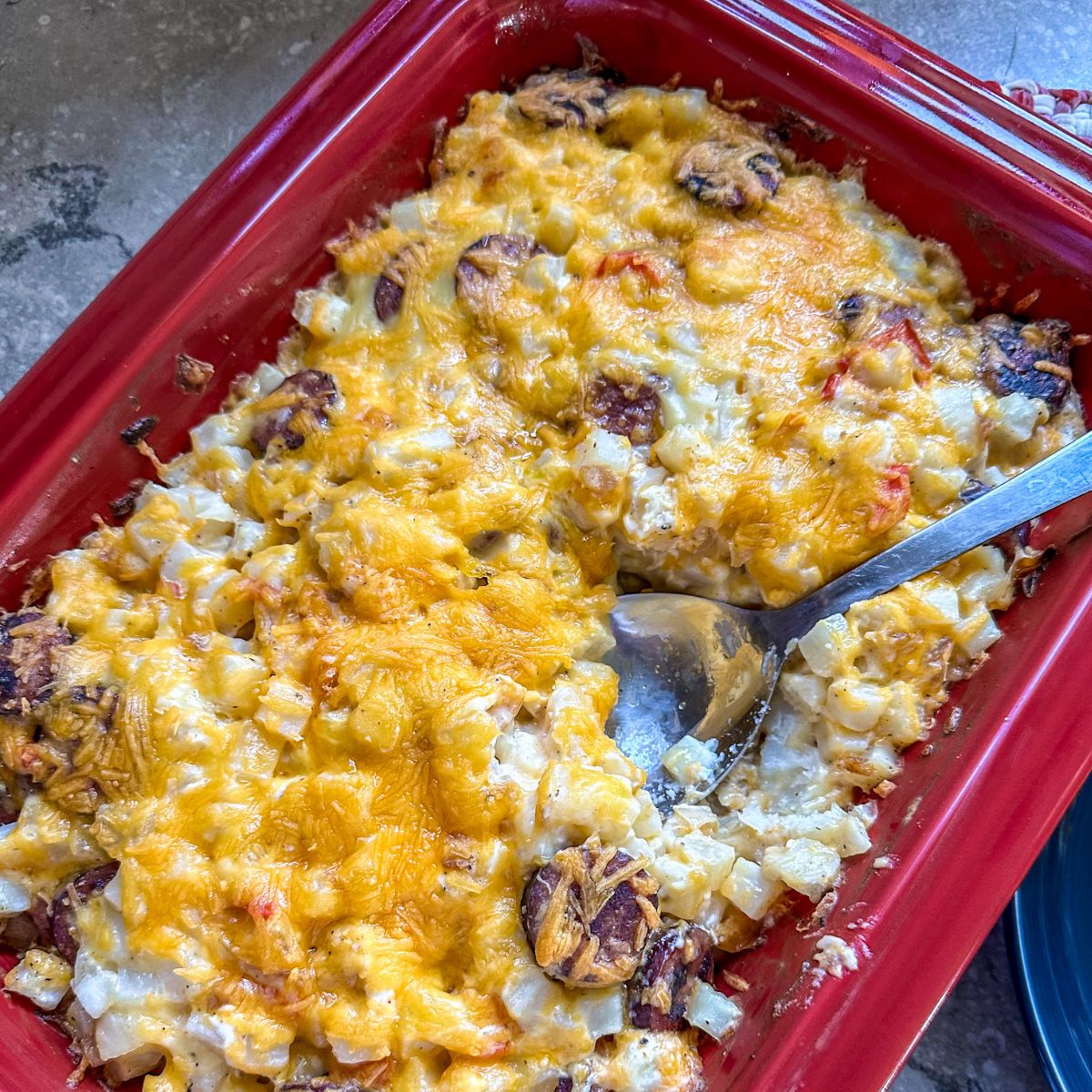 Get Cozy with Cheesy Kielbasa Hash Brown Casserole in the Oven
If you're in the mood for a meal that's comforting and delicious, this one's for you.
I adore casseroles. I sometimes think my kids might get tired of my one-pot dish approach to dinner but, Cheesy Kielbasa Hash Brown Casserole is real deal delish.
Picture this: smoky kielbasa sausage, crispy hash browns, and a melty, creamy cheese blanket, all in one glorious hot dish.
This cheesy casserole has the perfect balance of flavors that will have everyone asking for seconds.
Ideal for busy weeknight dinners when you need something quick and hearty. Or maybe you're one of those nice neighbors who take meals to people (I wish we were neighbors!). This recipe is great for sharing.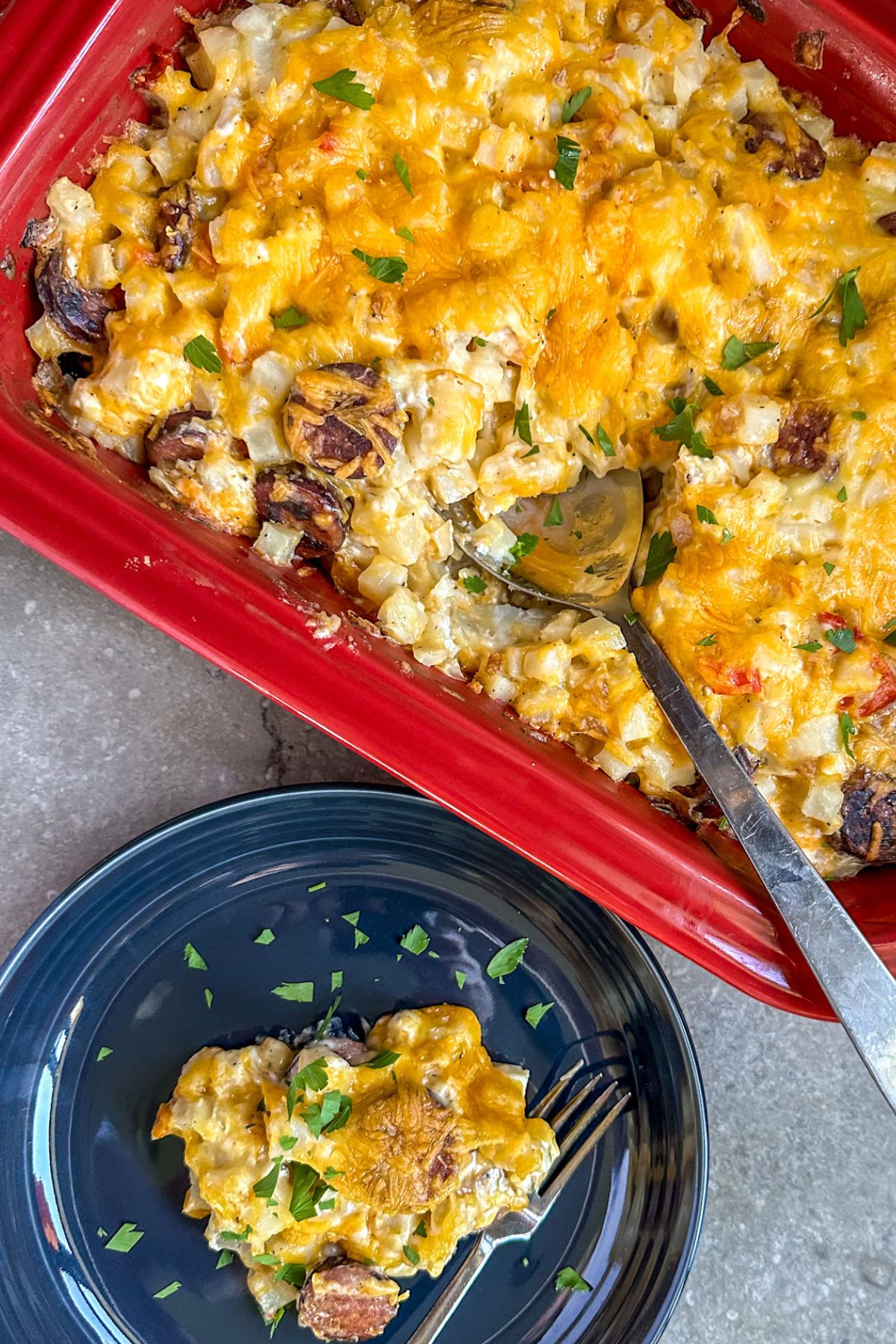 Kielbasa 101
Intimidated by all those Kielbasa-type selections at the grocery store? Don't be!
I am lucky to have a local butcher shop that smokes their own smoked beef sausage so that's what I used. If you have a local option, give it a try.
If not, choose any smoked (or not) sausage at the grocery meat case that appeals to you and give it a try. Smoked Sausage, Polish Sausage, Brats, and Kielbasa, will all work in this recipe!
In fact, my kids love it when I make brats and potatoes which is a similar recipe to this one, minus the cheesiness. I'll share that one another day...
The point--use whatever smoked sausage/Kielbasa you have or like when you're on your next shopping trip.
Slice it into coins and get this casserole in the oven.
Ingredients
Kielbasa--or any of the following: Smoked Sausage, Polish Sausage, or Brats.
Onions--I like yellow onions for most uses, but white can sure work here too.
Colored Peppers--dice up some red, yellow or orange bell peppers. The colors are beautiful in the finished dish.
Frozen Hash Browns--I like the little cubes for this recipe, but shredded ones can work too. Cheat: buy the hashbrowns with onions and peppers in the bag for more convenience.
Sour Cream--makes this dish even creamier.
Cream of Chicken soup--more creaminess.
Cream Cheese--more creaminess, yet.
Shredded Cheddar Cheese--As if the other cheeses weren't enough.
Milk--helps bring all these yummy ingredients into one hot dish.
Seasonings--Tony Chachere's, Salt & Pepper.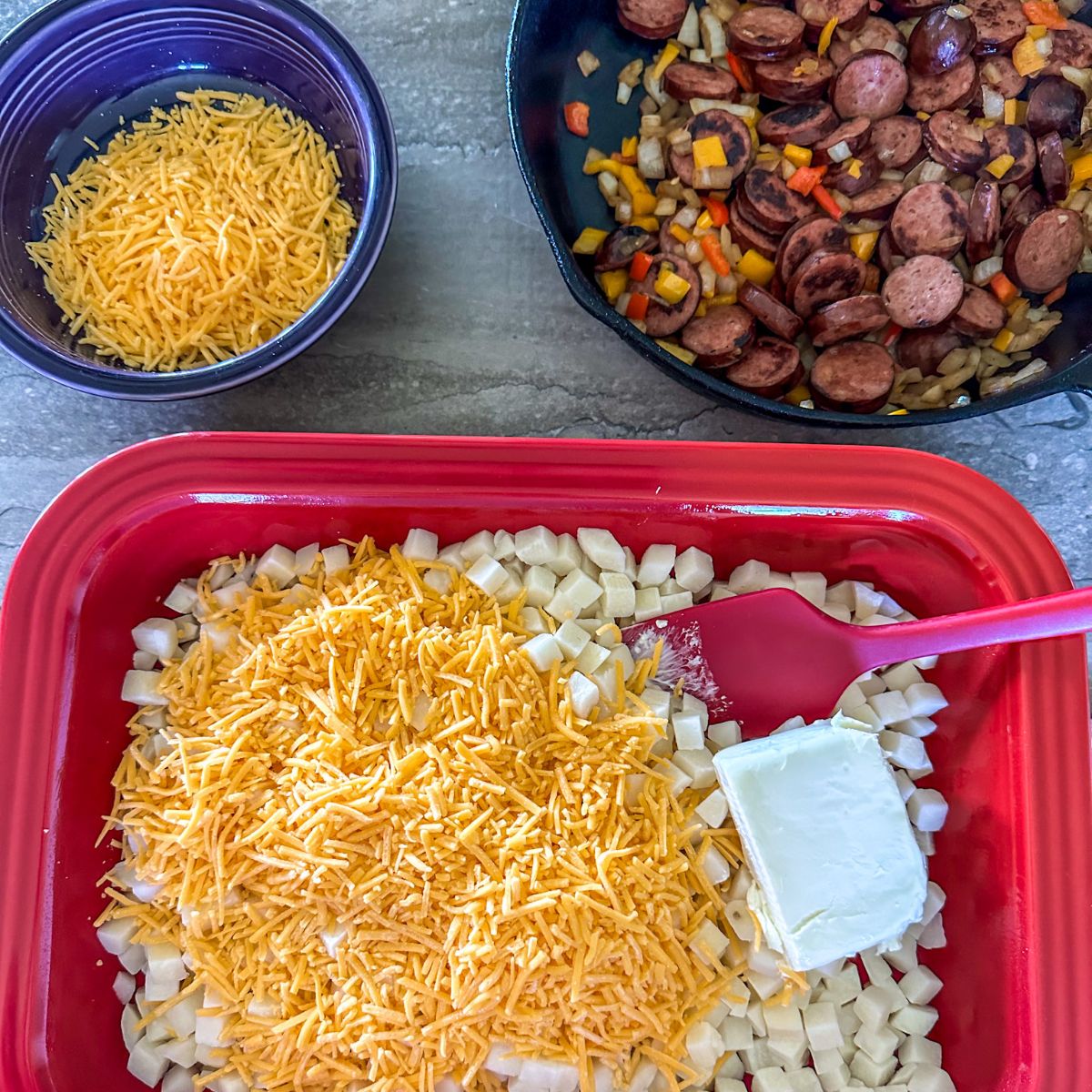 How to Make Cheesy Kielbasa Hash Brown Casserole
Sliced the Kielbasa into coins and brown over medium high heat in a skillet.
When browned slightly, add the onions and peppers. Cook until tender.
Mix well the Kielbasa, onions, peppers, and all other ingredients together. Pour into a 9x13 baking dish.
Sprinkle a little shredded cheddar on top.
Bake at 350 degrees for 40-50 minutes or until hot, bubbly, and golden brown.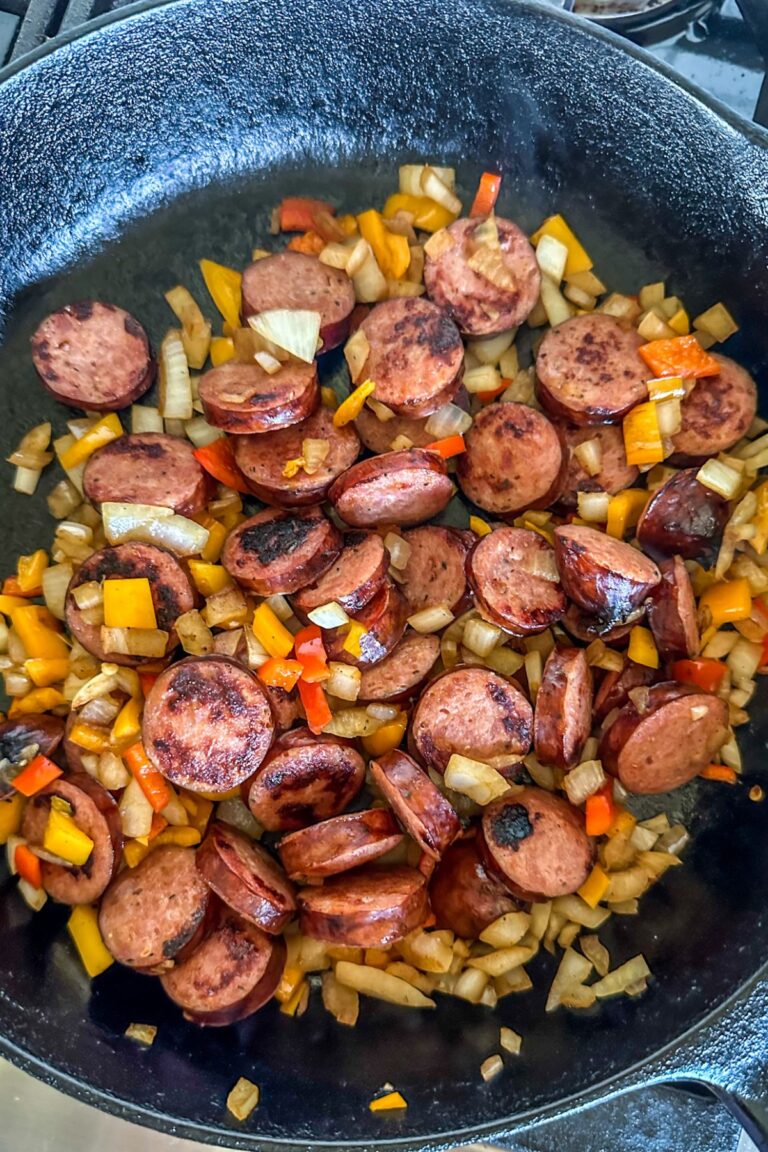 Crock Pot Cheesy Kielbasa Hash Brown Casserole
You can sure make this in the crock pot if that fits your schedule better. It's flexible! If you use your slow cooker. Cook it on low for around 6 hours.
Substitutions and Variations
Healthy Cheesy Kielbasa Hash Brown Casserole--Use turkey or chicken sausage and reduced-fat dairy products and soup to reduce the number of calories in this hot dish.
Veggie Cheesy Kielbasa Hash Brown Casserole--sneak in some veggies of your preference. Broccoli, carrots, and cauliflower would all be tasty additions. I suggest roasting them slightly before adding them to the casserole. And you better increase your pan size to make sure there is room for all the veggie goodness.
Equipment
I know... you can tell from my pics that I love Fiestaware dishes. So, if you need a nice casserole dish, it might as well be colorful!
Storage and Reheating
It's best to allow your casserole to cool slightly before covering and refrigerating for 3-5 days.
To reheat, heat single servings in the microwave or multiple servings can be reheated at 350 in the oven.
Freezer Meal
You can certainly make Cheesy Kielbasa Hash Brown Casserole in advance and keep it in the freezer for those days you are crunched for time.
Assemble the casserole but do not bake it. Cover it tightly in foil and freeze.
When you want to cook it, allow it to thaw before baking as directed.
Dinner is served!
More Easy Casseroles to Try
Crockpot Sweet Potatoes with Brown Sugar and Butter
For a breakfast-friendly hot dish try the Amish Breakfast Casserole
Serving Ideas
Oh, what in the world should you serve with Cheesy Kielbasa Hash Brown Casserole? I love a good fresh salad alongside a casserole.
However, one of the main reasons I love casseroles is that it's a meal in one!
So sometimes I just make Applesauce Jello, open a container of cottage cheese, and call it a meal.
If you want something more, add a bowl of Orange Dreamsicle Salad to the table and your people will have happy tummies!
Did You Make This Recipe? ❤️🌟
If you made Cheesy Kielbasa Hash Brown Casserole following this recipe, please let me know how you liked it by leaving a comment ✏️ and giving a rating ⭐️! This is how others find our recipes, too!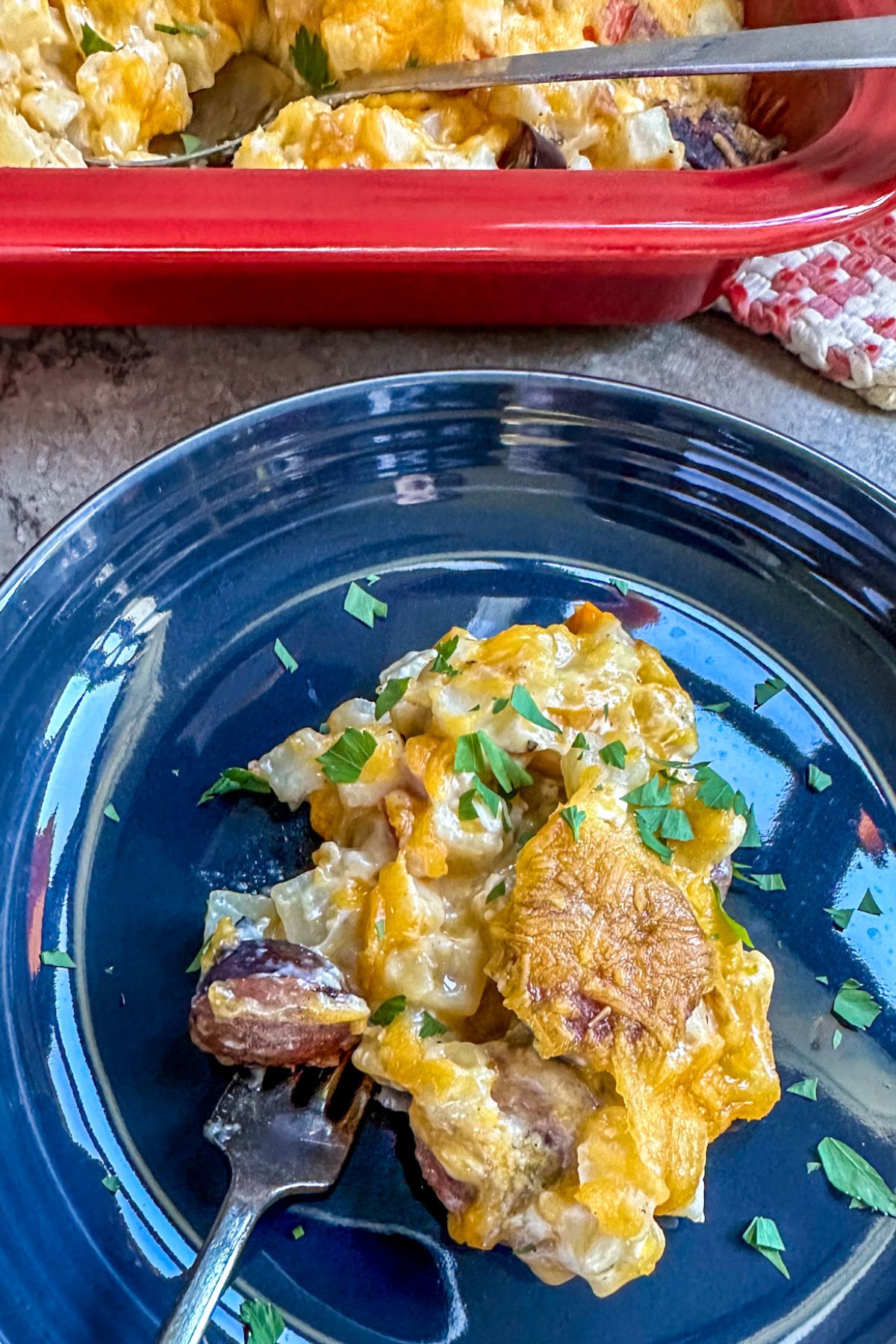 Connect with Laughing Rooster Eats
And of course, if you do make this recipe, tag @laughingroostereats on Instagram and hashtag it #laughingroostereats! Seeing your photos is our favorite thing!
Follow us on Facebook, Instagram and TikTok!
Food Safety
Wash hands before cooking
Do not use the same utensils on cooked food, that previously touched raw meat
Wash hands after touching raw meat
Don't leave food sitting out at room temperature for extended periods
Never leave cooking food unattended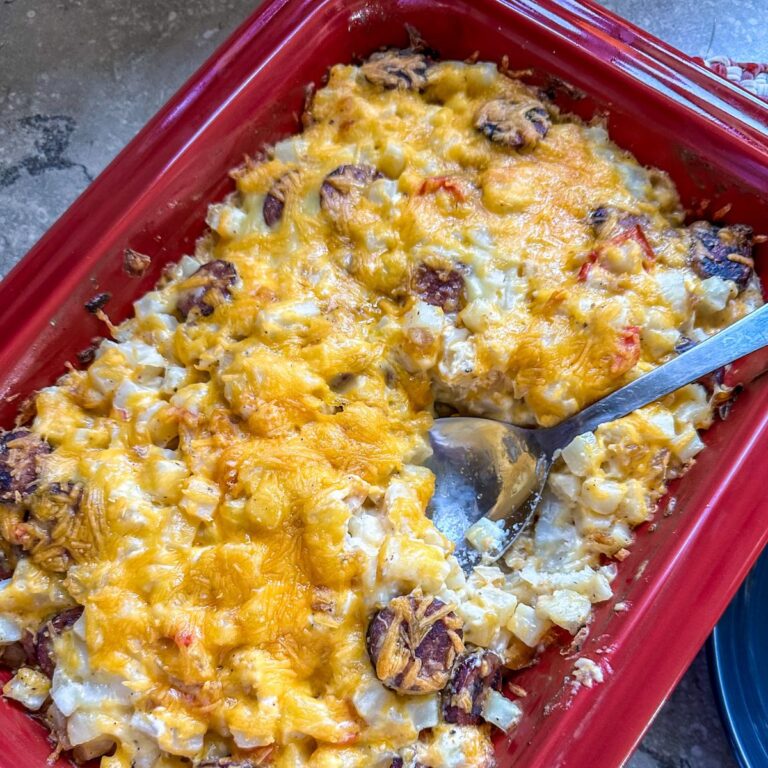 Cheesy Kielbasa Hash Brown Casserole
Ultimate comfort food. Cheesy Kielbasa Hash Brown Casserole combines smoky Kielbasa sausage with crispy, golden hash browns and gooey cheese.
Ingredients
1

package

Kielbasa

Or any of the following: Smoked Sausage Polish Sausage, or Brats.

½

cup

Onions

chopped

⅓

cup

Colored Peppers

chopped

28

ounces

Frozen Hash Browns

½

cup

Sour Cream

1

can

Cream of Chicken soup

4

ounces

Cream Cheese

1 ½

cups

Shredded Cheddar Cheese

reserve ½ cup for topping

½

cup

Milk

Seasonings--Tony Chachere's, Salt & Pepper
Instructions
Sliced the Kielbasa into coins and brown over medium high heat in a skillet.

When browned slightly, add the onions and peppers. Cook until tender.

Mix well the Kielbasa, onions, peppers, and all other ingredients together. Pour into a 9x13 baking dish.

Sprinkle a little shredded cheddar on top.

Bake at 350 degrees for 40-50 minutes or until hot, bubbly, and golden brown
Nutrition
Calories:
391
kcal
Carbohydrates:
32
g
Protein:
13
g
Fat:
24
g
Saturated Fat:
13
g
Polyunsaturated Fat:
2
g
Monounsaturated Fat:
6
g
Trans Fat:
0.02
g
Cholesterol:
64
mg
Sodium:
648
mg
Potassium:
537
mg
Fiber:
2
g
Sugar:
4
g
Vitamin A:
1028
IU
Vitamin C:
23
mg
Calcium:
285
mg
Iron:
2
mg