This Amish Breakfast Casserole is my house's most requested breakfast recipe. Easy to put together Christmas Eve for Santa's breakfast.
Cheesy Amish Breakfast Casserole
If you ask my kids they will always tell you it's been too long since I made Amish Breakfast Casserole. They love it and say things like, "Mmm... Mmmm.... yumm...", etc. the whole time they are eating it.
When one son was a Senior on the Wrestling team, I was "voluntold" as team mom. Which meant bringing food to the team for after they had weighed in.
Frankly, I got sick of making Amish Breakfast Casserole because they wanted it every, single tournament.
A funny thing, several years later, one of the young men on the wrestling team messaged me and asked for the recipe for Amish Breakfast Casserole.
I'd say that's a pretty good indicator of a good recipe.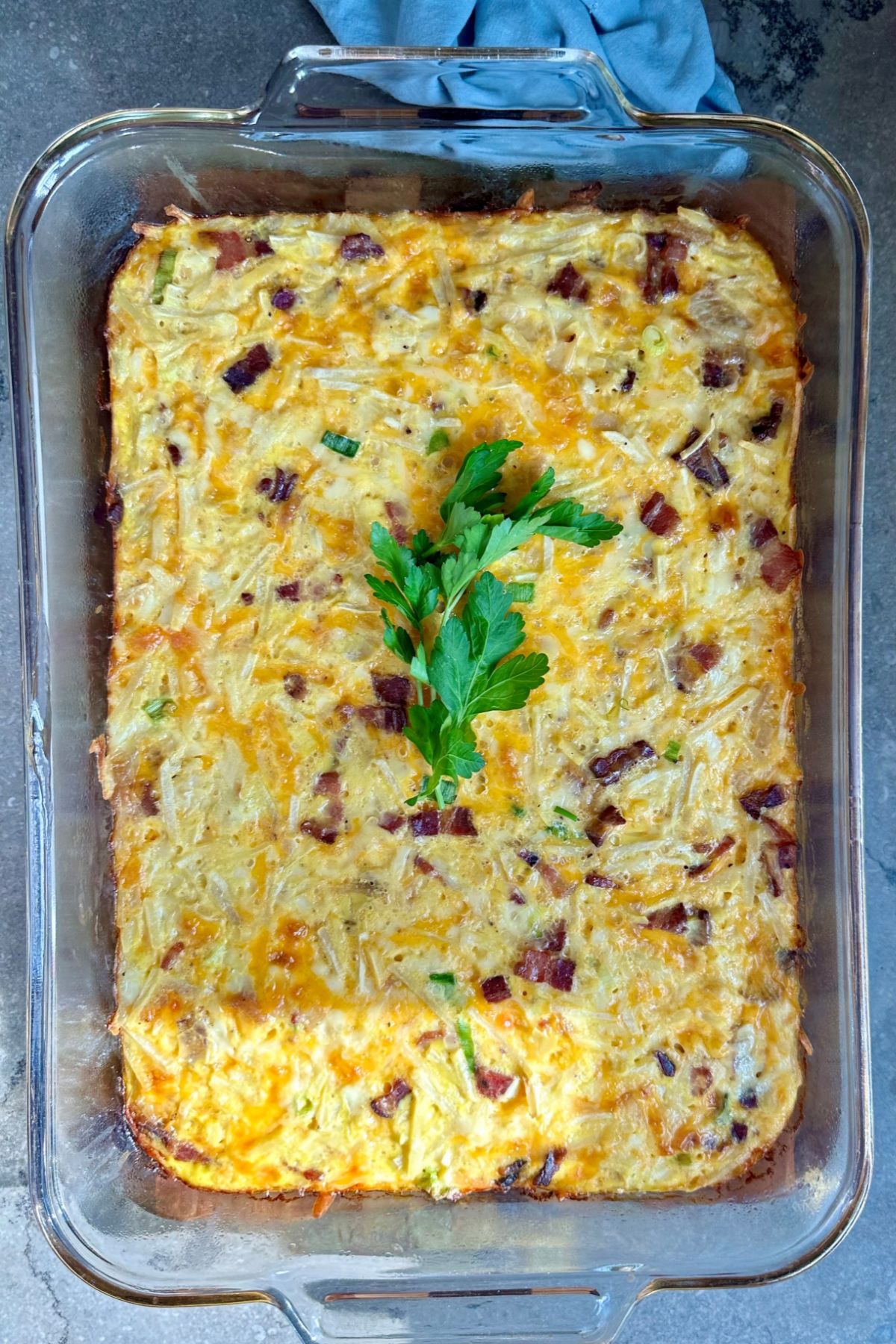 Why is this Amish Breakfast Casserole the Best Breakfast Casserole?
I like that this recipe does not have bread. Most breakfast casseroles are stuffed bread of some sort, but I like that this recipe uses shredded frozen hash browns, instead.
Ingredients
This is what you will need to create this fantastic breakfast casserole:
Bacon--don't go cheap here if you can afford good bacon
Onion--yellow or white, diced.
Green Onion--Gives a nice fresh taste and a pop of color
Eggs--I have chickens and love a recipe that calls for this many eggs
Frozen Shredded Hash Browns--You can use potatoes and shred your own, but this is a lot less work with great results
Sharp Cheddar Cheese--I like the punch of flavor the sharp brings, but use mild or medium if you prefer
Swiss Cheese--Yummy! We just don't use Swiss cheese often enough
Cottage Cheese--Brings moisture and texture to the casserole
Pepper--To taste
Top Tips
Refrigerate the assembled casserole and bake the next morning. Allow enough time for the baking dish to warm up to room temperature. About 30 minutes while your oven preheats.
Dicing slightly frozen bacon is easier than fully thawed. Stack the bacon and dice 4-5 bacon strips at a time.
Try to keep all your bacon similar in size to help it cook evenly.
Make sure to allow time for your hash browns to thaw a bit before stirring them into the egg mixture. Otherwise the will freeze into a lump.
If you don't have a 10x15 baking dish, use a 9x13. However, it will need to bake longer since it is thicker.
Instructions
First, preheat the oven and prepare the baking dish by spraying it with cooking spray. This will make your serving and clean-up go more smoothly.
Dice bacon, onions, and green onions.
Cook the diced bacon in a skillet until tender-crisp. I love my iron skillet for this step, but you can use what you have.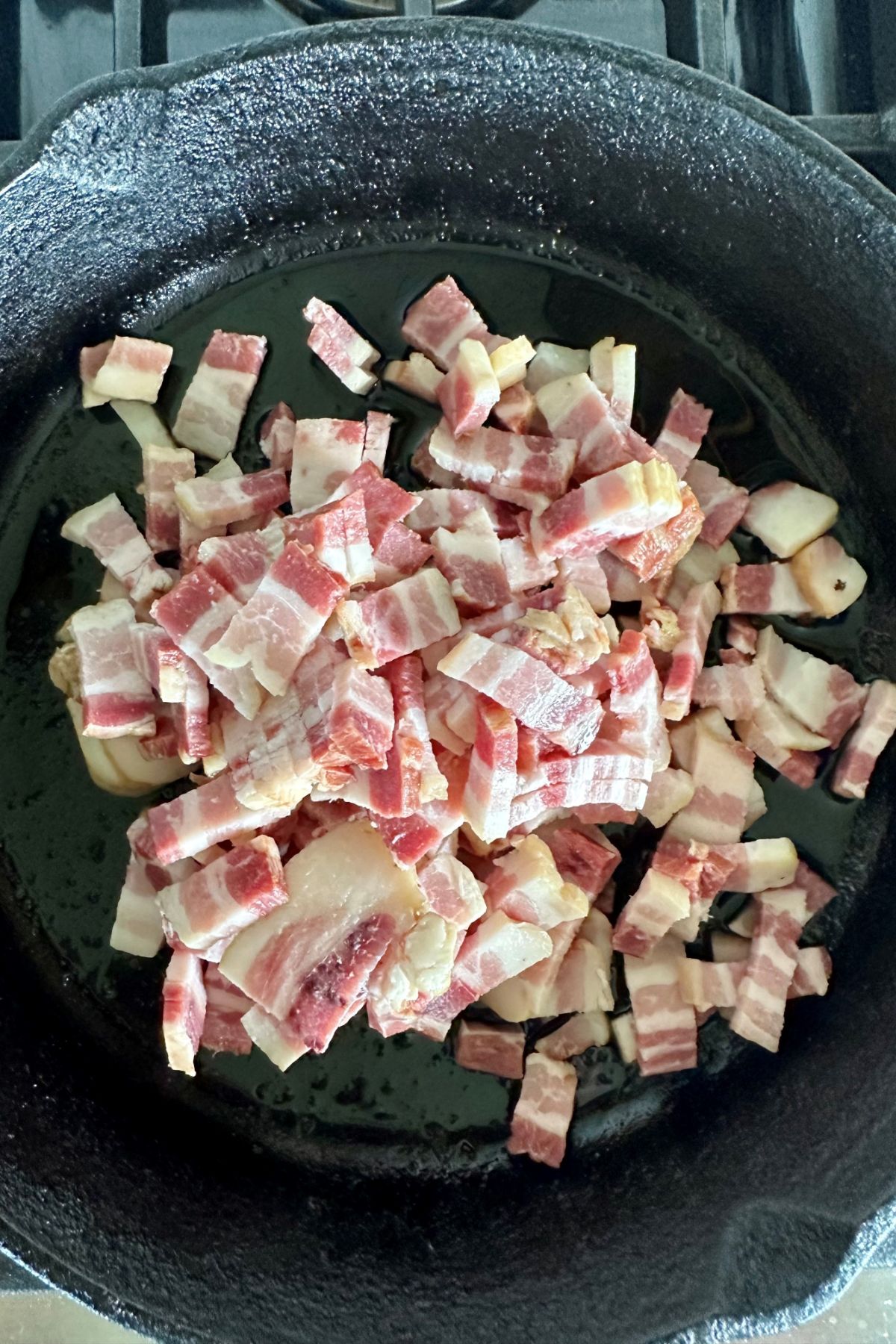 Remove the bacon to a paper towel-lined plate, and set aside to drain.
Next, remove most of the bacon fat from the skillet. Then, toss in the white/yellow onion. Cook on medium until the onion is slightly browned and soft.
In the meantime, whisk the eggs in a really large mixing bowl. Add the cooked bacon and onion. Stir well, making sure all the goodies are well distributed.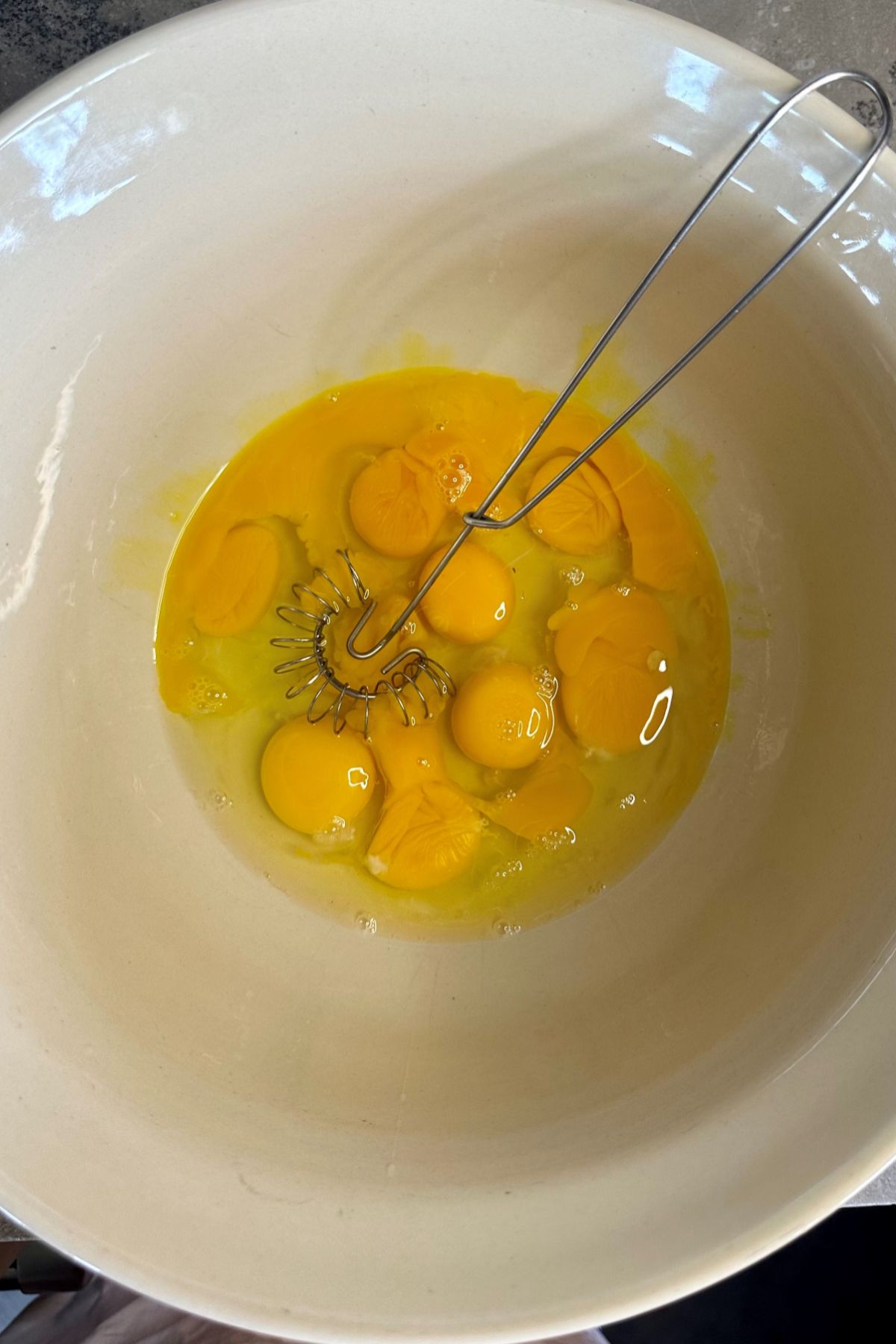 Finally, add all of the other ingredients and mix well. Add salt and pepper if you wish. Go light on the salt though as the cheese and bacon brings saltiness to the dish.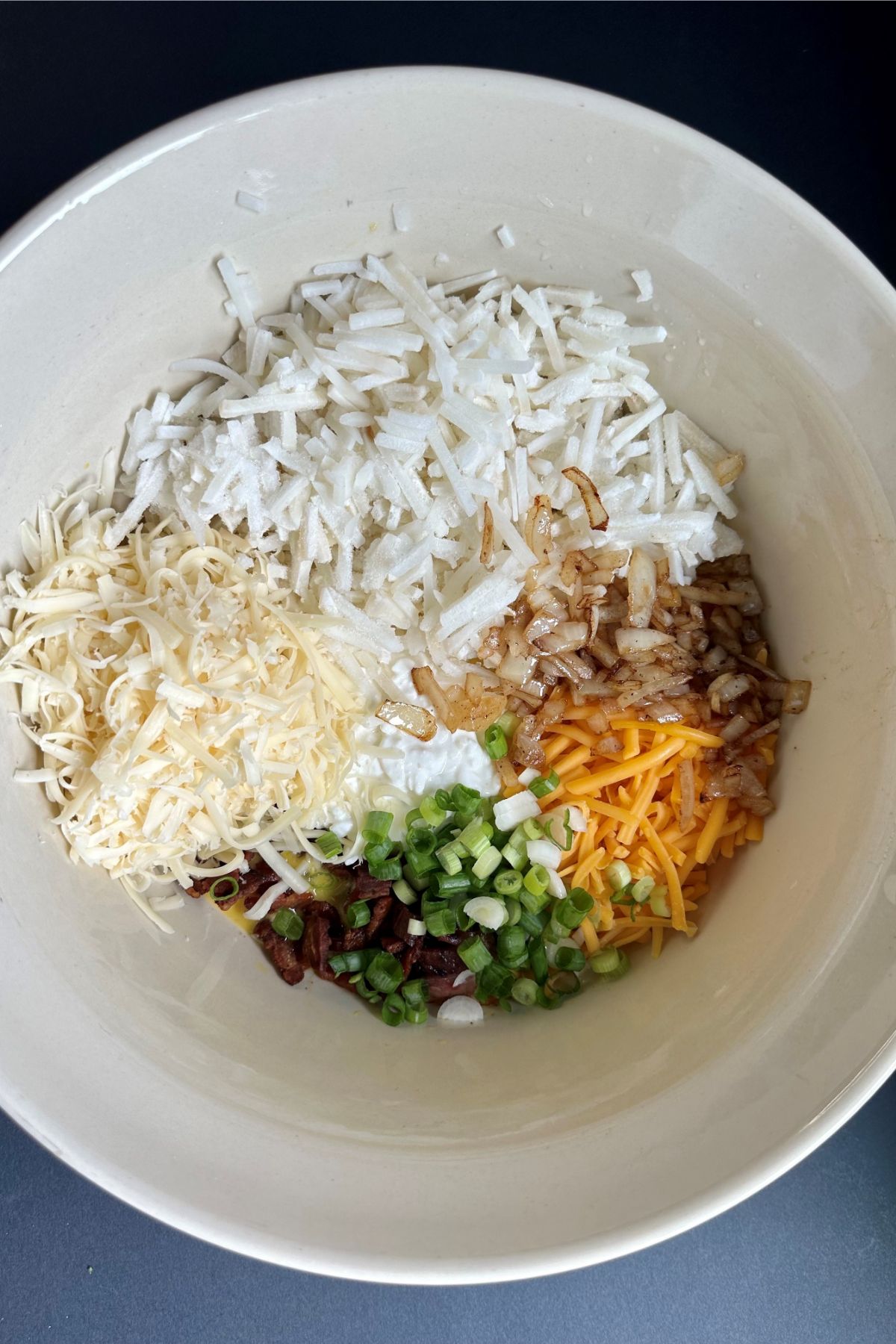 Pour the egg mixture into a 10x15 baking dish. Pat it down lightly to ensure even cooking.
Bake until the top of the casserole is light golden brown and the eggs are set up.
Allow to cool for a few minutes before slicing.
Garnish with additional sliced green onions, if desired.
Substitutions
I prefer to try a recipe as written the first time, but if you have to make substitutions to prevent an extra trip to the store then, I get it.
Cheeses--Mix up the cheeses selected if desired. Pepper Jack, anyone? I like using any cheese I have on hand.
Bacon--Substitute turkey bacon, ham, sausage, or precooked bacon, if it fits your life and preferences. Or be crazy--Add bacon AND sausage!
Eggs--I assume egg substitutes would work here just fine if that's what you eat. Though I have chickens on the farm, so I'm always excited to find recipes like this one to use up eggs.
Variations
Vegetarian--Add more veggies such as green bell peppers, and leave out the bacon for a vegetarian breakfast.
Meat Lovers--Cook sausage along with the bacon and add ham cubes.
Spicy--Add some jalapenos in with your onions and add a little kick to the casserole.
Herbs--I love garlic powder in all things, but add your favorite herb or spice.
Related Recipes
If you want a quick and easy breakfast recipe to eat on the way or at your desk try: Black Forest Overnight Oats, Overnight Oats with Frozen Fruit, or Strawberry Cheesecake Overnight Oats.
Storing
After baking, store the leftovers in a covered container in the refrigerator for 3-5 days. You can freeze the casserole in a foil pan for up to 6 months. Thaw it out before reheating it in the oven.
Can you make Amish Breakfast Casserole ahead of time?
Yes! Put it all together in your prepared baking dish, cover it with plastic wrap or foil, and place it in the fridge for up to 2 days. Bake as directed.
What to serve alongside?
This is a full-service breakfast and it's filling, but I like to round out its richness of it with a sliced tomato in the summer or a simple fresh fruit salad.
What Makes this Casserole Amish?
In short, I have no clue. It's just what the original recipe was called. I made it my own, but kept the name.
Is Amish Breakfast Casserole Healthy?
"Healthy" is a relative term and depends on what fits your body and lifestyle. This casserole is packed full of protein and flavor.
Eating it will keep you feeling full all morning and ready for a full day.
Did You Try this Recipe?
Lastly, if you made Amish Breakfast Casserole following this recipe, please let me know how you liked it by leaving a comment and/or giving a rating!
I love hearing from you! I'll do my best to respond to each comment.
And of course, if you do make this recipe, tag me on Instagram! Seeing your photos is my favorite thing!
Food Safety
Wash hands before cooking
Cook to a minimum temperature of 165 °F (74 °C)
Do not use the same utensils on cooked food, that previously touched raw meat
Wash hands after touching raw meat
Don't leave food sitting out at room temperature for extended periods
Never leave cooking food unattended
Amish Breakfast Casserole Recipe
This Amish Breakfast Casserole is my house's most requested breakfast recipe. Easy to put together Christmas Eve for Santa's breakfast.
Ingredients
10

slices

Bacon

diced

½

Onion

yellow, diced

1

Green Onion

sliced

9

Eggs

large

4

cups

Frozen Hashbrowns

shredded

2

cups

Sharp Cheddar Cheese

shredded

1 ½

cups

Cottage Cheese

1 ¼

cups

Swiss Cheese

shredded

Black Pepper

to taste
Instructions
Preheat the oven to 350℉ and spray 10x15 baking pan with baking spray.

Dice the bacon and onion.

Slice the green onion. Set aside

Cook the diced bacon in a skillet until crisp-tender. Remove to a paper towel to drain.

Remove the majority of the bacon grease from the pan.

Toss in diced yellow onion and cook until lightly browned and tender.

In a very large mixing bowl, beat the eggs. Add all other ingredients and mix well.

Spread into the prepared pan and bake for 35-40 minutes or until light golden brown and the eggs are fully set up.

Allow the casserole to cool for a few minutes before slicing and serving.
Nutrition
Calories:
332
kcal
Carbohydrates:
15
g
Protein:
19
g
Fat:
22
g
Saturated Fat:
10
g
Polyunsaturated Fat:
2
g
Monounsaturated Fat:
7
g
Trans Fat:
0.04
g
Cholesterol:
169
mg
Sodium:
417
mg
Potassium:
343
mg
Fiber:
1
g
Sugar:
1
g
Vitamin A:
517
IU
Vitamin C:
6
mg
Calcium:
285
mg
Iron:
1
mg