Costco Bulgogi is convenient but Quick Korean Bulgogi saves money and is ready in less time than it takes to walk from the car to the store.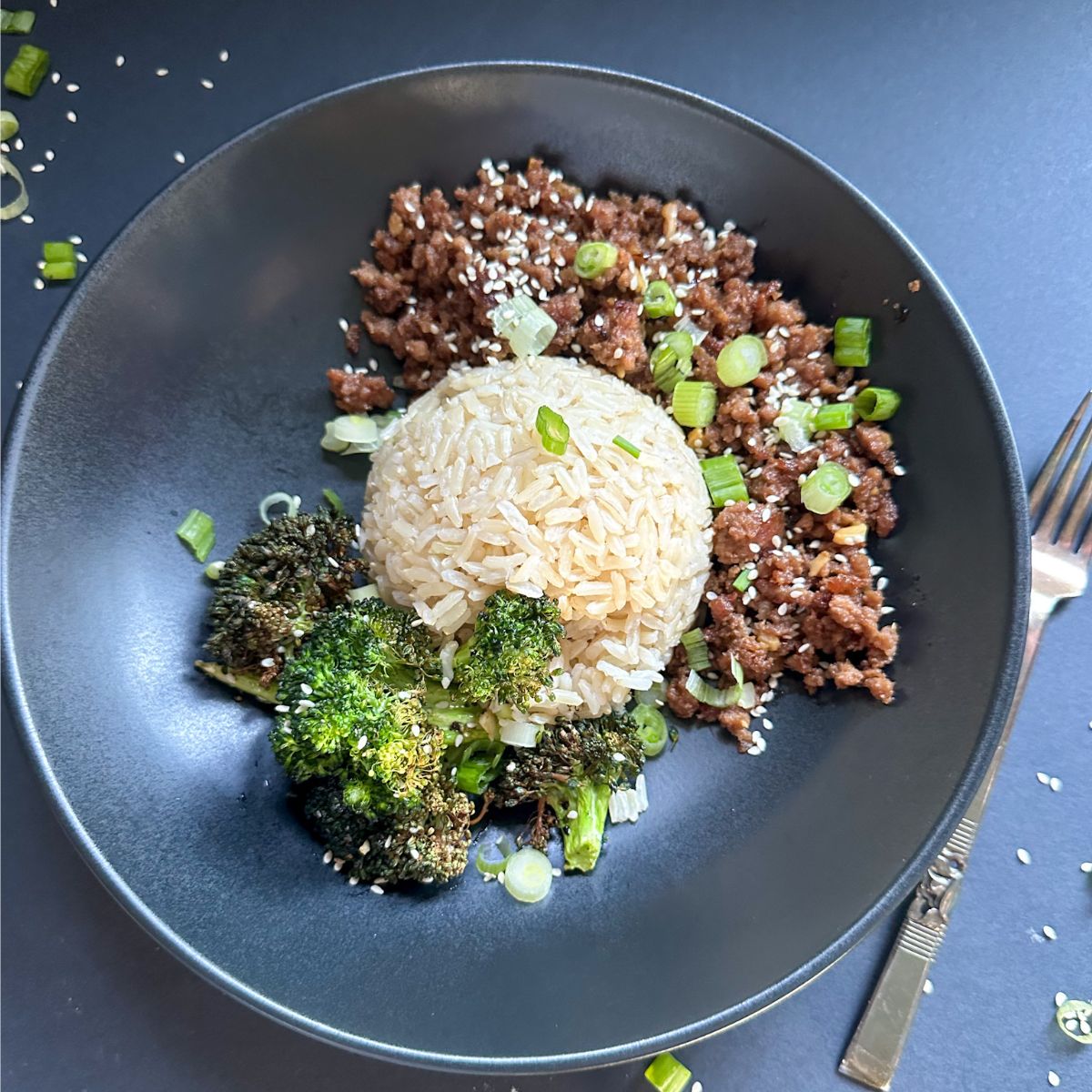 15 Minute Korean Bulgogi
When I say "quick" I mean on the table in fifteen minutes.
Plus, this Korean Bulgogi is easy, delicious, and inexpensive to make in one pan with ingredients you likely already have.
And...no Costco membership is needed.
Because let's be real--the closest Costco is a two-hour drive from my Kansas home. Sometimes rural life leads to creative cooking and great recipes to share with you.
FYI--My family declared this one a "keeper" I think you will agree!
Costco's Bulgogi
So there are some obvious differences here... I use ground meat. Costco uses sliced beef chuck roll in there version.
I like that using ground meat saves me money as ground is typically the cheapest cut with no waste and very little effort.
Costco's version has sliced onions. I opted for garlic in mine, but if you want to throw some sliced onions in toward the end of the meat browning, go for it! I just didn't.
Some people find Costco's version a bit sweet for their preferences. If that's you, reduce the amount of brown sugar in this recipe by half to start. You can always add more brown sugar to the final product if you find it needs a little more to make you happy.
If it's too hot/not hot enough for you, adjust the amount of crushed chili flakes.
This recipe allows you to make adjustments easily to meet your needs.
Pro Tips
Don't over-stir the ground pork as it cooks. The little bit of browning in the pan creates a deep flavor.
After adding the sauce ingredients, just heat through. Don't overcook it or it will dry out and trust me. You want the sauce...
Ingredients
This seems like sort of a long list of ingredients for such an easy recipe. Sometimes sauces are like that. But don't let it intimidate you. You got this!
brown sugar--brings the sweet for this dish. You may reduce the amount called for to adjust for your preferences. I won't be mad.
reduced-sodium soy sauce--this brings plenty of salt flavor to the dish and the umami we all crave
sesame oil--this is a little bit of a specialized ingredient, but I can find it in my local store. In my opinion, it's an essential ingredient.
crushed red-pepper flakes--or more if you like it a bit spicier
ground ginger--another essential ingredient to create the flavor we are aiming for here
vegetable oil--keeps it from sticking while cooking
garlic--everything is better with garlic
ground pork--I used ground pork this time, but ground beef is perfect too. I recognize Costco's version uses sliced beef chuck roll, but you can't beat the price and ease of using ground meat. Plus, no need for marinating time.
green onions--bring on that little touch of freshness
sesame seeds--brings some texture and beauty
Optional-- Crunchy Chili Onion from Trader Joe's adds a little welcome heat to my bowl.
How to Make Korean Bulgogi
Stir together brown sugar, soy sauce, sesame oil, red pepper flakes, and ginger to create the sauce.
Heat vegetable oil in a large cast iron skillet over medium-high heat. Add garlic and cook, stirring constantly, until fragrant, about 1 minute.
Add ground pork and cook until browned.
Add sauce mixture to the pan and turn down your heat to medium heat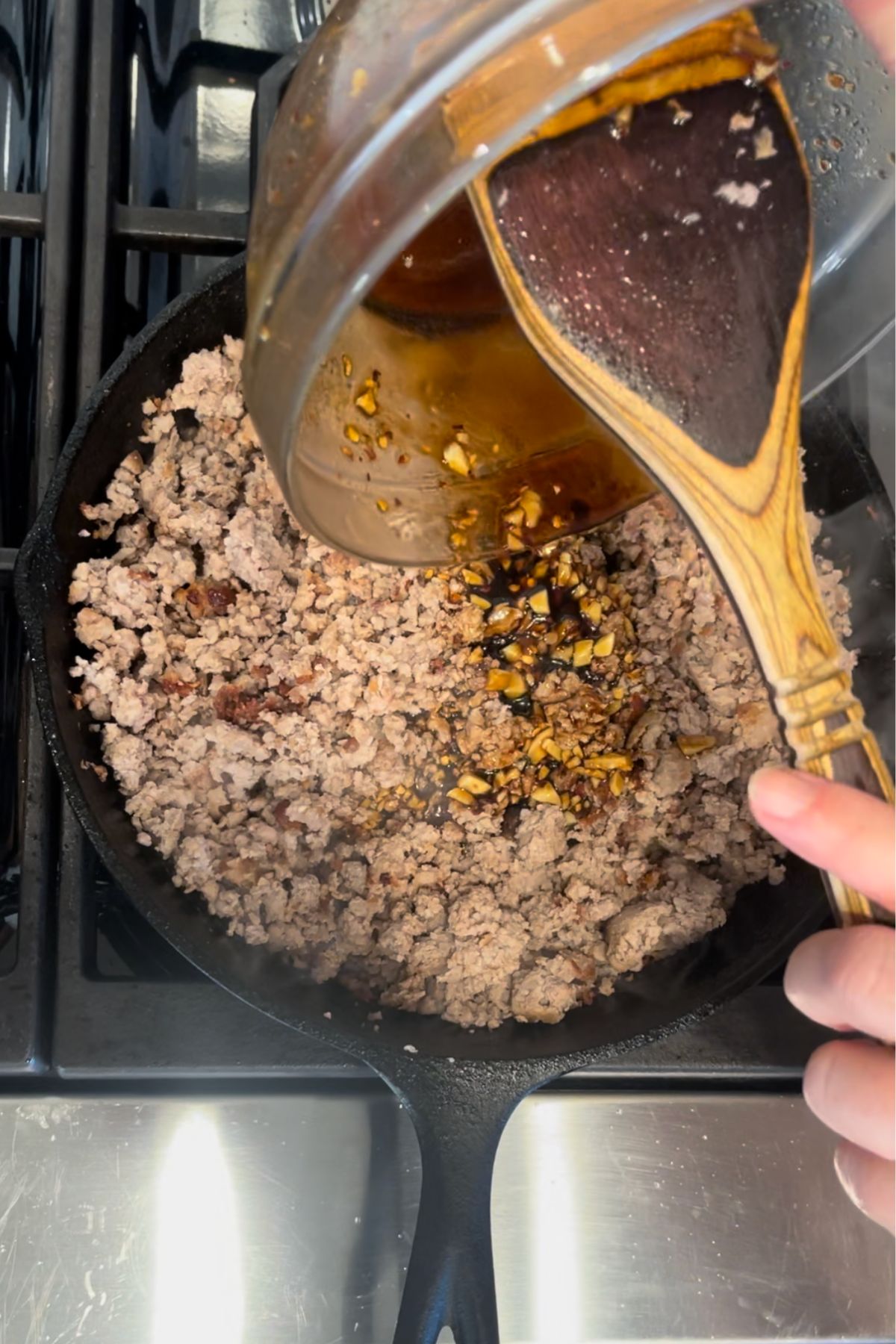 Cook for only about 2 minutes or until well combined and heated through. Avoid cooking too long as you don't want to evaporate too much of your sauce.
Serve over rice and garnish with chili onion crunch, green onions, and sesame seeds, if desired.
Substitutions
Use ground beef, chicken or turkey instead of ground pork if desired.
What to eat with Quick Korean Bulgogi
Steamed rice is a fast and easy side dish that pairs beautifully with the sweet, sauciness of this recipe. IMO--it's a necessity.
I find that cooking Brown Jasmine Rice in my Instant Pot yields me the best results.
Minute rice is certainly a good choice here too.
To round out the meal and add a veggie, I typically serve this with Air Fryer Broccoli. It's simple to throw together and is done just as quickly as the Bulgogi.
Equipment
I'm not usually one to like kitchen gadgets because I don't like storing them. But my Instant Pot Aura Pro has proven to have many uses in my kitchen.
The specific Instant Pot I have has been discontinued, but I found this Instant Pot Max to be similar and it has a sous vide setting that comes in handy creating fantastic meat dishes including my Sous Vide Pork Tenderloin.
Tip for Reheating Rice
Ice-Ice Baby...
This is delish served over rice, but getting the rice to reheat well can be a challenge.
Here's a tip--put an ice cube in with your rice and Quick Korean Bulgogi when reheating in the microwave. It works magic on the rice!
Storage
Put leftovers in a covered dish and refrigerate for up to 5 days.
DID YOU TRY THIS RECIPE?
Lastly, if you made Quick Korean Bulgogi following this recipe, please let me know how you liked it by leaving a comment and/or giving a rating!
I love hearing from you! I'll do my best to respond to each comment.
And of course, if you do make this recipe, tag me on Instagram! Seeing your photos is my favorite thing!
FOOD SAFETY
Wash hands before cooking
Do not use the same utensils on cooked food, that previously touched raw meat
Wash hands after touching raw meat
Don't leave food sitting out at room temperature for extended periods
Never leave cooking food unattended
Quick Korean Bulgogi
Costco Bulgogi is convenient but Quick Korean Bulgogi saves money and is ready in less time than it takes to walk from the car to the store.
Ingredients
¼

cup

brown sugar

packed

¼

cup

reduced sodium soy sauce

2

teaspoons

sesame oil

½

teaspoon

crushed red-pepper flakes

or more to taste

¼

teaspoon

ground ginger

1

tablespoon

vegetable oil

2

cloves

garlic

minced

1

pound

ground pork

2

green onions

thinly sliced

¼

teaspoon

sesame seeds

4

servings

rice

cooked
Instructions
Stir together brown sugar, soy sauce, sesame oil, red pepper flakes, and ginger to create the sauce.

Heat vegetable oil in a large cast iron skillet over medium-high heat. Add garlic and cook, stirring constantly, until fragrant, about 1 minute.

Add ground pork and cook until browned. Avoid over stirring to allow the meat to brown.

Add sauce mixture to the pan and turn down your heat to medium heat.

Cook for only about 2 minutes or until well combined and heated through. Avoid cooking too long as you don't want to evaporate too much of your sauce.

Serve over rice and garnish with chili onion crunch, green onions, and sesame seeds, if desired
Nutrition
Calories:
416
kcal
Carbohydrates:
16
g
Protein:
21
g
Fat:
30
g
Saturated Fat:
10
g
Polyunsaturated Fat:
5
g
Monounsaturated Fat:
12
g
Trans Fat:
0.02
g
Cholesterol:
82
mg
Sodium:
642
mg
Potassium:
426
mg
Fiber:
0.3
g
Sugar:
14
g
Vitamin A:
68
IU
Vitamin C:
2
mg
Calcium:
41
mg
Iron:
1
mg