Nutella Overnight Oats provides a quick breakfast heated up or right out of the fridge for a win to start the day.
Why Nutella Overnight Oats
If you have looked around the website much you will notice that I am a big fan of Overnight Oats.
Our family loves them for their ease, but also because they are a delicious and healthy way for us to start our day with fiber, vitamins, minerals, etc.
Overnight oats are a filling way to start the day as we are running out the door to school and work or off to do farm chores.
With all the varieties of Overnight Oats on our site, one would think I was tired of coming up with new ways to eat them, but one would be incorrect.
I like starting with the basics and adding an ingredient twist or two to add something new to the rotation.
That's how Nutella Overnight Oats was born.
Pro Tips
If you prefer hot oatmeal (or on cold and frosty mornings), microwave for 30 seconds to a minute until your desired temperature is achieved.
I like the consistency of these overnight oats with the ration provided. However, play with the amount of milk and oats to suit your preferences.
Ingredients for Nutella Overnight Oats
A short list of ingredients you likely already have will put your week on track.
Old Fashioned Oats--these provide the best texture.
Milk--I use cow milk, but feel free to use the milk that makes your tummy happy
Chocolate Instant Pudding Mix--Other flavors can be used to create a variety, but the chocolate flavor hits its mark in this one.
Nutella--hazelnut and chocolate spread is as common today as peanut butter.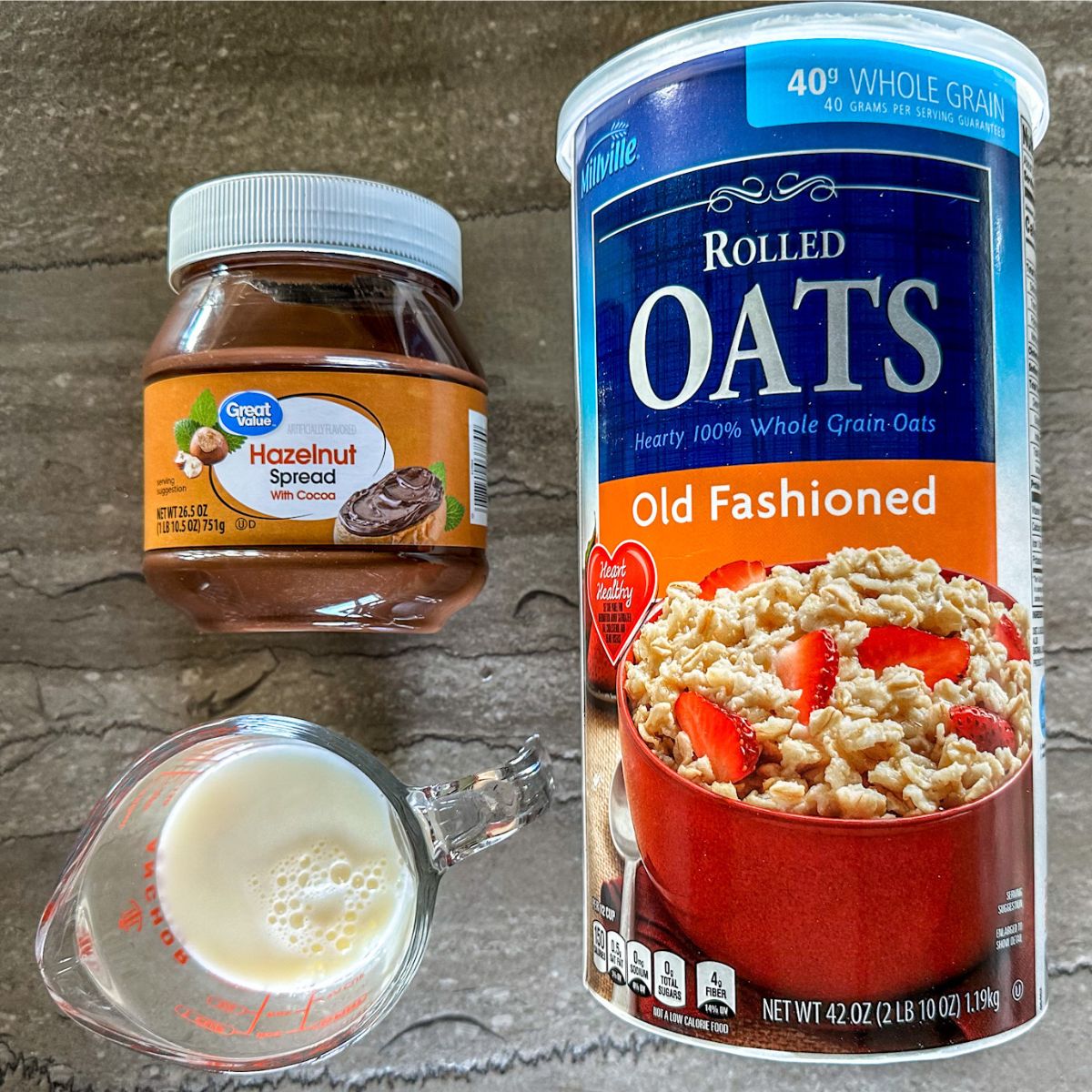 How to Make Nutella Overnight Oats
In a wide-mouth canning jar combine the old-fashioned oats, milk, and Nutella. Stir well to combine.
Put a lid on the jar and refrigerate overnight or at least 6 hours.
When ready to eat, just stir well and eat.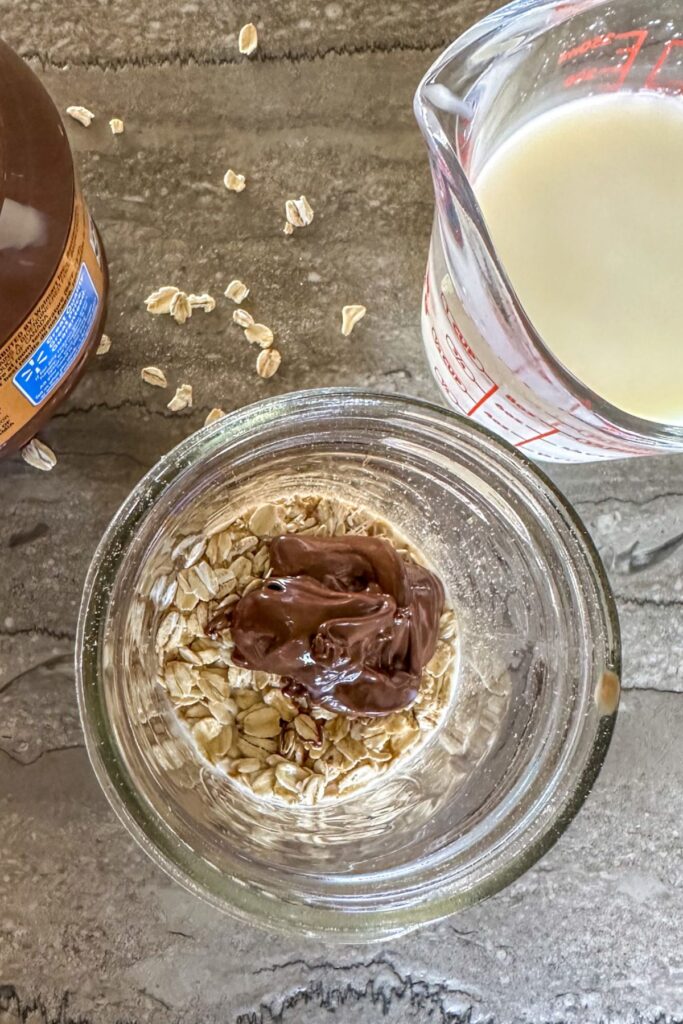 Container for Overnight Oats
Use wide-mouth canning jars to stir this breakfast together and eat it straight out of the jar. And I love these lids! They allow us to color code the flavors. Red for strawberry. Blue for blueberry.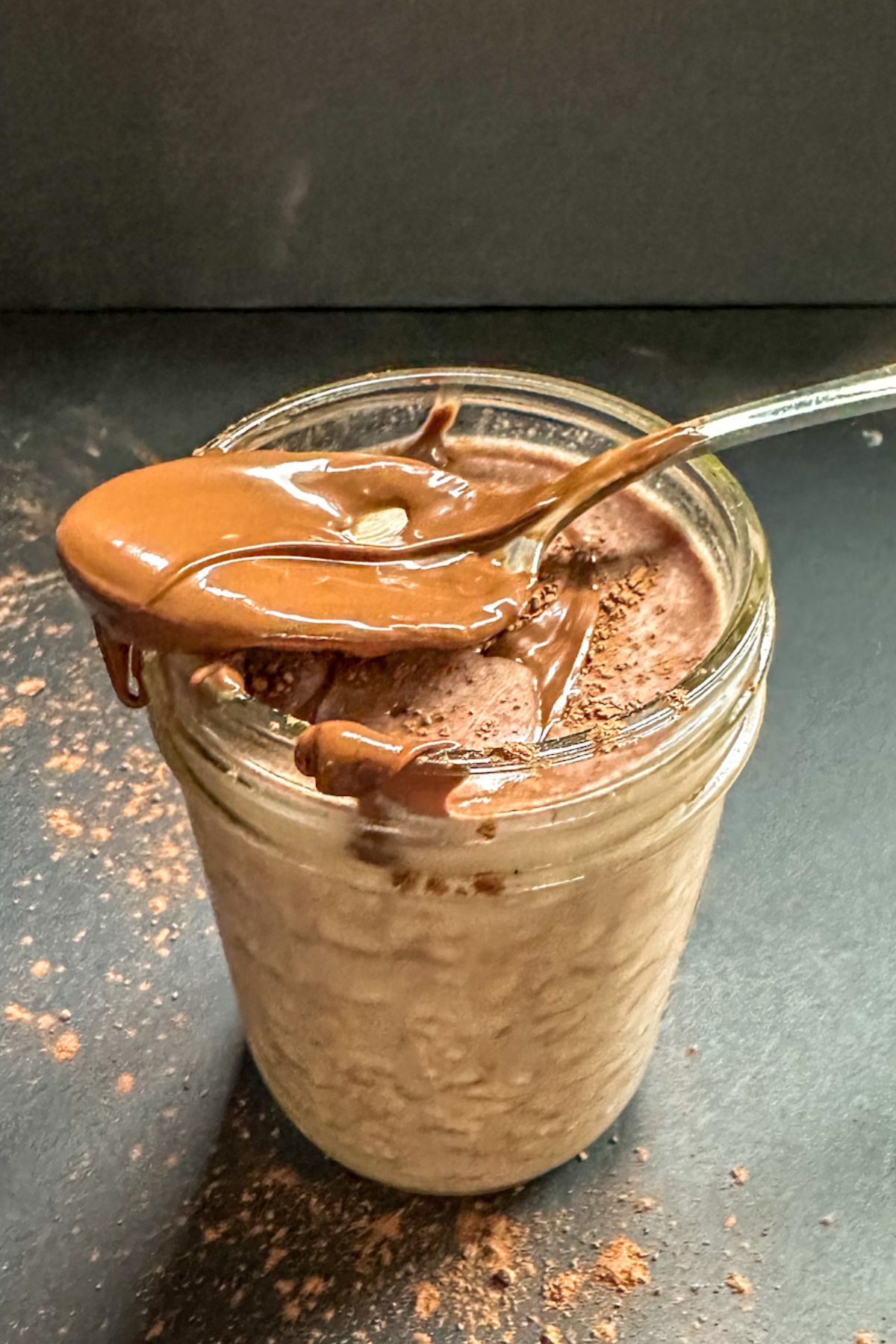 Substitutions
Oats Substitutions--Old-fashioned oats give a great texture to this breakfast without breaking down too much like quick oats. Uncooked steel-cut oats, conversely, wouldn't get soft enough for me.
Milk Substitutions--I use cow milk at my house, but alternative milk would certainly work just fine here. So go on, use your oat milk, soy milk, coconut milk, goat milk, or almond milk for Nutella Overnight Oats.
Variations
Gluten-free – use a gluten-free certified oats brand.
Yogurt Overnight Oats--stir in a ¼ cup of plain yogurt if you would like to add some creaminess.
STORAGE
Keep overnight oats in a covered container in the refrigerator for up to 3-5 days.
FAQ
Can I add flax seed to overnight oats?
Absolutely! If you want to add chia or flax seeds or whatever else you want, try it!
Are Overnight Oats Healthy?
I find them to fit my definition of healthy as they are high in fiber, whole grain, high in minerals and are often a good way for me to sneak in some fruits.
What does Nutella taste like?
Nutella is full of hazelnut flavor with a hint of chocolate. I find that it's a bit sweeter than peanut butter so consider that when adjusting the amount of Nutella in your Overnight Oats.
RELATED RECIPES
Check out our other Overnight Oats Recipes
Or try Amish Breakfast Casserole for those mornings when you have a little more time on your hands.
DID YOU TRY THIS RECIPE?
Lastly, if you made Nutella Overnight Oats following this recipe, please let me know how you liked it by leaving a comment and/or giving a rating!
I love hearing from you! I'll do my best to respond to each comment.
And of course, if you do make this recipe, tag @laughingroostereats on Instagram and hashtag it #laughingroostereats! Seeing your photos is our favorite thing!
Food Safety
Wash hands before cooking
Do not use the same utensils on cooked food, that previously touched raw meat
Wash hands after touching raw meat
Don't leave food sitting out at room temperature for extended periods
Never leave cooking food unattended
Nutella Overnight Oats
Nutella Overnight Oats means that a healthy breakfast can taste like a creamy dessert coffee and still be good for you.
Ingredients
½

cup

Old Fashioned Oats

1

cup

Milk

1

tablespoon

Nutella

to taste
Instructions
In a wide-mouth canning jar combine the old-fashioned oats, milk, and Nutella. Stir well to combine.

Put a lid on the jar and refrigerate overnight or at least 6 hours.

When ready to eat, just stir well and eat.
Nutrition
Calories:
295
kcal
Carbohydrates:
37
g
Protein:
11
g
Fat:
11
g
Saturated Fat:
8
g
Polyunsaturated Fat:
1
g
Monounsaturated Fat:
2
g
Trans Fat:
0.2
g
Cholesterol:
19
mg
Sodium:
120
mg
Potassium:
479
mg
Fiber:
3
g
Sugar:
22
g
Vitamin A:
241
IU
Vitamin C:
0.5
mg
Calcium:
314
mg
Iron:
2
mg