Feed an army with three ingredients by creating a tender Pork Butt in Roaster Oven with the least amount of effort imagined.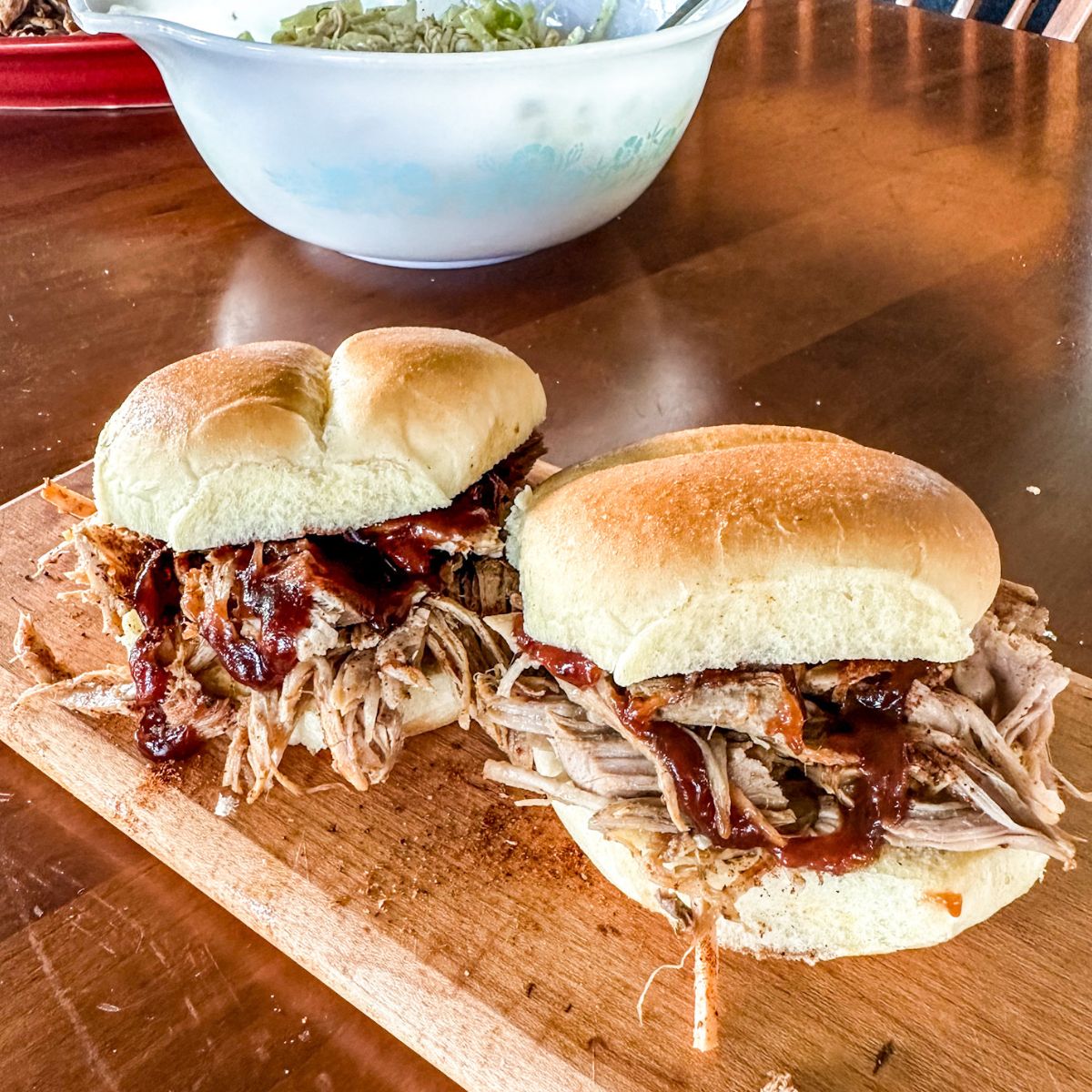 Small Effort--Large Portions
Pork Butt in Roaster Oven is a slow-cooked pulled pork recipe that can serve an army of diners but is so hands-off, that it will allow you to enjoy your party, too.
I love many things about this recipe.
I actually get to enjoy the party instead of cooking in the kitchen or manning the grill because prep takes less than 15 minutes. Then it's hands-off.
Crowd pleaser
Inexpensive way to feed an army
Few ingredients and super easy prep
Does NOT heat up the house
Frees up my oven and cooktop for other dishes
Leftover cooked pulled pork makes a bunch of different meals--quesadillas, mac and cheese, sandwiches, etc. etc etc.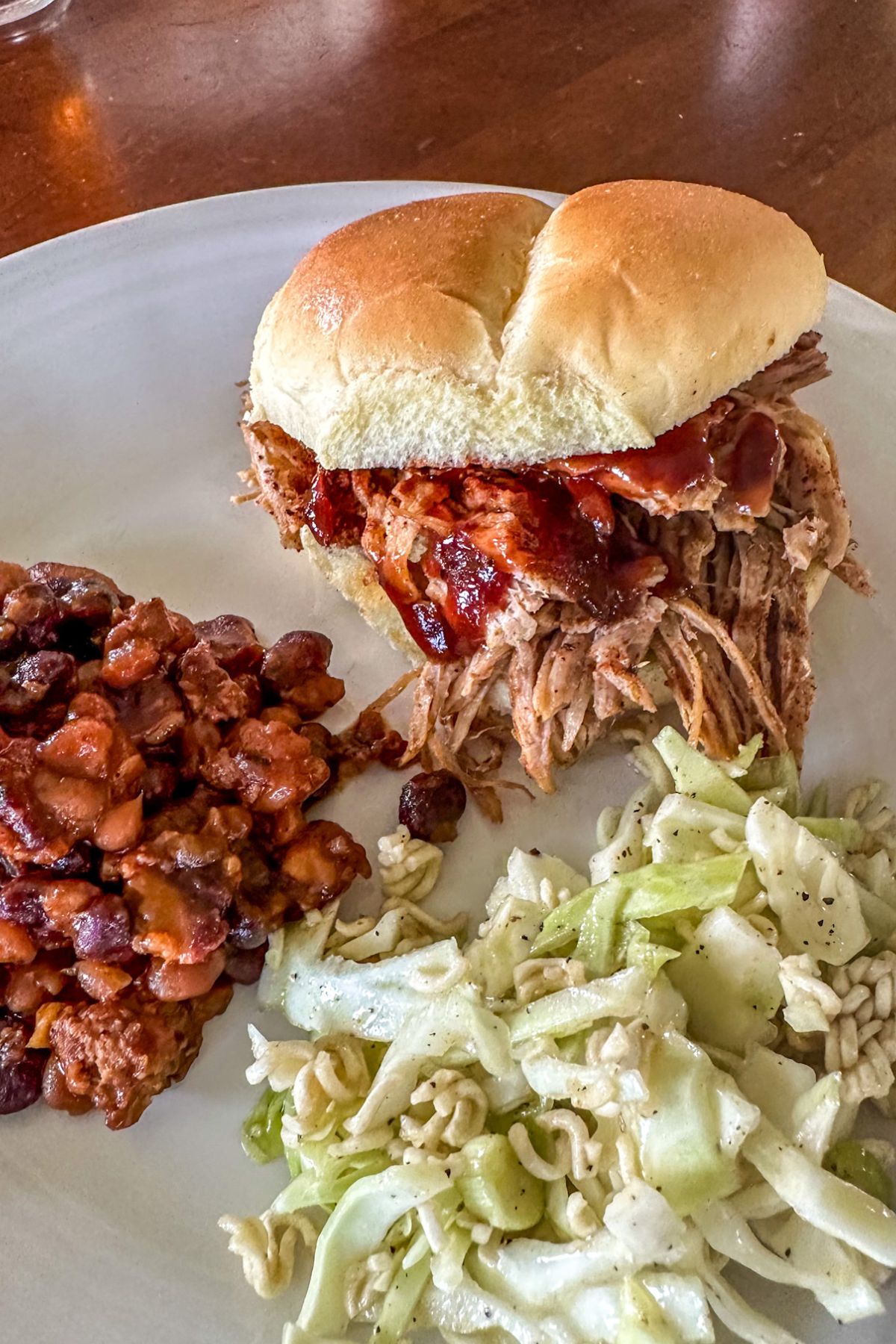 Pro Tips
Use your favorite cut of pork such as Pork butt, pork shoulder (aka Boston Butt), or fresh ham roast.
I used a fresh ham roast because that's what I had in the freezer. The meat in the fresh ham roast has a much longer structure than the shoulder or butt, but I chop it up and like it just as much.
Pork Butt in Roaster Oven can be made 1-3 days in advance.
Use your slow cooker if you prefer it to the roaster oven.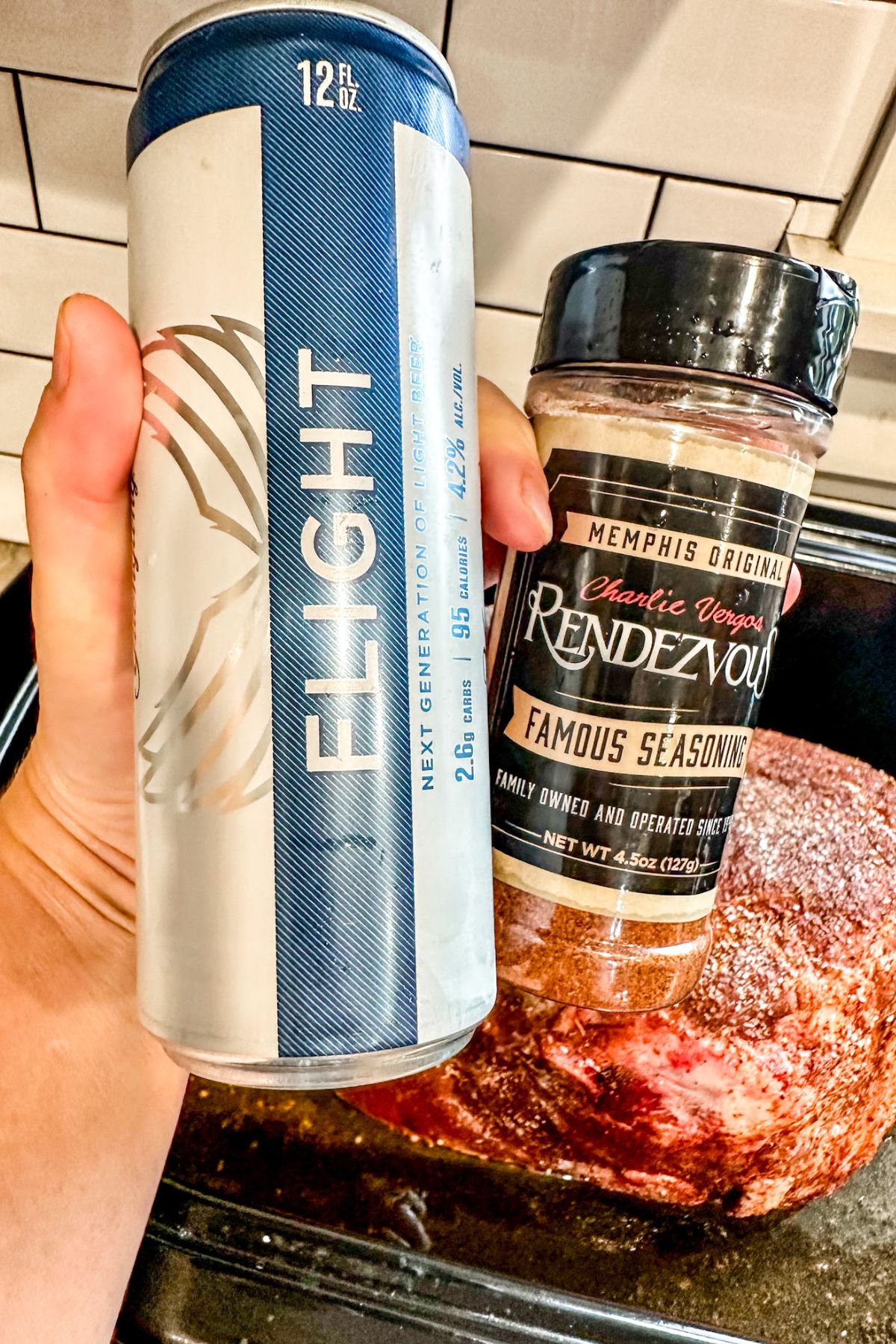 Ingredients
Pork Butt Roast, Pork Shoulder, or Fresh Ham--all three cuts are pretty inexpensive and do well in this recipe.
Rendezvous Seasoning--This seasoning is available online or if you're lucky you might find it in your local store. I order 4 at a time because I love the flavor it brings and don't mind paying for a little bit of the Memphis BBQ legend at my house.
Beer--A can of beer brings a little flavor and needed moisture to the pot. Any beer you enjoy will work. If you don't have beer on hand, use 12 ounces of water or apple juice.
Salt--Rendezvous seasoning doesn't have much salt, so I add a good sprinkling to my pork before it gets to cooking.
Instructions
Sprinkle pork generously with salt and Rendezvous Seasoning.
Massage into meat to ensure it sticks
Place pork into the roaster oven.
Pour beer around the pork. Avoid going over the top of the pork so your seasoning sticks.
Roast the pork at 300 degrees in the roasting pan and cook until the pork is tender and the internal temperature is 165-180 degrees.
The cooking time will vary depending on the size of your pork cut.
Shred pork using 2 forks and chop it with a knife until your desired texture.
Allow chopped pork to warm in the cooking juices until ready to serve.
Sprinkle with more Rendezvous Seasoning to taste
Pork Butt Variations
"Smoked--If you want a "smoked" flavor in your pulled pork, add liquid smoke into your cooking juices.
Create Your Own Rub--Make your own rub, if desired, using spices you like which could include: paprika, garlic powder, chili powder, brown sugar, oregano, cumin, salt, pepper, and/or vinegar and olive oil.
How much Pork Butt per person?
I usually suggest 4-8 ounces (around half of a pound) of meat per person depending on how many side dishes you are serving and who your diners are.
If I'm feeding the football team, I plan on them eating more than some guests.
Remember to plan for some weight loss when the meat is cooked. A 10-pound Pork Butt will yield around 6 pounds of meat when cooked and feed 12 to 20 people.
Cooking time
Cooking time for Pork Butt in Roaster Oven varies depending on the size of the pork you have.
At a temperature of 300 to 350 F, it takes around 45-60 minutes per pound of initial weight.
Mine took about 6 hours to finish.
Serving Pork Butt
Serve with:
Burger buns
Barbecue sauce of your choice
Extra Rendezvous Seasoning
Pickles (I like sweet pickles with BBQ)
Fresh or Pickled Onion Slices
Baking a pork butt in the oven
If you don't have a roaster oven, use your oven!
Preheat the oven to 300 degrees.
Place the seasoned roast in a large pan with a lid. If you don't have a lid, cover with heavy duty aluminum foil.
Pour beer around pork butt. Finish as directed.
What to do with Leftover Pork Butt in Roaster Oven
This makes a lot of meat. But I never get tired of eating it because there are so many ways to enjoy this pulled pork.
Think: tacos, burritos, nachos, sandwiches, enchiladas, sliders, salads, etc.
Storing Pork Butt
Store leftovers in a covered container in the fridge for 3-5 days.
I enjoy making a variety of dishes with leftovers, but if you find you have more meat than will be eaten in 3 days or so, put the meat in freezer bags and store it for 3 months. Defrost and enjoy.
Serving
Any time I have BBQ I want fantastic baked beans, too. A good Jello Salad makes me feel like I'm at a picnic and don't forget the Macaroni and Tomatoes!
DID YOU TRY THIS RECIPE? ❤️
Lastly, if you tried Pork Butt in Roaster Oven following this recipe, please let me know how you liked it by leaving a comment and/or rating!
I love hearing from you! I'll do my best to respond to each comment.
And, of course, if you make this recipe, tag me on Instagram! Seeing your photos is my favorite thing!
FOOD SAFETY
Wash hands before cooking
Do not use the same utensils on cooked food, that previously touched raw meat
Wash hands after touching raw meat
Don't leave food sitting out at room temperature for extended periods
Never leave cooking food unattended
Pork Butt in Roaster Oven
Feed an army with three ingredients by creating a tender Pork Butt in Roaster Oven with the least amount of effort imagined.
Ingredients
6

pound

Pork Butt

Pork Shoulder or Fresh Ham

4

Tablespoons

Rendezvous Seasoning

plus more to taste

12

ounces

Beer

1-2

Tablespoons

Salt
Instructions
Sprinkle pork generously with salt and Rendezvous Seasoning.

Massage into meat to ensure it sticks

Place pork into the roaster oven.

Pour beer around the pork. Avoid going over the top of the pork so your seasoning sticks.

Set roaster oven at 300 degrees and cook until pork is tender and internal temperature is 165-180 degrees.

The cooking time will vary depending on the size of your pork cut.

Shred pork using 2 forks and chop it with a knife until your desired texture.

Allow chopped pork to warm in the cooking juices until ready to serve.

Sprinkle with more Rendezvous Seasoning to taste
Nutrition
Calories:
3739
kcal
Carbohydrates:
12
g
Protein:
511
g
Fat:
155
g
Saturated Fat:
54
g
Polyunsaturated Fat:
17
g
Monounsaturated Fat:
68
g
Trans Fat:
1
g
Cholesterol:
1633
mg
Sodium:
8759
mg
Potassium:
9319
mg
Calcium:
399
mg
Iron:
33
mg