Use a beef arm roast, a slow cooker, and this easy Pot Roast Seasoning recipe to create the best pot roast with gravy you have ever eaten.
🧂Seasoning a Beef Pot Roast
I know... those 4 ingredients poured over a beef arm roast seem unlikely to create the best pot homemade pot roast you've ever had.
But it does! I rarely choose to make any other pot roast recipe and we eat a lot of pot roasts in this farmhouse.
Your family and friends will think you're pretty awesome if you put this on the table. And guess, what?
They will also think you slaved over the stove all day. I won't tell, if you don't.
🥘 Do I Have to Brown the Roast Before Putting it in my Crockpot?
Let me say this, there are benefits to browning meat for cooking in a slow cooker. I totally get it. However, for this recipe, it's just not necessary. The flavor will be deep and delicious.
Because truthfully, when I want to throw a hunk of meat and some stuff in the Crock Pot before I head out the door, I need it to be really simple.
No browning meat mess
Only uses the slow cooker--no extra pan for browning
Fast to put together
Simple enough to remember without looking up a recipe
Uses ingredients on hand
🥩 Ingredients for Pot Roast Seasoning
No need to employ every ingredient in your spice cabinet or worry about adjusting the amount of seasoning per pound. All you will need to create this homemade pot roast seasoning recipe:
Beef Roast--I love a good arm roast, but a chuck roast works great too. 3-4 pounds of meat is about the size I typically use.
Ranch Dressing Mix--I'm kind of choosy about ranch dressing. I use the Hidden Valley Ranch brand. I like the herbs and spices this brings to the roast. Plus, this is a regular pantry item at my house for a start on our veggie dip.
Brown Gravy Mix--I typically just grab the store brand.
Italian Dressing Mix--I use Wishbone spice blend and buy the 4 pack.
Can of pop--I usually use Dr. Pepper because that's what I have, but I sometimes use cheap cola or Coke. I've used a rootbeer and a Pepsi. They have all worked great.
Cornstarch--This helps thicken the liquid in your slow cooker and make it into the super sauce gravy.
Potatoes and Carrots--as desired. If I add them to the roast, I add them about halfway through cooking the roast so the veggies don't get mushy.
💭Top Tips
Use any kind of pop you like. You can probably use a can of beer, apple juice, or just plain ol' water and it would still be tasty. You will need liquid to amount to the can of pop (2 cups).
Add a little cornstarch slurry to the crock pot for the last 10 minutes or so of cooking to make the best brown gravy ev-er. I'll give you details on how to make good gravy below.
🥄 Instructions
Place a thawed beef arm roast in the slow cooker.
For the dry rub--Add the envelopes of brown gravy mix, ranch dressing mix, and Italian dressing mix to the top of the roast.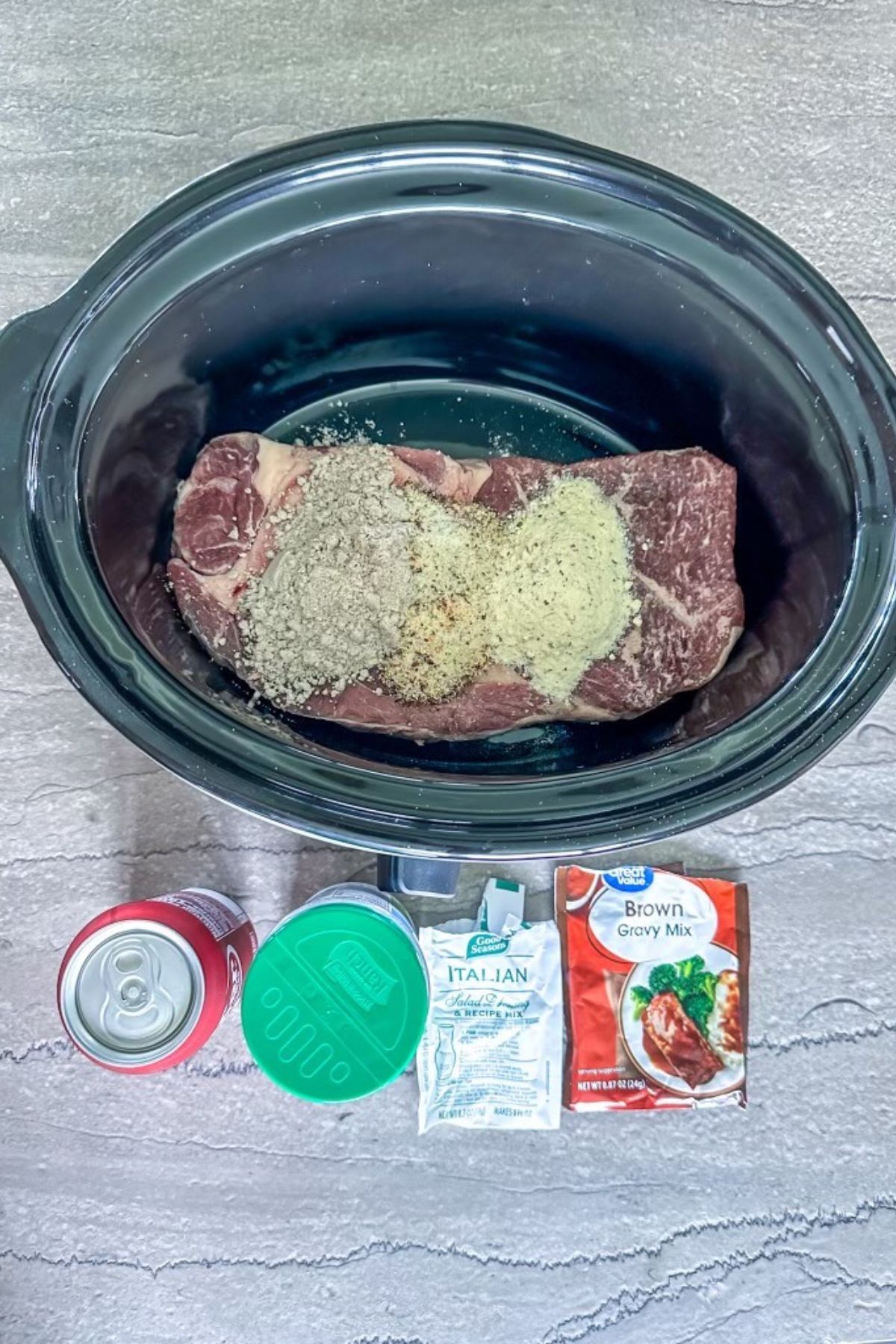 Pour a can of pop along the side of the roast.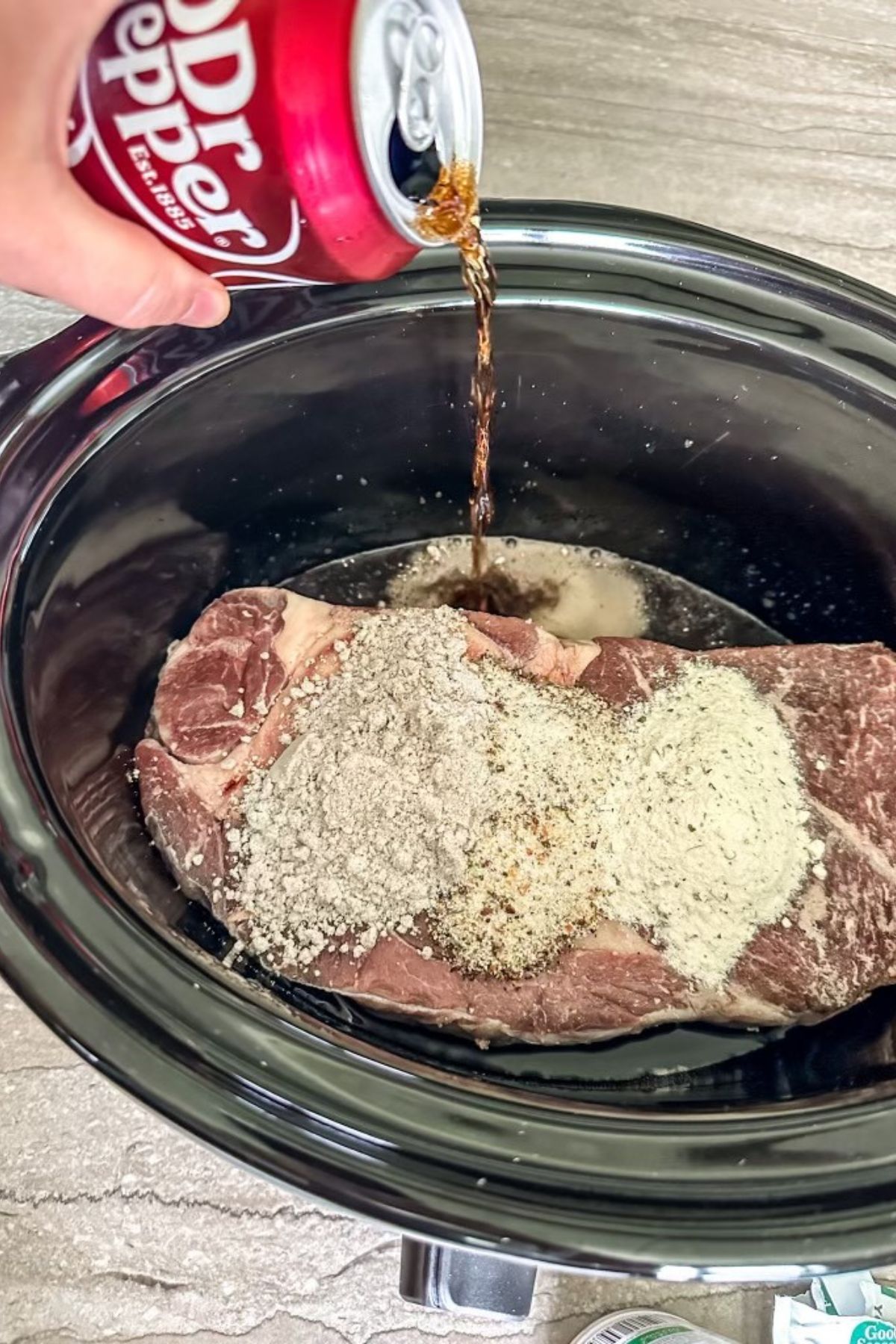 With the slow cooker's lid on, cook on low for 6 to 8 hours or until the roast is easily pierced with a fork.
Turn the slow cooker to high and add the cornstarch slurry to the cooking juices.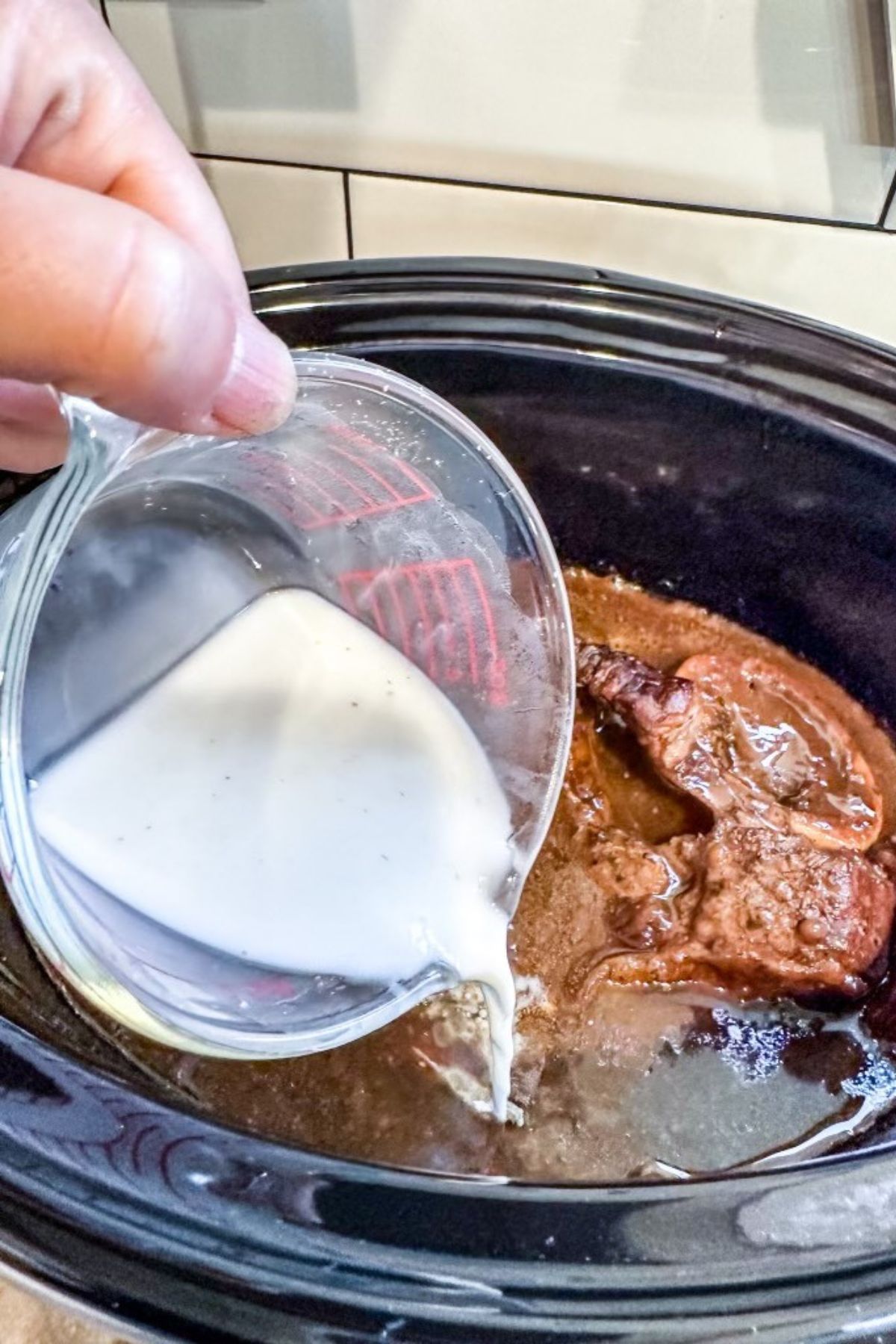 With the lid on the slow cooker, bring the cooking juices and cornstarch/water slurry to a boil in order to thicken it into a gravy. This will take about 10 minutes.
The seasoning is already done for you. In my opinion, there is no need to add salt or pepper.
🫙How to Make Gravy for Beef Pot Roast
There should be about 1 and a half cups of liquid in the slow cooker with the roast. This is the good stuff to make the gravy with.
In a small bowl, add one and a half tablespoons of cornstarch mixed with one and a half tablespoons of cold water (aka a cornstarch slurry) for a medium-thick sauce.
Stir the slurry to get all the lumps out.
Pour the cornstarch slurry into the hot liquid in your slow cooker and stir.
Turn the slow cooker to high, put the lid back on, and wait until the gravy boils. This will make the gravy thicken.
📖 Variations for Pot Roast Seasoning
Mushroom Beef Gravy--Add sliced mushrooms when the roast is about halfway finished cooking.
Roast with Potatoes, Carrots, and Onions--Add these in if you like. Many people cook them the entire time the roast is cooking. I don't like them so soggy (some might call it "tender") so I add mine about halfway through the roast cooking time.
🐷 Substitutions for Pot Roast Seasoning
Of course, I love a good beef arm roast, but a chuck roast (aka beef shoulder roast) works well in this recipe too.
For variety, try this recipe on a pork shoulder roast. Let me know how it turns out for you in the comments.
Want to make the roast in the oven? You can use the same beef roast seasoning ingredients and bake the roast in a covered pan in the oven. I like to cook mine at 325 for 2-4 hours or until fork tender.
🐢 Equipment
Any slow cooker or Crock Pot is fine. I have a 7-quart Hamilton Beach Slow Cooker that is reasonably priced.
What do I do with Roast Leftovers?
I love to use the leftover beef arm roast and gravy to make beef and noodles. Homemade noodles, frozen or dried egg noodles all work great for this dish.
Using dry noodles--Cook the noodles as directed on the package. Drain the noodles and then add the gravy and beef roast (chopped up). Stir and heat until warmed through.
Using frozen noodles--Heat the gravy and chopped up beef roast in a dutch oven. Add 3-4 cups of water to start. Bring to a boil and add the frozen noodles. Add more water as the noodles cook to keep them from glopping together.
❄️ Storage
As always, store leftovers in a covered container in the refrigerator for 3 to 5 days.
🧂Is the Roast or Gravy Salty?
I was afraid the pot roast seasoning would taste too salty the first time I made it, but I find it to be perfectly seasoned.
Of course, each of us has an opinion, so if you find the gravy a bit salty, add some extra water and increase the amount of cornstarch slurry to adjust to the extra liquid.
I would recommend skipping the kosher salt in the cooking phase. You can always add some at the end if you find it needs a little lift.
Can I Use a Pork Roast?
Absolutely! And the pork roast is just as delicious!
Use pork, turkey, or chicken gravy mix if you prefer, when making a pork roast.
🥗 What to Serve with Beef Arm Roast
My favorite side dish to serve with Beef Arm Roast is old-fashioned mashed potatoes (you have to have someplace to put that delicious gravy!).
My friend, Chef Alli, is pretty dang smart with the Instant Pot and these potatoes would make a quick side dish for this perfect pot roast.
Honey Sriracha Brussels Sprouts or Jalapeno Cream Corn make fantastic veggie side dishes and bring some great nutrition to the dinner plate.
I enjoy a good jello salad as a side dish/dessert with pot roast. It just feels old-timey.
It's nice to have jello ready when the crock pot roast is finished.
To do that, just throw Applesauce Jello together in the morning before you head out and your whole dinner will be nearly ready when you get home.
More Recipes We Love
This Pot Roast Seasoning Recipe is the best kind of comfort food that is ready when you get home.
You might also enjoy the 3-Ingredient Ham Glaze recipe, too.
For other recipes that are just fix it and forget it. Try one of our soups like Instant Pot Ham and Beans or Cozy Autumn Wild Rice Soup in the Instant Pot or Slow Cooker.
💬 Did You Try this Recipe?
Lastly, if you season your next roast following this recipe, please let me know how you liked it by leaving a comment and/or giving a rating!
I love hearing from you! I'll do my best to respond to each comment.
And of course, if you do make this recipe, tag me on Instagram! Seeing your photos is my favorite thing!
Food Safety
Wash hands before cooking
Cook to a minimum temperature of 165 °F (74 °C)
Do not use the same utensils on cooked food, that previously touched raw meat
Wash hands after touching raw meat
Don't leave food sitting out at room temperature for extended periods
Never leave cooking food unattended
Pot Roast Seasoning
Use a beef arm roast, a slow cooker, and this easy Pot Roast Seasoning to create the best pot roast with gravy you have ever eaten.
Ingredients
1

3-4 pounds

Beef Arm Roast

thawed

1

can

Dr Pepper

1

envelope

Hidden Valley Ranch Dressing Mix

1

envelope

Wishbone Italian Dressing Mix

1

envelope

Brown Gravy Mix

1 ½

Tablespoons

Cornstarch

1 ½

Tablespoons

Water
Instructions
Place thawed beef arm roast in the slow cooker

Pour all 3 mixes over the beef arm roast

Add the can of Dr Pepper to the slow cooker

Cook on low for 6 to 8 hours or until fork tender

In a small bowl, stir the cornstarch and water together until no lumps remain, creating a slurry

Add the cornstarch/water slurry to the juices in the slow cooker and turn the slow cooker up to high

Put the lid on and cook for 10 minutes or until the gravy boils
Nutrition
Calories:
48
kcal
Carbohydrates:
11
g
Protein:
0.04
g
Fat:
0.02
g
Saturated Fat:
0.01
g
Polyunsaturated Fat:
0.002
g
Monounsaturated Fat:
0.01
g
Trans Fat:
0.002
g
Cholesterol:
0.1
mg
Sodium:
397
mg
Potassium:
1
mg
Fiber:
0.02
g
Sugar:
7
g
Vitamin A:
0.02
IU
Calcium:
0.2
mg
Iron:
0.01
mg