Use your Air Fryer to turn a tortilla into a crispy Air Fryer Tortilla Pizza. Create crispy personal pizzas to suit everyone, in minutes.
Creating a Crunchy Tortilla Pizza Crust in the Air Fryer ♨️
I don't know about you, but I just can't settle for a soggy, wimpy pizza crust... So, when I was working on this Air Fryer Tortilla Pizza recipe, a crispy crust was top priority.
When I landed on the light coating of butter, preheat, and pre-bake technique, I knew I had it figured out. And everyone in the house agreed (how rare is that?!)!
The secrets are…
Preheat your Air Fryer—Heat your Air Fryer to 400 degrees while you assemble your ingredients. Just turn it on and leave it empty while you get your ingredients out of the refrigerator.
Prebake your tortilla--Spread a thin layer of soft butter (or brush on olive oil) on one side of your tortilla. Then Air Fry it for 2-3 minutes flipping it halfway through.
I like to get mine pretty crispy before adding any ingredients to it.
Spread pizza sauce on your crispy tortilla. Don't get to close to the edge though. That will help prevent messes in your Air Fryer.
Add cheese of your choice. I typically have mozzarella on hand, but I love provel cheese from our local deli for all pizzas! It melts like a dream...
Ingredients 🧾
Flour tortilla, fajita or soft taco size
Butter (or olive oil)
Pizza sauce
Mozzarella cheese
Mini pepperonis or toppings of choice
Put additional toppings as you wish. I had some leftover cooked breakfast sausage on this day so that's what I used. Ham, pepperonis, cooked bacon, cooked hamburger, etc. would all work great.
Add cooked veggies if you like: peppers, onions, olives (yum!)
A little raw spinach would be nice... I should have thought of that earlier.
No matter what you choose for toppings, just make sure your toppings are cooked. The pizzas don't cook long enough to cook raw ingredients.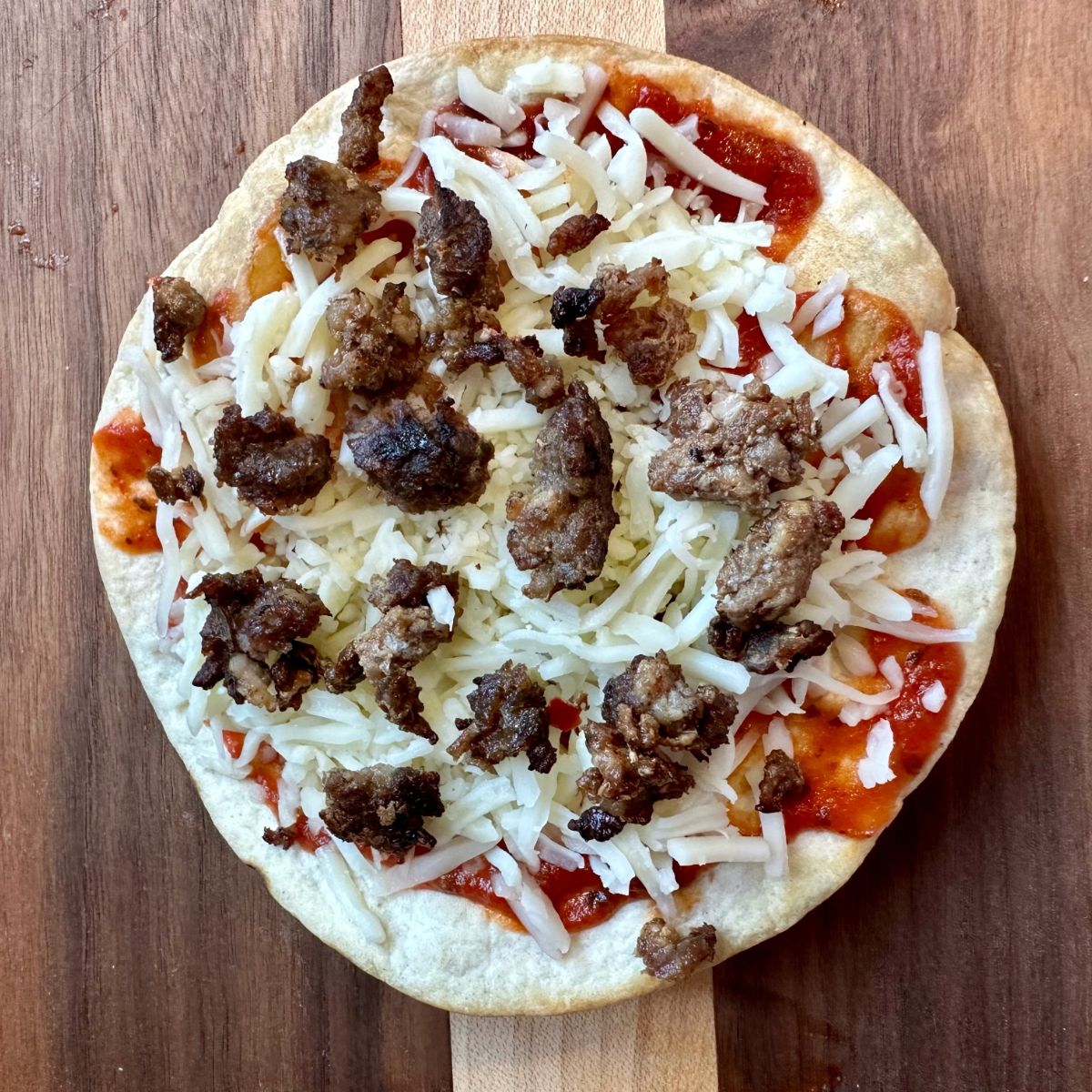 Work on your balancing act and put the Air Fryer Tortilla Pizza with all the toppings back in the Air Fryer.
Cook for another 3-ish minutes or until your toppings are desired doneness. Don't walk away! These little treasures cook fast!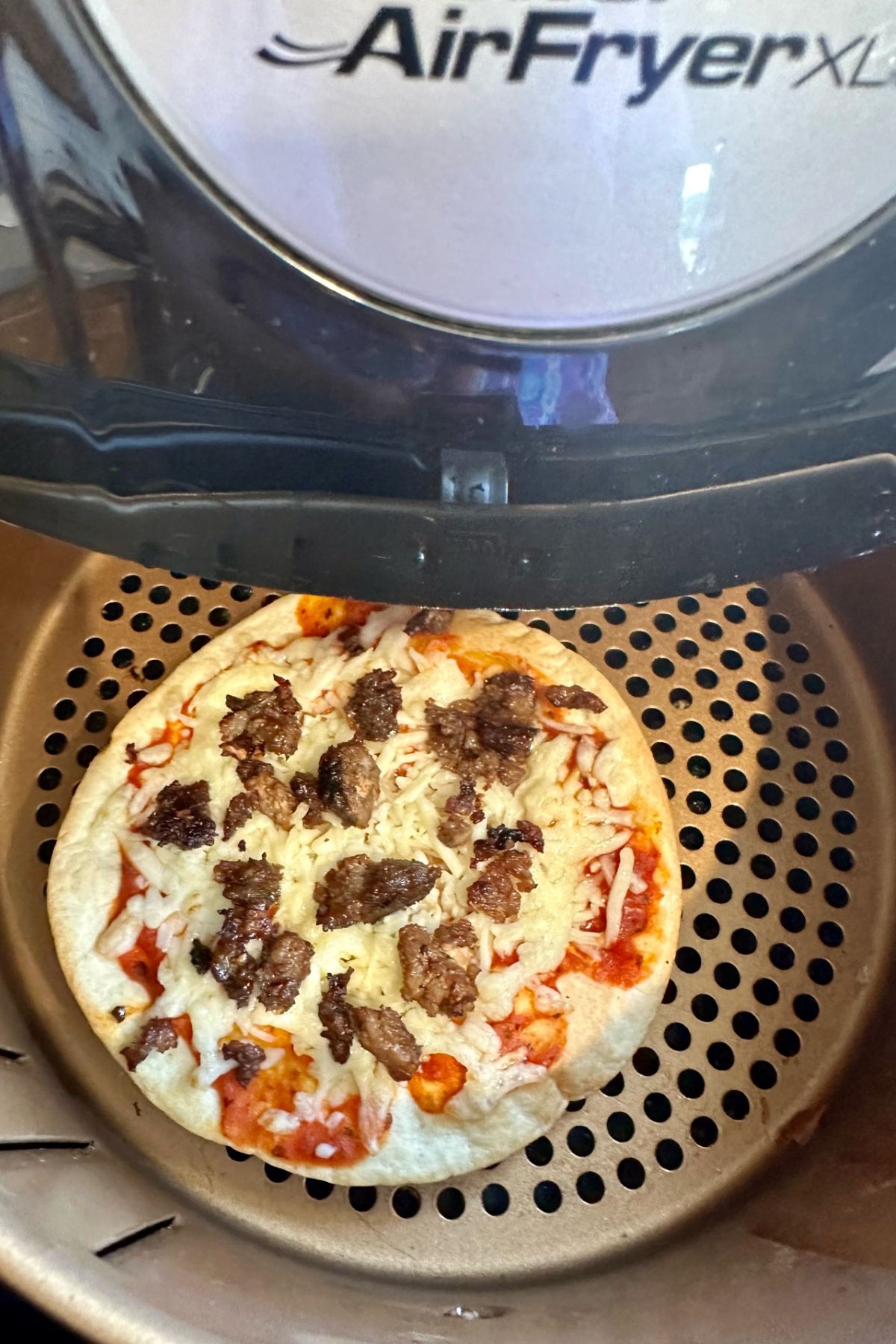 Remove from Air Fryer, place on cutting board, and cut into fourths.
I like using my chef's knife to cut these pizzas. It reaches all the way across and doesn't shatter my crispy crust.
Pro Tips 💭
To keep your Air Fryer clean, avoid getting sauce and toppings too close to the edge. No one likes to clean the Air Fryer!
Use pre-cooked meats as toppings. Air Fryer Tortilla Pizzas don't cook long enough to ensure a raw meat product is cooked through.
Pizza sauce-use the premade pizza sauce or marinara sauce from a jar for ease. Use a little and put the lid back in and store in the fridge up to 2-3 weeks.
We have used precooked sausage or bacon leftover from breakfast, or a little taco meat, hamburger, ham, pepperoni, etc. on the pizzas at our house.
Any type of shredded cheese you like can work here. Mozzarella is typical for pizza, but use what you have—provel, cheddar, provolone, Swiss, etc.
Use tongs to handle your Air Fryer Tortilla Pizzas with ease.
Easy Homemade Pizza Sauce 🥫
Make your own pizza sauce by using canned tomato sauce and stirring in 1 teaspoon Italian seasoning, ½ teaspoon garlic salt, ½ teaspoon of sugar.
Store any leftover in the fridge in a plastic or glass bowl with a lid.
Do not store in the tomato sauce can.
How long to cook Air Fryer Tortilla Pizzas ⏲️
Air Fryers vary.
For mine, I found that preheating the Air Fryer for 3 minutes, then cooking the buttered tortilla for 2-3 minutes created my ideal crust.
After I put the toppings on the crust, my cheese was perfectly melted, and the toppings were sizzling in an additional 3 minutes.
Your Air Fryer may vary a bit. So, play with the cooking times a bit and don't walk away while it's cooking.
Serving Ideas 🍽️
Create a spread of toppings for your next movie night with the kids. Let them decide what goes on their Air Fryer Tortilla Pizza!
Perfect for a quick lunch for you and the kids
After-school snack for your favorite pizza fanatic.
Cooking in the Air Fryer keeps the kitchen cool on those hot summer days!
Create the pizza you love—add extra sauce, less sauce, choose your favorite cheese, favorite toppings, make it a fancy supreme or a simple cheese only.
Who wouldn't love this pizza? Just look at that crisp!
Can I use no carb/low carb tortillas for this recipe? 🍕
Yes! I tested Mission, Carb Balance Flour Tortillas for the Low Carb Pesto Tortilla Pizza recipe and they turned out fantastic!
Use the same techniques to preheat the Air Fryer and precook your tortilla pizza crust.
Even if you're not on a low carb plan, it's worth making! I love Pesto Pizza!
Storing Air Fryer Tortilla Pizzas ❄️
This is one of those foods that are just best fresh.
Make them to order then you don't have to worry about leftovers.
However, if you made extras they can be refrigerated for 3-5 days and safely reheated in the Air Fryer.
Did You Try this Recipe? ❤️
Lastly, if you made a Tortilla Pizza in your Air Fryer following this recipe, please let me know how you liked it by leaving a comment and/or giving a rating!
I love hearing from you! I'll do my best to respond to each comment.
And of course, if you do make this recipe, tag me on Instagram! Seeing your photos is my favorite thing!
Food Safety
Wash hands before cooking
Cook to a minimum temperature of 165 °F (74 °C)
Do not use the same utensils on cooked food, that previously touched raw meat
Wash hands after touching raw meat
Don't leave food sitting out at room temperature for extended periods
Never leave cooking food unattended
Air Fryer Tortilla Pizza
Use your Air Fryer to turn a tortilla into a crispy Air Fryer Tortilla Pizza. Create crispy personal pizzas to suit everyone, in minutes.
Ingredients
1

tortilla

Tortilla

soft taco sized

1

teaspoon

butter

softened

1

Tablespoon

pizza sauce

3

Tablespoons

shredded mozzarella cheese

Choose one or more: cooked sausage

mini pepperonis, cooked bacon, cooked hamburger, ham, etc.
Instructions
Preheat your Air Fryer—Heat it to 400 degrees while you assemble your ingredients. Just turn it on and leave it empty while you get your ingredients out of the refrigerator.

Spread a thin layer of soft butter on one side of your tortilla. Then, Air Fry it for 2-3 minutes flipping it halfway through. I like to get mine pretty crispy before adding any toppings to it.

Spread pizza sauce on precooked tortilla pizza crust. Being careful not to get too close to the edge.

Sprinkle with cheese.

Top with cooked meat of your choice.

Carefully transfer your Tortilla Pizza to the Air Fryer basket and cook for 2-3 minutes or until cheese is melted as desired.

Using tongs, remove HOT pizza from Air Fryer being careful not to lose your toppings. Place on cutting board to cut into pieces.

Sprinkle with parmesan cheese and pepper flakes if desired
Nutrition
Calories:
316
kcal
Carbohydrates:
25
g
Protein:
14
g
Fat:
18
g
Saturated Fat:
10
g
Polyunsaturated Fat:
2
g
Monounsaturated Fat:
5
g
Trans Fat:
0.2
g
Cholesterol:
46
mg
Sodium:
727
mg
Potassium:
138
mg
Fiber:
2
g
Sugar:
3
g
Vitamin A:
490
IU
Vitamin C:
1
mg
Calcium:
296
mg
Iron:
2
mg