Hands-off for this Sous Vide Pork Roast cooked using a precision method for Sunday dinner that is guaranteed to be tender and juicy.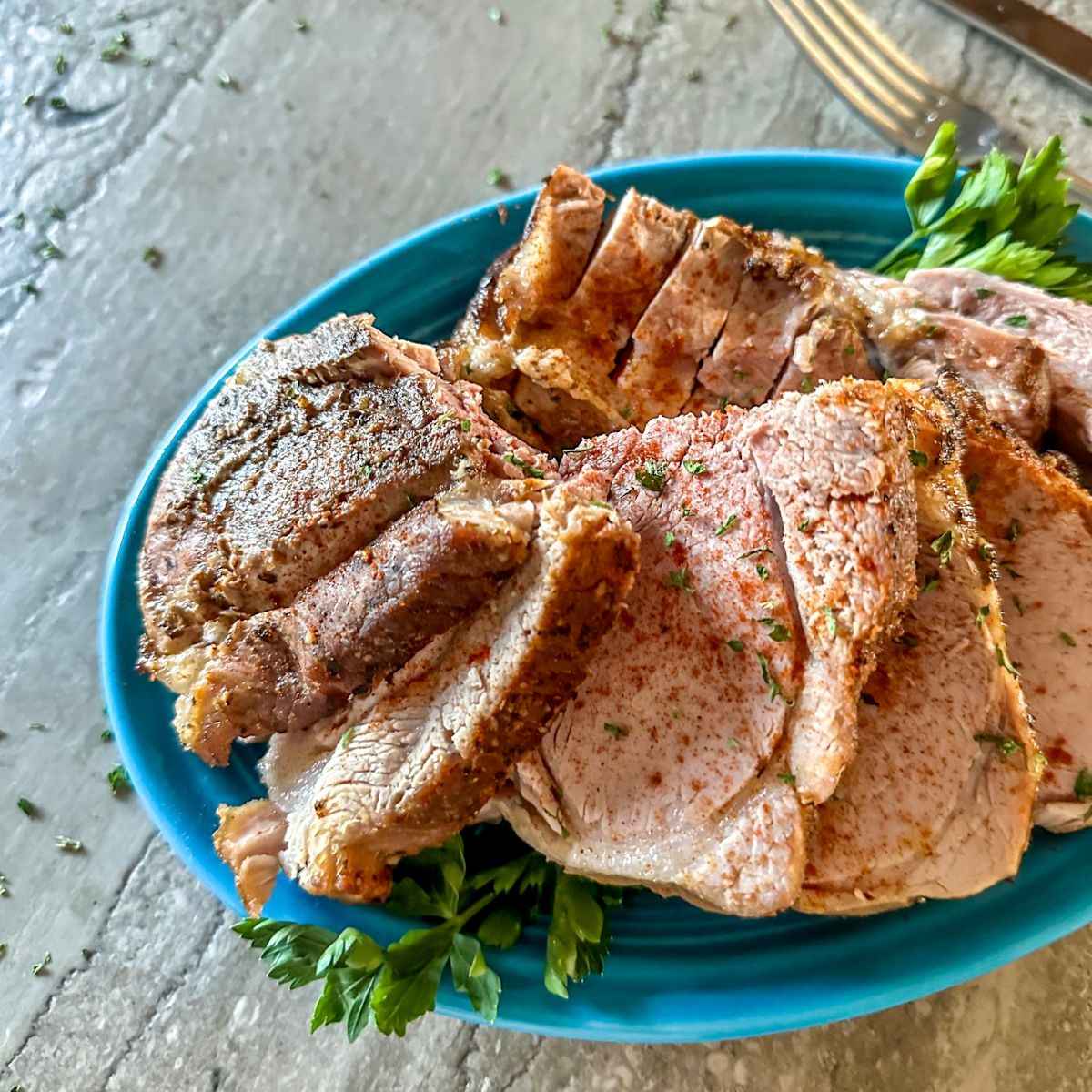 Why You'll Love Sous Vide Pork Roast
Sous Vide Pork Roast is a brilliant way to cook a pork roast. The method ensures every bit stays juicy and tender.
And... guess what? This recipe is nearly completely hands-off.
Season it. Seal it. Submerge it. Set it. Come back in a few hours. Eat it.
Why Sous Vide Cooking?
The Sous Vide method of cooking uses a heated water bath at an exact temperature and is perfect for cooking large and small cuts of pork, with NO RISK of overcooking it.
The long cooking time is helpful in breaking down the pork's connective tissue (that can sometimes make pork a bit... let's say... "chewy").
BONUS: Long cooking time = more time for the flavors to fall in love with each other.
Getting started cooking Sous Vide is easy and relatively inexpensive.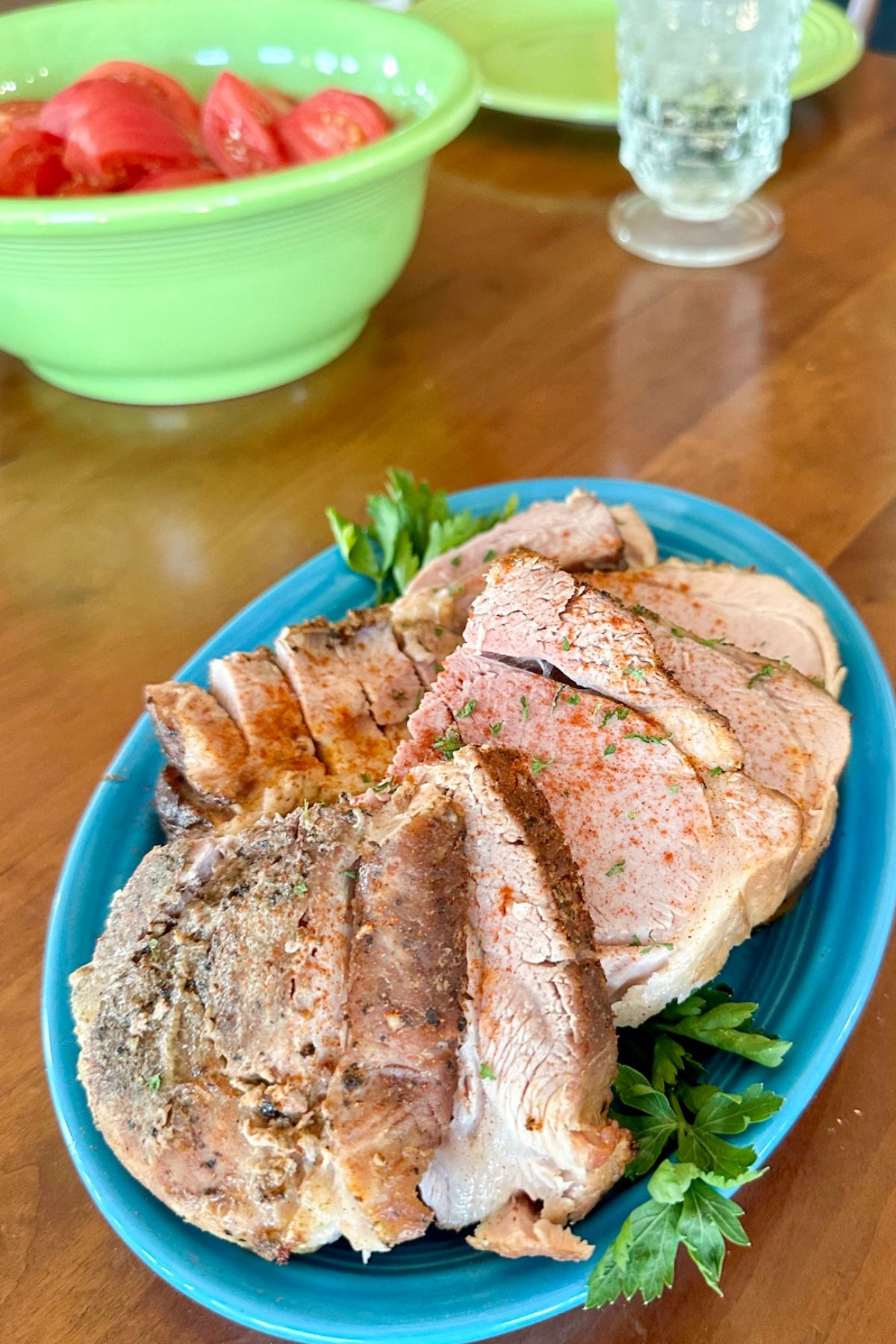 Ingredients
Just a few ingredients to create this recipe:
3-4 pound pork roast. I used a pork shoulder roast for this one, but I also like to use a fresh ham roast or pork butt
Seasoning of your choice--I wanted a Sliced Sunday Roast kind of recipe this time, so I went with a simple mix of Kosher salt, black pepper, garlic powder, smoked paprika, and fresh thyme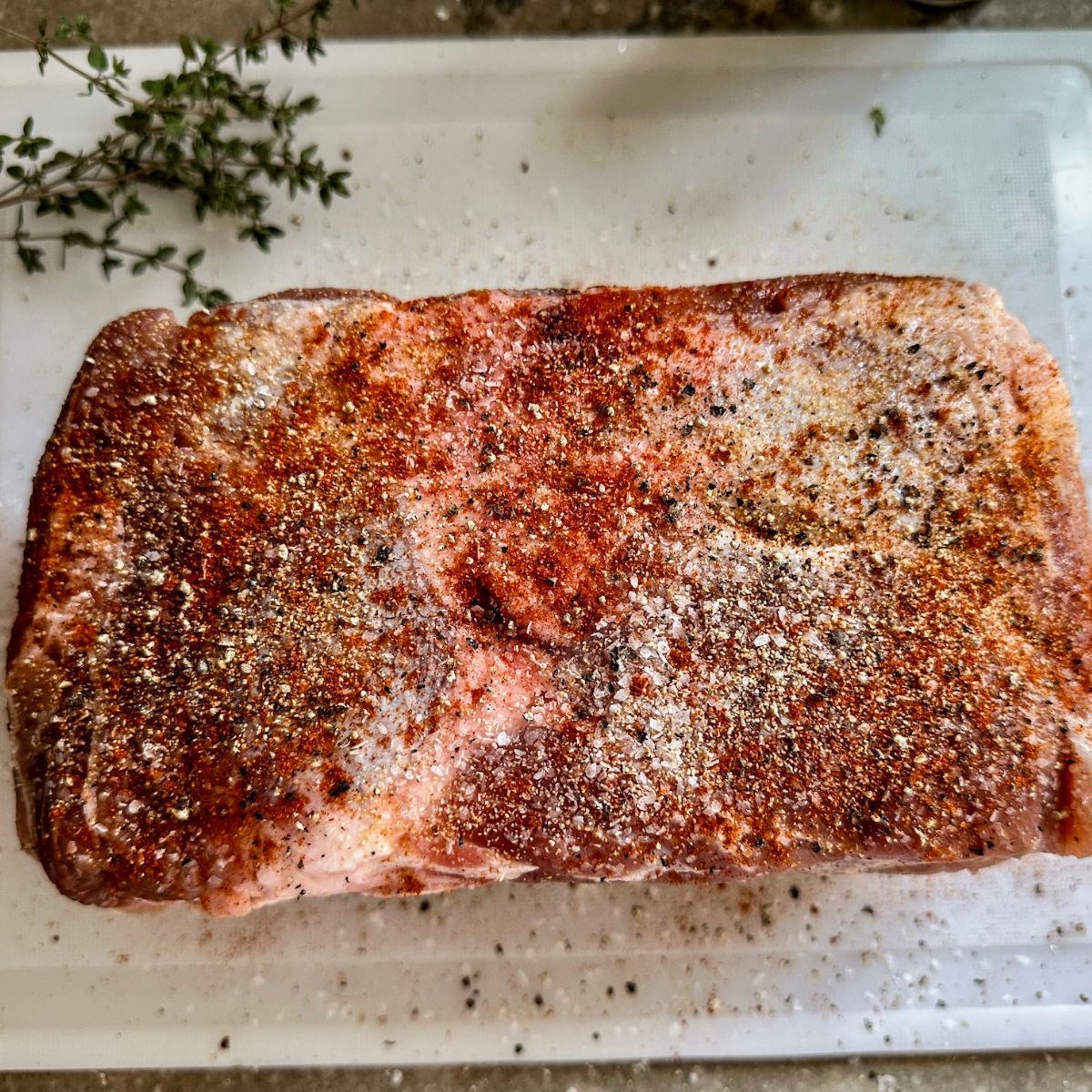 Pro Tips 💭
Make sure you get all the air out of your sous vide bag. Use the water displacement method if using a zip-top freezer bag.
If your sealed bag floats, find a way to weigh it down--a wet towel would work. I used a spoon wedged in between the handles.
Dry the pork roast with paper towels before searing it under the broiler. Extra moisture is not your friend when searing.
The oven should be very hot when reverse-searing the pork roast--Broil setting works nicely.
Don't overcook the pork when searing. Set your timer for 1 minute and then turn it a quarter turn. Repeat.
Instructions
Rub the seasonings evenly over the pork roast, pressing it in until it adheres.
Place pork roast in a sous vide–safe vacuum-sealer bag.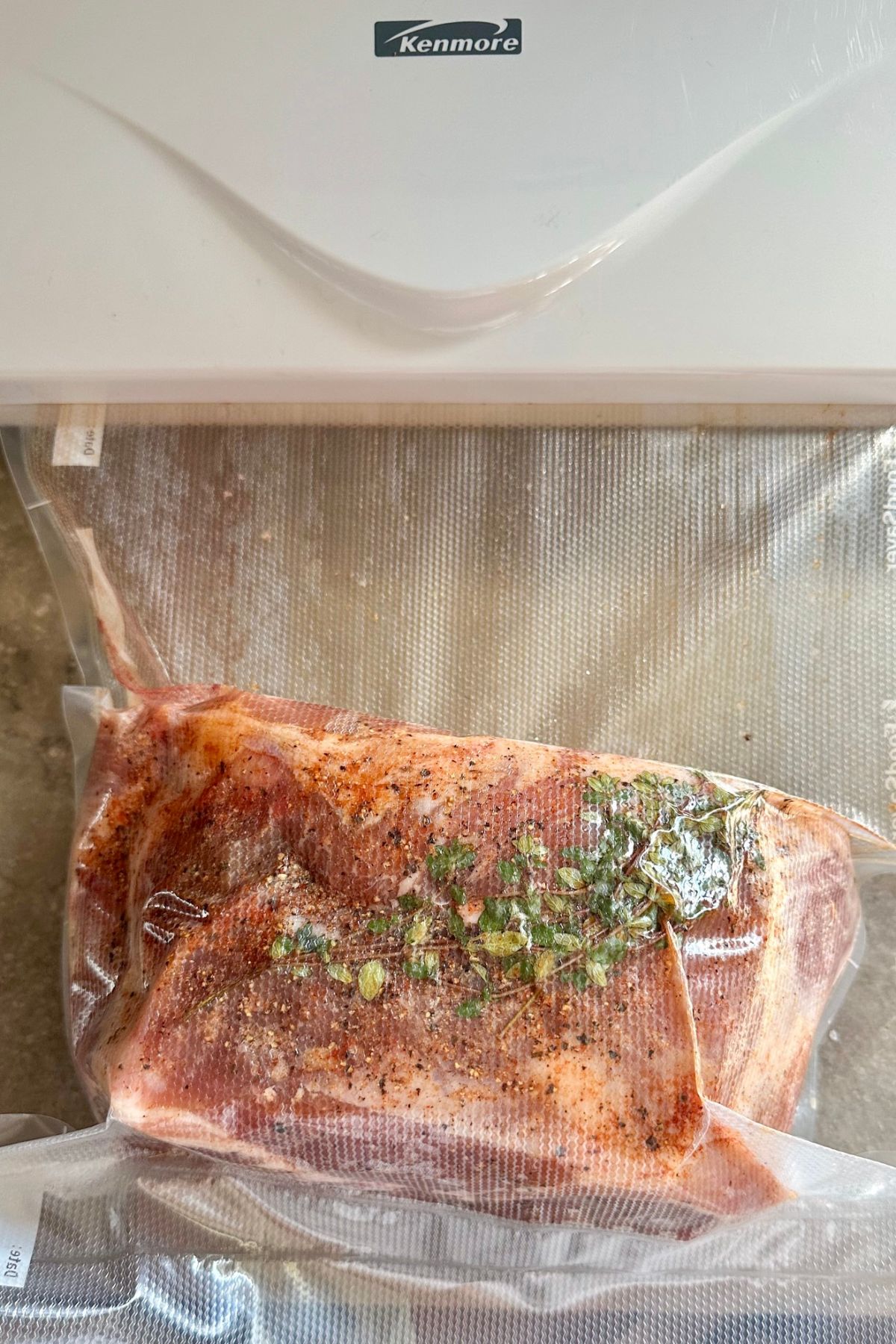 Set your sous vide to 145°F for sliceable but tender pork
Or 165°F for more traditionally textured pulled pork
When the bath is at temperature, add the sealed bag with pork.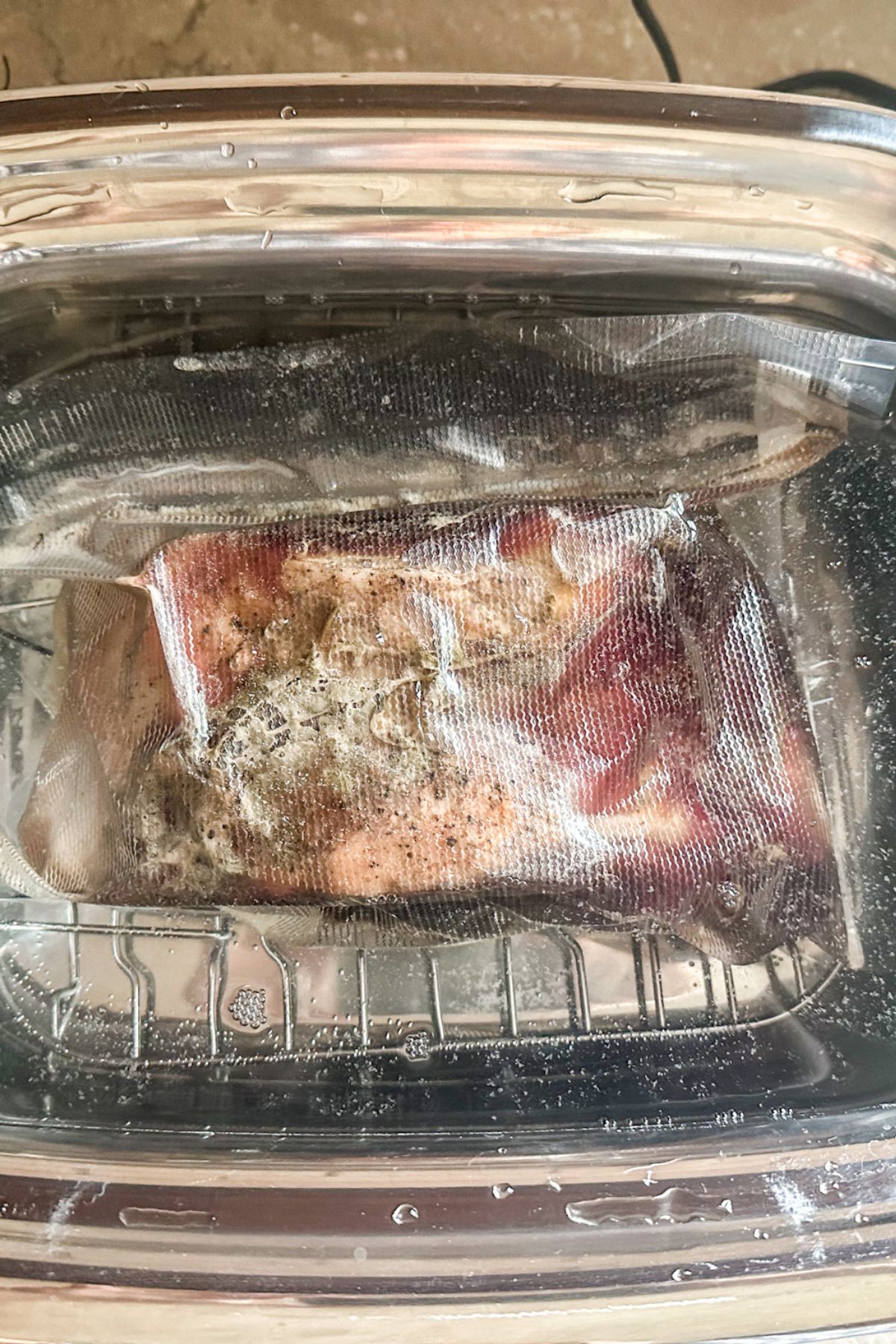 Allow the pork roast to cook for 18 to 24 hours. (If desired, the pork can be refrigerated for up to 1 week before finishing.)
Reverse sear in the oven under the broiler to brown and finish. Alternatively, give it a quick sear the outside over high heat in an iron skillet, as done in Sous Vide Pork Tenderloin.
Which cut of pork roast should I choose?
I used a pork shoulder roast for this one, but I also like to use a fresh ham roast, pork loin roast, or pork butt.
Variations
I finished my Sous Vide Pork Roast under the broiler to crisp up the outside and give some color to the finished roast. I then sliced it for a great Sunday roast.
However, if you want a BBQ flavor with more of a pulled pork finish, try our recipe for Pulled Pork Sous Vide--Where we use a rub, liquid smoke, and a grill to get a little more smoke flavor.
Equipment 🔪
I'm not usually one to like kitchen gadgets because I don't like storing them. But my Instant Pot Aura Pro has proven to have many uses in my kitchen.
The specific Instant Pot I have has been discontinued, but I found this Instant Pot Max to be similar, and it has a sous vide setting.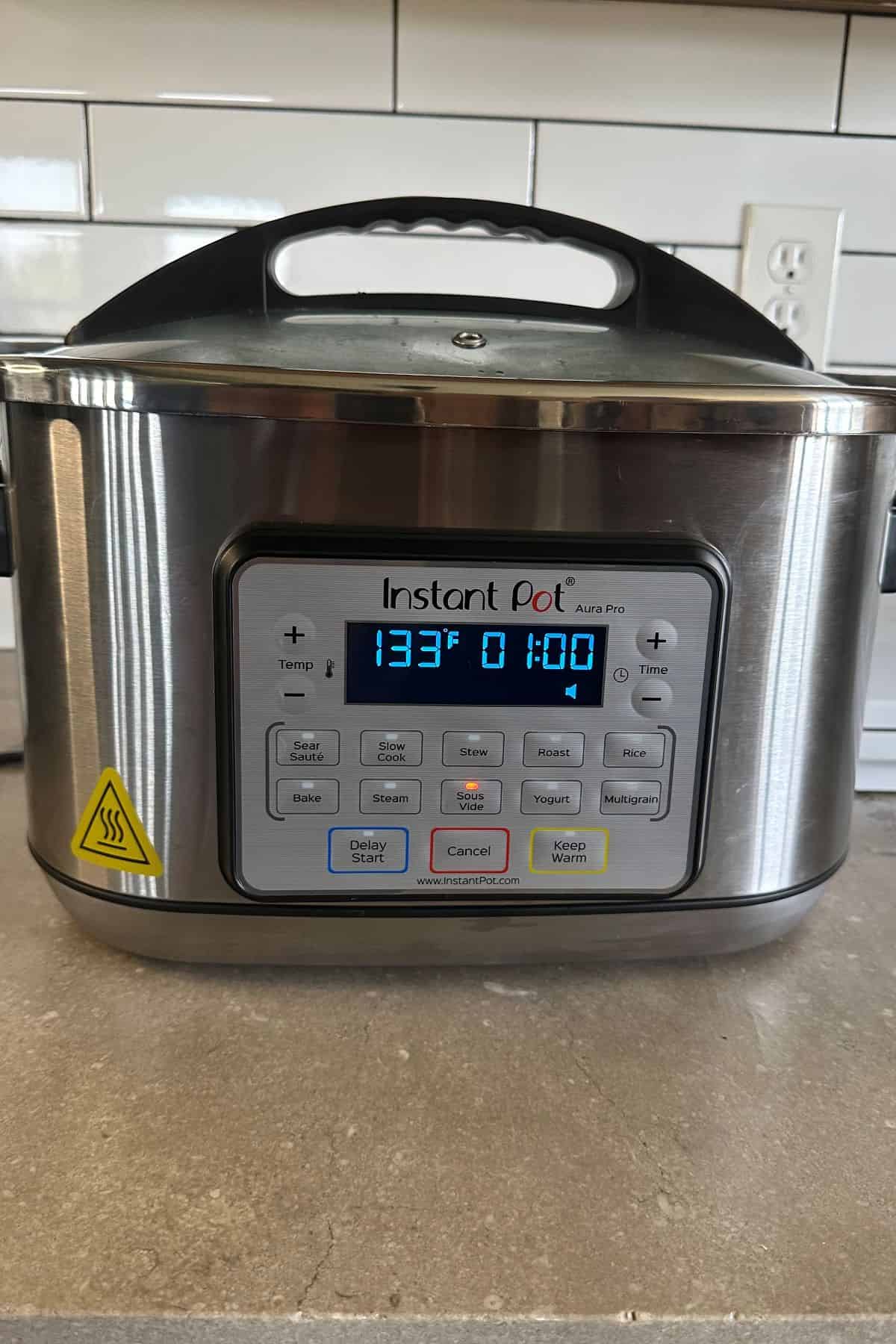 If you prefer, you can get a sous vide machine and insulated container instead. I bought those, too... I know, now you're wondering if I'm really not into kitchen gadgets...
Optional equipment: I have a vacuum sealer from wayyyyyy back (like the 1990s). If you have one, use it to seal your pork loin. If you don't have one, just use a high-quality freezer resealable bag and squeeze all the air out using the water displacement method.
What to serve with Sous Vide Pork Roast
Who doesn't love mashed potatoes with a roast? Try my friend Chef Alli's Creamy Smashed Potatoes or the quick and easy Macaroni and Tomatoes and this old-fashioned 7-Up Salad.
Storage
Store cooked pork roast in the vacuum sealer bag in the fridge for up to 1 week before reverse searing it.
Store leftovers in the fridge and use within 3-4 days.
RELATED RECIPES
Sous vide is a fantastic cooking technique. Put that tool to work and try these well-tested recipes, too.
Did You Try This Recipe? ❤️
Lastly, if you tried Sous Vide Pork Roast following this recipe, please let me know how you liked it by leaving a comment and/or rating!
I love hearing from you! I'll do my best to respond to each comment.
And, of course, if you make this recipe, tag me on Instagram! Seeing your photos is my favorite thing!
Food Safety
Wash hands before cooking
Do not use the same utensils on cooked food, that previously touched raw meat
Wash hands after touching raw meat
Don't leave food sitting out at room temperature for extended periods
Never leave cooking food unattended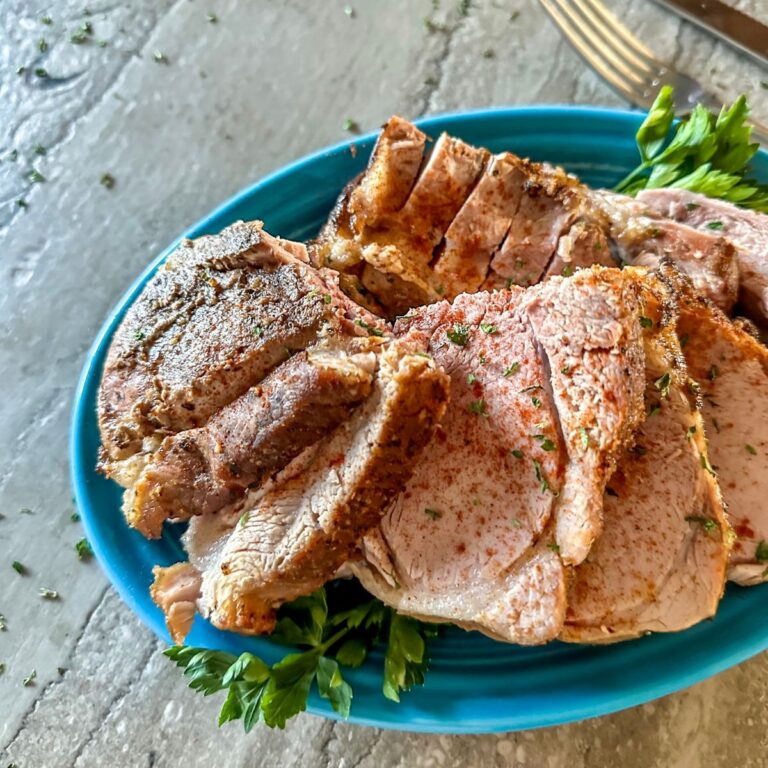 Sous Vide Pork Roast
Hands-off for this Sous Vide Pork Roast cooked using a precision method for Sunday dinner that is guaranteed to be tender and juicy.
Ingredients
3

pound

pork roast

2

teaspoons

salt

garlic powder

black pepper

smoked paprika

thyme

fresh
Instructions
Heat the sous vide water bath to 145℉ degrees for a sliced roast finish. 165℉ for a pulled pork finish.

Sprinkle seasonings all over the pork roast.

Seal the pork roast in your vacuum sealer (or use a high quality zip top freezer bag) using the moist seal setting.

Place the pork roast into the water bath and cook for 18 to 24 hours.

Remove the pork from the water bath, open the bag and allow it to rest while heating the oven broiler.

Reverse sear the pork roast by carefully, placing in a broiler-safe pan such as an iron skillet and brown each side. Achieving a brown crust will only take 45-60 seconds per side.

Slice the pork against the grain.
Nutrition
Calories:
299
kcal
Protein:
51
g
Fat:
9
g
Saturated Fat:
3
g
Polyunsaturated Fat:
1
g
Monounsaturated Fat:
4
g
Cholesterol:
143
mg
Sodium:
886
mg
Potassium:
848
mg
Calcium:
12
mg
Iron:
1
mg